(39 intermediate revisions by one other user not shown)
Line 2:
Line 2:
 

{{EpisodeInfo

 

{{EpisodeInfo

 

|epcode = 9

 

|epcode = 9

−

|image =Blade Blade Screenshot.jpg

+

|image = .

 

|airdate = March 22, 2009

 

|airdate = March 22, 2009

−

|writer = Shōji Yonemura

+

|writer = Shōji Yonemura

−

|director =

+

|director =

 

|previous = Welcome to the Blade Restaurant

 

|previous = Welcome to the Blade Restaurant

 

|next = Faiz High School's Phantom Thief

 

|next = Faiz High School's Phantom Thief

 

|series = Kamen Rider Decade

 

|series = Kamen Rider Decade

−

|tribute = Kamen Rider Blade}}

+

|tribute = Kamen Rider Blade

 
+

}}

−

{{nihongo|'''Blade Blade'''|ブレイドブレード|Bureido Burēdo}} is the ninth episode of ''[[Kamen Rider Decade]]''.

+

{{nihongo|'''Blade Blade'''|ブレイドブレード|Bureido Burēdo}} is the ninth episode of ''[[Kamen Rider Decade]]''.

 
 
 

==Synopsis==

 

==Synopsis==

Line 16:
Line 17:
 
 
 

==Plot==

 

==Plot==

−

Decade continues his fight with Chalice, with Garren losing his Garren Buckle in the process. The fight comes to a sudden halt when [[Kamen Rider Todoroki]] shows up. Back at BOARD, [[Sakuya Hishigata|Hishigata]] is demoted to Rank 3 while [[Kazuma Kendate|Kazuma]] is fired from BOARD. After he understands [[Tsukasa Kadoya|Tsukasa]]'s intent to help him, Kazuma stays on in the kitchen as he opens the Ace Lunch to all BOARD members. Meanwhile, [[Mutsuki Kuroba|Mutsuki]] and Hishigata search for Chalice to get back the Rider systems, and are subsequently ambushed by Chalice, who knocks them out after they find out his true identity. After hearing that the two have supposedly resigned from the company, Kazuma decides to find [[Hajime Shijo|Hajime]] with [[Yusuke Onodera|Yusuke]]'s help. As Tsukasa meets a mysterious figure who recognizes him, Kazuma and Yusuke arrive too late to save Hishigata and Mutsuki as Hajime uses the created card from the Rider Systems to become the Joker, revealing his reasons to Kazuma. Decade arrives as [[Kamen Rider Ryuki (Rider)|Ryuki]] with the Blay Buckle and gives Kazuma the resolve to fight back. Once Kazuma becomes Blade, he and Decade destroy the two Undead together. Soon after parting ways with Kazuma, Tsukasa and company begin their next venture into the [[World of Faiz]].

+

Decade continues his fight with Chalice, with Garren losing his Garren Buckle in the process. The fight comes to a sudden halt when [[Kamen Rider Todoroki]] shows up. Back at BOARD, [[Sakuya Hishigata|Hishigata]] is demoted to Rank 3 while [[Kazuma Kendate|Kazuma]] is fired from BOARD. After he understands [[Tsukasa Kadoya|Tsukasa]]'s intent to help him, Kazuma stays on in the kitchen as he opens the Ace Lunch to all BOARD members. Meanwhile, [[Mutsuki Kuroba|Mutsuki]] and Hishigata search for Chalice to get back the Rider systems, and are subsequently ambushed by Chalice, who knocks them out after they find out his true identity. After hearing that the two have supposedly resigned from the company, Kazuma decides to find [[Hajime Shijo|Hajime]] with [[Yusuke Onodera|Yusuke]]'s help. As Tsukasa meets a mysterious figure who recognizes him, Kazuma and Yusuke arrive too late to save Hishigata and Mutsuki as Hajime uses the created card from the Rider Systems to become the Joker, revealing his reasons to Kazuma. Decade arrives as [[Kamen Rider Ryuki (Rider)|Ryuki]] with the Blay Buckle and gives Kazuma the resolve to fight back. Once Kazuma becomes Blade, he and Decade destroy the two Undead together. Soon after parting ways with Kazuma, Tsukasa and company begin their next venture into the [[World of Faiz]].

 
 
 

==Cast==

 

==Cast==

 
+

*{{nihongo|[[Tsukasa Kadoya]]|門矢 士|Kadoya Tsukasa}}: {{nihongo|[[Masahiro Inoue]]|井上 正大|Inoue Masahiro}}

 
+

*{{nihongo|[[Yusuke Onodera]]|小野寺 ユウスケ|Onodera Yūsuke}}: {{nihongo|[[Ryouta Murai]]|村井 良大|Murai Ryōta}}

 
+

*{{nihongo|[[Natsumi Hikari]]|光 夏海|Hikari Natsumi}}: {{nihongo|[[Kanna Moriya|Kanna Mori]]|森 カンナ|Mori Kanna}}

 
+

*{{nihongo|[[Eijiro Hikari]]|光 栄次郎|Hikari Eijirō}}: {{nihongo|[[Renji Ishibashi]]|石橋 蓮司|Ishibashi Renji}}

 
+

*{{nihongo|[[Narutaki]]|鳴滝}}: {{nihongo|[[Tatsuhito Okuda]]|奥田 達士|Okuda Tatsuhito}}

 
+

*{{nihongo|[[Kiva-la]]|キバーラ|Kibāra|Voice}}: {{nihongo|[[Miyuki Sawashiro]]|沢城 みゆき|Sawashiro Miyuki}}

 
+

*{{nihongo|[[Decadriver]] Voice|ディケイドライバー音声|Dikeidoraibā Onsei}}: {{nihongo|[[Mark Okita]]|マーク・大喜多|Māku Ōkita}}

 
+

*{{nihongo|[[Narration]]|ナレーション|Narēshon}}: {{nihongo|[[Eiichiro Suzuki]]|鈴木 英一郎|Suzuki Eiichirō}}

 
+

===Guest stars===

 
+

*{{nihongo|[[Kazuma Kendate]]|剣立 カズマ|Kendate Kazuma}}: {{nihongo|[[Hiroki Suzuki]]|鈴木 拡樹|Suzuki Hiroki}}

 
+

*{{nihongo|[[Sakuya Hishigata]]|菱形 サクヤ|Hishigata Sakuya}}: {{nihongo|[[Yoshihiko Narimatsu]]|成松 慶彦|Narimatsu Yoshihiko}}

 
+

*{{nihongo|[[Mutsuki Kuroba]]|黒葉 ムツキ|Kuroba Mutsuki}}: {{nihongo|[[Kazuma Kawahara]]|川原 一馬|Kawahara Kazuma}}

 
+

*{{nihongo|[[Hajime Shijo]]|四条 ハジメ|Shijō Hajime}}: {{nihongo|[[Ruo]]|累央}}

 
+

*{{nihongo|[[Ai]]|アイ|Ai}}: {{nihongo|[[Rumi Hiiragi]]|柊 瑠美|Hiiragi Rumi}}

 
+

*{{nihongo|[[Mai]]|マイ|Mai}}: {{nihongo|[[Yuka Kayama]]|香山 裕香|Kayama Yuka}}

 
+

*{{nihongo|[[Mi]]|ミー|Mī}}: {{nihongo|[[Ayano Washizu]]|鷲巣 あやの|Washizu Ayano}}

 
+

*{{nihongo|[[Kamata]]|鎌田}}: {{nihongo|[[Masato Irie]]|入江 雅人|Irie Masato}}

 
+

*Announce(Voice): {{nihongo|[[Yū Sugimoto]]|杉本 ゆう|Sugimoto Yū}}

 
+

===[[Suit actors]]===

 
+

*[[Tsukasa Kadoya|Kamen Rider Decade]]: {{nihongo|[[Seiji Takaiwa]]|高岩 成二|Takaiwa Seiji}}

 
+
 
+

==Rider Cards==

 
+

*'''Card Used:'''

 
+

**Kamen Ride: Decade, Ryuki

 
+

**Attack Ride: N/A

 
+

**Form Ride: N/A

 
+

**Final Form Ride: Blade Blade

 
+

**Final Attack Ride: Blade

 
+

*'''Forms:'''

 
+

**Decade, Decade Ryuki

 
+

<gallery>

 
+

Dhikeido9-2.jpg|Decade<br>Kamen Ride: Ryuki

 
+

Kamen Rider Decade Ep 9.png|Decade<br>Final Form Ride: Blade Blade

 
+

</gallery>

 
+

==Errors==

 

''to be added''

 

''to be added''

 
 
−

==Kamen Rides==

+

====

 
+

[[File:DCDEP9CS.png|thumb|Nine Worlds #5: Faiz]]

−

*[[Kamen Rider Decade (Rider)|Decade]] - [[Kamen Rider Ryuki (Rider)|Kamen Rider Ryuki]]

 
 
⚫
−

*[[Kamen Rider Diend|Diend?]] - [[Kamen Rider Todoroki]]

 
 
+

*'''Viewership''': 7.9%

 
+

*Decade regains Blade's power.

 
+

*The title refers to Blade's Final Form Ride.

 
+

**The title may also refers to the first opening of ''Kamen Rider Blade'', ''[[Round ZERO~BLADE BRAVE]]''.

 
+

*This episode and the [[Welcome to the Blade Restaurant|last]] are the only ones within the first thirteen episodes of ''Decade'' not written by first half head writer [[Shō Aikawa]]. Ironically, they were instead written by his successor, [[Shoji Yonemura]].

 
+

**Of further ironic note is that this is a tribute episode for ''Kamen Rider Blade'', a season for which Aikawa served as the replacement head writer in its second half.

 
 
−

==Trivia==

+

====

 
+

[[File:Decade DVD Vol 2.jpg|thumb|''Kamen Rider Decade'' Volume 2, DVD cover]]

⚫
 
 
+

''Kamen Rider Decade'' Volume 2 features episodes 6-9: ''[[Battle Trial: Ryuki World]]'', ''[[Super Trick of the Real Criminal]]'', ''[[Welcome to the Blade Restaurant]]'' and ''Blade Blade''. <ref>http://www.toei-video.co.jp/DVD/sp21/decade.html</ref>{{-}}

 
+

[[File:91rHdBHsOQL. SL1449 .jpg|thumb|253x253px|''Kamen Rider Decade'' Box, Blu-ray cover]]

 
+

Blu-ray Box comes with all 31 episodes.

 
 
−

==External Links==

+

====

 
+

{{Reflist}}

−

''to be added''

 
 
+
 
+

==External links==

 
+

*[http://www.tv-asahi.co.jp/decade/story/09.html TV Asahi's official summary for 「ブレイドブレード」]

 
+

*[http://www.toei.co.jp/tv/decade/story/1188322_1564.html Toei TV's official episode guide for 「ブレイドブレード」]

 

[[Category:Kamen Rider Decade]]

 

[[Category:Kamen Rider Decade]]

 

[[Category:Episodes]]

 

[[Category:Episodes]]

 

[[Category:Crossovers]]

 

[[Category:Crossovers]]

 
+

[[Category:Rider Death Episode]]
---
Revision as of 17:54, 23 September 2019
Blade Blade (ブレイドブレード, Bureido Burēdo) is the ninth episode of Kamen Rider Decade. It is the concluding part of the World of Blade arc. It is also the first appearance of an unknown person.
Synopsis
to be added
Plot
Decade continues his fight with Chalice, with Garren losing his Garren Buckle in the process. The fight comes to a sudden halt when Kamen Rider Todoroki shows up. Back at BOARD, Hishigata is demoted to Rank 3 while Kazuma is fired from BOARD. After he understands Tsukasa's intent to help him, Kazuma stays on in the kitchen as he opens the Ace Lunch to all BOARD members. Meanwhile, Mutsuki and Hishigata search for Chalice to get back the Rider systems, and are subsequently ambushed by Chalice, who knocks them out after they find out his true identity. After hearing that the two have supposedly resigned from the company, Kazuma decides to find Hajime with Yusuke's help. As Tsukasa meets a mysterious figure who recognizes him, Kazuma and Yusuke arrive too late to save Hishigata and Mutsuki as Hajime uses the created card from the Rider Systems to become the Joker, revealing his reasons to Kazuma. Decade arrives as Ryuki with the Blay Buckle and gives Kazuma the resolve to fight back. Once Kazuma becomes Blade, he and Decade destroy the two Undead together. Soon after parting ways with Kazuma, Tsukasa and company begin their next venture into the World of Faiz.
Cast
Guest stars
Rider Cards
Card Used:

Kamen Ride: Decade, Ryuki
Attack Ride: N/A
Form Ride: N/A
Final Form Ride: Blade Blade
Final Attack Ride: Blade

Forms:
Errors
to be added
Notes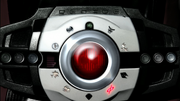 As part of Super Hero Time, this episode aired alongside Samurai Sentai Shinkenger episode 6, Act 6: The Abusive King.
Viewership: 7.9%
Decade regains Blade's power.
The title refers to Blade's Final Form Ride.
This episode and the last are the only ones within the first thirteen episodes of Decade not written by first half head writer Shō Aikawa. Ironically, they were instead written by his successor, Shoji Yonemura.

Of further ironic note is that this is a tribute episode for Kamen Rider Blade, a season for which Aikawa served as the replacement head writer in its second half.
DVD releases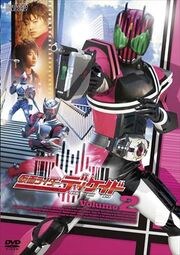 Kamen Rider Decade Volume 2 features episodes 6-9: Battle Trial: Ryuki World, Super Trick of the Real Criminal, Welcome to the Blade Restaurant and Blade Blade. [1]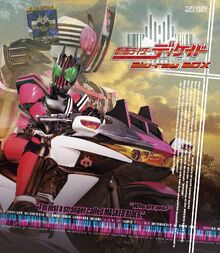 Blu-ray Box comes with all 31 episodes.
References
External links
Community content is available under
CC-BY-SA
unless otherwise noted.