Beverly Caimen, better known under her stage name Beverly (ビバリー, Bibarī) is a Filipino-born Japanese pop singer contracted with Avex Trax. She performs the opening theme of Kamen Rider Build, Be The One as a guest vocalist of the band created for the series, PANDORA. For her solo debut, she sang Everlasting Sky, the theme song for Kamen Rider Build: Be The One and subsequently released her debut solo album titled 24.
In December 2019, she released her second studio album titled Infinity.
Bio
Beverly Caimen was born on June 20, 1994 as the third child to Ramon Vega Caimen and Leticia Valdez Lumbres, having a brother and two other sisters. Beverly grew up listening to musical artists such as Beyonce, Whitney Houston, and Ariana Grande, later gaining a talent for singing. When she began her professional training, she lost her first singing competition but was encouraged by her mother to continue.
By the time she was 18, Beverly was winning awards from the United States as well as the Philippines for her singing. In 2016, she moved to Japan to pursue her career.
Her career kickstarted after she sang Be the One, and continued to aspire success. Her song A New Day was used as the opening theme to the TV drama adaptation for Princess Jellyfish, which stars Kiva-star Koji Seto and Drive-star Rio Uchida.
In late-2018 began her tour across Japan to promote her album 24, with her first performance in Nagoya on November 17, followed by later performances in Niigata, Yokohama, Osaka, Sendai, Fukuoka, and finally Shibuya on December 23.[1]
In 2019, she performed songs to Fairy Tail (Final Season) and Fruits Basket (2019), as well as songs for the video game Astral Chain.
Personal life
Beverly is trilingual, able to speak English, Japanese and Tagalog.[2]
She graduated from Batangas State University with a B.S. in Psychology. [3]
Discography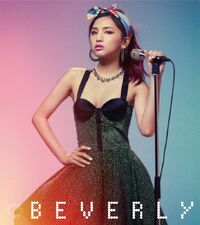 Power Of Love
All I Want
Love Therapy
Baby Don't Cry ~神様に触れる唇~
Jump!
Fly In The Sky (produced By Sick Individuals)
Hurting Me
Future
My Boy
I'm Ready
A New Day - Princess Jellyfish (TV Drama) Opening Theme
Tomorrow
Be The One "let's Start Experiment!!" Mix (pandora Feat. Beverly)
Poison Ivy
Serenade
Toutoi
Everlasting Sky - Kamen Rider Build: Be The One Ending Theme
Higher Ground
Nobody
Home
Life at the Party
Adventure - Tales of Asteria 5th Opening Theme
Again - Fruits Basket (2019) 1st Opening Theme
Sagashiniikouyo
Endless Harmony ft. LOREN - Fairy Tail (Final Season) 1st Ending Theme
Kamen Rider Build
Astral Chain

Savior (with William Aoyama) - Opening song
Dark Hero (female ver.)- Insert song
The Answer - Ending song
External Links
References
Community content is available under
CC-BY-SA
unless otherwise noted.