Bara-Roid (バラロイド, Bara Roido): A rose monster created by Badan Empire.

Manga Appearances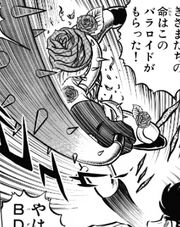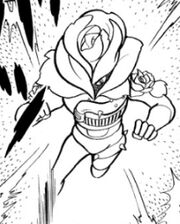 Kamen Rider Spirits
Main article: Rosa
Rosa / Bararoid - Rosa was once a young flamenco dancer who, with her husband, was chased off a cliff by superstitious villagers. She was made into a cyborg by a silver skull in the ocean and returned to haunt the village she died in, especially her father-in-law Greco. She possesses the ability to manifest a person's worst fear out of a pool of water; for the final battle with X, the water takes the form of King Dark. Both she and the silver skull are killed by X, though the skull is later found and reassembled by the Combatroids.
Community content is available under
CC-BY-SA
unless otherwise noted.