"I desire to be complete."
This article is a stub, meaning it needs more info. You can improve this Kamen Rider Wiki article by expanding it.
"Bang Bang Tank!"
―Activation announcement[src]
"Kimewaza! Bang Bang Critical Strike!"
―Gamer Driver finisher announcement[src]
"Kimewaza! Bang Bang Critical Finish!"
―Weapon finisher announcement[src]
Bang Bang Tank (バンバンタンク, Ban Ban Tanku) is an artillery game developed by Nico Saiba,in the same series as Bang Bang Shooting and Bang Bang Simulations. It served as the basis for the Bang Bang Tank Rider Gashat.
Game Description
Bang Bang Tank is a game that involves tanks fighting against zombies.
History
The Bang Bang Tank Gashat ultimately came into the possession of Taiga Hanaya, Kamen Rider Snipe, who would use it in his Gashacon Magnum in a fight against Kamen Rider Genm Zombie Gamer. [Trigger of Destiny]
The Gashat itself was developed in America by Nico Saiba during the Zombie Chronicle outbreak. [Kamen Rider Genm vs. Lazer]
Tank Gamer
Bang Bang Tank Gashat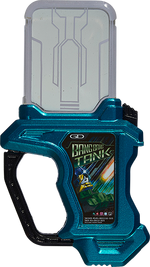 (TBA)

Notes:
This game is based off of various tank simulation games:

World of Tanks
Battlezone
Panzer Elite
Tokyo Wars
Tank! Tank! Tank!

Despite appearing and being used by Snipe for finishers in Kamen Rider Snipe: Episode ZERO and Kamen Rider Ex-Aid Trilogy: Another Ending, this game's Rider Gashat was never used to access a form. Such a form's appearance was only revealed five years later as concept art with the release of the Premium Bandai "DX Mighty Novel X Gashat & Bang Bang Tank Gashat" set.[1]
Appearances
References