Wiki Targeted (Entertainment)
Play Sound
Bandersnatch (バンダースナッチ, Bandāsunatchi) is Hiroshi Oikawa's inner Phantom which tries to makes its way to the real world by smashing the Gate's Underworld.
Bandersnatch is a very strong and agile flying Phantom, as both Beast and Beast Chimera had a hard time trying to beat it. To make things worse, Bandersnatch is able to split any segement of it's body into smaller versions of itself such as when Beast slashed the Phantom in half.
However, Beast Chimera is able to counter this with his Beast Laser. The remaining part of Bandersnatch was destroyed by Beast Chimera's Biting End's attack.
Profile
Episodes: 19
Destroyed by: Beast Chimera's Biting End
Mythological Basis: Bandersnatch
Height:11.5 m
Weight:320 kg
Behind the scenes
Concept Art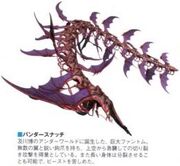 Bandersnatch was designed by Hiroshi Maruyama (丸山 浩, Maruyama Hiroshi).

External links