Spider-Man: No Way Home Trailer Dropped - The Loop
Play Sound
Bakusou Treasure (爆搜トレジャー, Bakusō Torejā, lit. "Burst Searching Treasure") is a game created by Genm Corp. which served as the prototype game engine to Kamen Rider Chronicle. 「Kamen Rider Ex-Aid "Tricks": Kamen Rider Lazer」
Game Description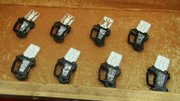 As stated by Emu Hojo, it is a RPG game. The goal of the game is to collect treasure and if the player beats the game, then a great treasure awaits at the end. Later the treasure was revealed to be the Proto-Gashats of Taddle Quest, Bang Bang Shooting, Bakusou Bike, Gekitotsu Robots, DoReMiFa Beat, Giri Giri Chambara, Jet Combat, and Drago Knight Hunter Z.
History
Created by the Genm Corp, Bakusou Treasure served as a prototype to Kamen Rider Chronicle's game engine. Emu Hojo, Hiiro Kagami and Asuna Karino found the game data while looking through Kiriya Kujo's laptop.
Hiiro tried to play the game, but got a Game Over by defeating the Motors Bugster. Emu plays it next, learning the location of the treasure, but was defeated by a data duplicate of Genm that was implanted in the game as a safety program. Emu tries again and manages to get to the treasure and beats Genm, and the game, with the use of the Proto Bakusou Bike Gashat.
Behind the scenes
Bakusou Treasure was conceived for the Televi-Kun Hyper Battle DVD Kamen Rider Ex-Aid "Tricks": Kamen Rider Lazer.
Notes
Unlike the other games created by Genm Corp., this game does not seem to have a Gashat made for it.
The option to talk to the enemy instead of fighting them may be a reference to the Megami Tensei series of JRPGs, where talking to opponents is a vital part of gameplay.
The name "Treasure" could be a hidden tribute to Treasure Company, a Japanese video game developer who was famous for its high-quality games in the 90s.
Appearances