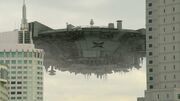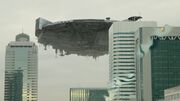 The Badan City (バダンシティ, Badan Shiti) was the mobile base of the Underground Empire Badan. Residing underground, it housed Badan's Mega Reversal Machine weapon which initially appeared as the heart of Badan City with a mouthpiece for the Generalissimo of Badan at the bottom of the tower before emerging on the surface as the Great Leader revealed himself. At that moment, Badan's general, Ambassador Darkness, revealed himself as Ryo Murasame (Kamen Rider ZX), crippling the structure with his Cross Shuriken. However, it turned out that the one he destroyed was just a dummy as Ren Aoi (Kamen Rider Fifteen) revealed that the Mega Reversal Machine and Badan's base was one and the same, with Badan City emerging as a flying saucer with the Mega Reversal Machine tower on top of it.
Once the Mega Reversal Machine's vital component, Shuu Aoi, was freed by Kamen Rider Decade, the Mega Reversal Machine was left open for the Kamen Riders to attack, with several Riders Rider Kicking their way into Badan City before destroying the structure from the inside. Heisei Rider vs. Showa Rider: Kamen Rider Taisen feat. Super Sentai
Other Appearances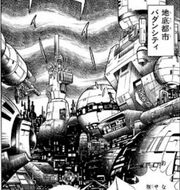 The Badan City is an underground developed city.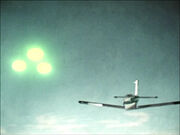 Three shining flying object attacked Ryo Murasame and Shizuka Murasame's airplane in Brazil.


In Kamen Rider Spirits, the Badan City are mass-produced flying vehicles and able to carry multiple monsters, Commando Roids and Helldivers.
Community content is available under
CC-BY-SA
unless otherwise noted.