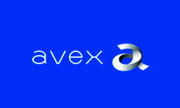 Avex Group (エイベックス・グループ, Eibekkusu Gurūpu), also known as Avex Group Holdings Inc. (エイベックス・グループ・ホールディングス株式会社, Eibekkusu Gurūpu Hōrudingusu Kabushiki-gaisha) is a holdings company of a network of entertainment-based subsidiary corporations. Avex is the largest music publisher in Japan and one of the top three recording companies in the country.
Most notably among the aforementioned subsidiaries is Avex Music Publishing Inc., who operates record labels such as Avex Trax and Avex Mode that the Heisei era Kamen Rider songs are published from and Avex Digital Inc. (formerly Avex Entertainment), the digital distribution arm of the company and a music recording division.

Artists and talent affiliated with Avex
Daichi Miura (Affiliated with division Sonic Groove)
ISSA (Affiliated with division Sonic Groove)
Marty Friedman
Shōnan no Kaze (temporary, affiliated with Toy's Factory)
Media sales export ban
On February 15, 2017, Avex announced that it would prohibit and block the international sales of its media online from e-retailers such as CD Japan. It is unknown at this time exactly why they have chosen to do this.[1]
See Also
External Links
References