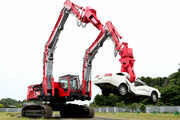 Astaco (アスタコ, Asutako) is an advanced crawler crane with two arms that is most commonly manufactured by Hitachi in Japan. One model appeared in Kamen Rider Drive: Surprise Future where it was controlled by a Cobra Type Roidmude under Dark Drive's command, engaging in a battle with Kamen Rider Chaser inside the Booster Ride Crosser combination. It was eventually destroyed by Kamen Rider Chaser's Across Breaker finisher using the Shingou-Ax.
Notes
The machine used in filming is a Hitachi Astaco ZX450TF.
Astaco is similar to Devastator in Transformers: Revenge of The Fallen, where both are robots in the disguise of (in case of Devastator, multiple) construction vehicles that are affiliated to the main villain. Their main attack involves using a huge vortex-like grinder.
Community content is available under
CC-BY-SA
unless otherwise noted.