"It's Decade's fault. This switch needs adjusting."
This article is in need of cleanup. You can help us out by editing it!

Reason: Cleanup needed and missing character history
"There's only one person who can stop you, and that's me!"
―Zero-One's pre-battle catchphrase
"Yes! It must be me, Aruto!"
―Aruto's catchphrase after telling his puns
"Humagears are partners that find harmony with humans!"
―Aruto's belief about the purpose of Humagears
"As Hiden's President, I promise you: I won't keep any secrets. You have my word."
―Aruto revealing his identity as Zero-One to Isamu Fuwa
"You can't win. There's only one person who can surpass me, and that's me!"
―Zero-One vows to surpass Little Assassin's adaptability
"I don't want to ever forget the dreams I live for. That's why... I'll fight for a future where humanity and Humagears can smile together. That's who I, Kamen Rider Zero-One, am!"
―Zero-One's reason for fighting
"No matter what the past is, we'll begin a new generation in the future!"
―Aruto's desire to begin a generation of Kamen Riders
"I'm terrified of you, but... I'll never run!"
―Aruto standing up to the Ark
Aruto Hiden (飛電或人, Hiden Aruto) is the main protagonist of Kamen Rider Zero-One. He is a 22-year-old former comedian and the current CEO of Hiden Intelligence who fights as Kamen Rider Zero-One (仮面ライダーゼロワン, Kamen Raidā Zerowan) alongside his Humagear companion Izu to pursue his dreams of making others smile. After his loss in the Workplace Competition, his drive to continue fighting against the Ark and unite both humanity and Humagear inspired him to create a new company and fight as Kamen Rider Zero-Two (仮面ライダーゼロツー, Kamen Raidā Zerotsū). However, he would eventually lose his faith and be consumed by the desire for revenge, temporarily becoming Kamen Rider Ark-One (仮面ライダーアークワン, Kamen Raidā Ākuwan).
Due to manipulations of the timeline by the Time Jacker Finis, Aruto lost the Zero-One Driver after losing to Another Zero-One, which resulted in him temporarily resorting to usage of a Forceriser to transform into Kamen Rider ZeroZero-One (仮面ライダー001[ゼロゼロワン], Kamen Raidā Zerozerowan).
History
Early Life
Aruto Hiden was born on May 1, 1997 to his parents Soreo Hiden and Yoshino Hiden, and to his grandfather Korenosuke Hiden, the CEO of Hiden Intelligence at the time. When Aruto was only two months old, his parents passed away in an accident, so his grandfather built a Humagear resembling his father to take Soreo's place as a parent and as an emotional support.
One day, Soreo asked Aruto what his dream was, and he responded that he wanted his father to be happy. Wanting to share that happiness with his son, Soreo began creating the Hiden Zero-One Driver, which ultimately served to prevent a worldwide catastrophe that would have resulted in the Humagears taking over the world. Kamen Rider: Reiwa The First Generation
Aruto and Soreo were present on the day of the Daybreak Town Accident, where they were enjoying a family outing where young Aruto spent most of his time engaging in comedic antics. When chaos erupted from the Hiden Intelligence building, Soreo shielded Aruto from one of the explosions, but was grievously damaged in the process. In his final moments, Soreo encourages Aruto to continue pursuing his dream before his systems shutdown completely, leaving the young boy to grieve.
In his adulthood, Aruto pursued a career in comedy, doing street performances with a friend as a duo. However, the friend left after he got tired of Aruto's jokes.
Becoming Zero-One
At the age of 22, Aruto is continuously struggling to hold his career as a solo comedian. After getting fired from his job at a theme park, Aruto was met at the park entrance by Izu, a secretary-type Humagear who escorted him to Hiden Intelligence headquarters to discuss the wills of his late grandfather, which revealed that an imminent crisis involving the Humagears will happen again, and the only way to combat against them is the Hiden Zero-One Driver, to be used exclusively by the succeeding president, whom his grandfather had named Aruto as. Although the entire board of directors were enraged by this sudden development, Aruto quickly turns down the role and excuses himself.
"Zero-One, that's my name!"
―Kamen Rider Zero-One introduces himself to the Berotha Magia
As Aruto goes back to the theme park in an attempt to beg for his job back, the Berotha Magia attacks the park, and Aruto attempts to stop him but is beaten senseless. After becoming enraged from the Magia saying that human dreams were meaningless, Aruto re-stood his ground and asked the just-arrived Izu for the Zero-One Driver. Aruto's mind was then uplinked into the communications satellite Zea, where his mind processing speeds were enhanced to the point where he learns the entire Zero-One tutorial in five seconds. Aruto transforms into Zero-One for the first time and destroys the Trilobite Magias as well as the Berotha Magia. After his first battle, Izu reveals that by accepting the Zero-One Driver, Aruto had also accepted being president. Originally being reluctant to do so, he was re-inspired after seeing the park manager's gratefulness for Zero-One. I am the President and a Kamen Rider
As CEO of Hiden Intelligence
After Aruto and Izu arrived in Hiden Intelligence HQ, he was guided by Izu after she introduced herself as Aruto's personal Humagear assistant. Aruto was halted, but then greeted by a Security Guard-Type Humagear.
Izu takes an excited Aruto to the CEO's office and give him his first task as the new CEO: to welcome the representatives of A.I.M.S., a special government force dedicated to subduing A.Is. The representatives reveal themselves as Yua Yaiba, head of R&D, and Isamu Fuwa, the force's captain. Isamu suddenly accuses Hiden Intelligence of covering the Humagear rampage at the amusement park, but Aruto denies all of his accusations with help from Izu.
To ease tension, Aruto tries to do his signature jokes, but no one reacts (as usual). However, Isamu is seemingly shaken with anger. Their conversation is cut short, however, when an intruder is detected inside the building.
Okureru, now the Kuehne Magia, is attacking Hiden Intelligence, A.I.M.S. and nearby civilians, but were protected by Security Guard-Type Humagear. Aruto attempted to transform into Zero-One, but the Kuehne Magia escaped using his wings.
Aruto was taken by Isamu to the rooftop, and the latter revealed his hatred towards Humagears after the Daybreak Town Accident, the same day that Aruto's father Humagear, Soreo Hiden, was destroyed after protecting him from an explosion. Later, Aruto searches for the security Humagear that protected the civilians before. Upon learning his name as Mamoru, Aruto tells him to search for maintenance since his body was damaged by Kuehne Magia, unaware of the fact that someone was watching them, Jin.
During the second attack from the Kuehne Magia, Aruto saw Jin standing with the corrupted Mamoru who transformed into the Ekal Magia and was ordered by Jin to kill Aruto. After he remembered Izu's words during the Ekal Magia's attack that a corrupted Humagear cannot be restored to normal, Aruto then transforms into Zero-One and overwhelms the Ekal Magia, but the latter escapes by using a hacked motorcycle. Izu then tells Aruto about the RisePhone's ability to summon the bike known as the Rise Hopper. After Zero-One scanned his RisePhone, a big replica of the RisePhone fell from Zea, and transformed into Rise Hopper. Using his new bike, Zero-One chases after the Magia outside. He successfully throws the Ekal Magia off from the bike, and they continue the fight in an empty dock.
Aruto then destroyed the Ekal Magia by using the Rising Kaban Strash, until he saw Isamu as Kamen Rider Vulcan from the hole made by Vulcan's Shooting Blast; they saw each other before Aruto somehow vanishes in the smoke.
The next day, Aruto, alongside Izu, introduces himself as the new CEO of Hiden Intelligence on the press conference and plays the recording from Izu about MetsubouJinrai.net, letting the press know about the existence of the terrorist organization. He also claims that Humagears are developed by Hiden Intelligence to realize humanity's dream while looking at Mamoru in a rebuilt body. A journalist then asked about Aruto's past job as a comedian. To demonstrate, Aruto performs one of his jokes, which confused the press while destroying the serious mood. A shaken Isamu tries hard not to laugh at Aruto's lame joke before leaving. Izu also tried to explain Aruto's jokes, much to his protest. Is AI The Enemy? The Ally?
Humagears Rampage Aftermath
Hiden Intelligence's reputation has gone down after the Humagear's massive rampage at the hospital, but was later involved with a drama television show with Enji Matsuda, an Actor-Type Humagear who was the star of the show alongside with Shinya Owada, a very well renowned actor. Aruto then convinced Jun Fukuzoe to participate in the show, as Jun agreed with the invitation to participate in the show, but with a frown.
When Aruto was filming the drama alongside with the other cast, Izu tells Aruto about MetsubouJinrai.net's attack with her pose and her hand sign, Aruto was shocked by Izu's words but instead surprised the crew with his reaction. Later, Aruto joins the battle after he was informed about Little Assassin and transforms into Kamen Rider Zero-One Rising Hopper to fight against Jin. As Aruto was trying to use the Attache Arrow to fight Jin, it was taken by Jin, but he later use his Freezing Bear form to finish off Jin before he escaped. I am an Actor, Shinya Owada
Shining Hopper & Assault Wolf
The Workplace Competition
Beginning of the Competition
Hidden Revelation on Real Estate
Aruto and Izu are seen talking to Gai about the second round of the competition. Izu said that Hiden Intelligence is losing the competition at 0 to 1, and Aruto replied saying that they're not going to lose this time. Then, Gai announces that the second round will be a real estate. Yua then comes in to introduce Tatsumi Arayashiki. Izu finds Smile Sumida for Hiden Intelligence. Gai then explains the guidelines, and Aruto makes one of his signature jokes.
Aruto is seen at Smile Sumida's office, welcoming customers. After they arrive at the house that Smile chose to sell and took a tour, Aruto made another one of his signature jokes, and the customers happily bought the house.
Later, Aruto, Izu, and Smile are selling another house, but got interrupted by the Splashing Whale Raider, who was destroying the house. Aruto transforms into his Rising Hopper Form.
The Enraging Trial, Thouser's MetalCluster Progrisekey
Ark's Control & The Rise of MetalCluster Hopper
"You don't know what's going on, right? Even I don't know what's going on!"
―Aruto when Gai couldn't understand how the former could control MetalCluster Hopper
Aruto is unable to control his body whenever the MetalCluster Hopper is used. He continues a futile resistance Ark's malice and begs to stop controlling his body during the rampage of both Storming Penguin Raider and Ark Magia (Gaeru Type). He was finally forced out of transformation by Thouser's Thousand Break (while using the Amazing Caucasus Progrisekey's Power) and was knocked unconscious for three days. He was later rushed into the hospital and attended by Dr. Omigoto and a Nurse-Type Humagear along with Izu.
Aruto then regains consciousness as Omigoto explains how broken his body is and that he would need rest from using the MetalCluster Hopper Progrisekey. Then, Marriage Match walks in with flowers for Aruto. Aruto suggest that he and Match should apologize to Chiharu Ebii, but Match told him that he doesn't need to be worried as he reveal that Teruo Nikaido and Ebii are a Best Match when he first met Nikaido. Match also explains to Aruto that when he become a Magia, it was so that the immediate danger would bring Teruo Nikaido and Ebii together.
Later, Aruto was informed by Omigoto that Enji Matsuda had gone berserk and was forced to transform into Arsino Magia after he was caught by Gai Amatsu after Enji infiltrated ZAIA Japan and was told by Omigoto to go after Thouser and Enji. After Aruto saw Thouser and Enji, Aruto then immediately transformed into MetalCluster Hopper but was stopped by Izu who gave him Progrise Hopper Blade to transfer Aruto's mind back into Zea.
Aruto then fights against Thouser as Aruto used Progrising Strash while Thouser tried to use the Arsino Magia as a shield. However, Aruto saved Enji from Zetsumeriser and Arsino Zetsumerisekey while he was told by Izu that Progrise Hopper Blade can restore Humagear back to their normal state. Aruto then thanks Izu and the Humagears and later defeated Thouser with the Ultimate Strash. It's Our Turn
The Rebirth of the Phoenix
Fighting Jackal
Creating HIDEN Manufacturing
After his position as CEO of Hiden Intelligence was taken by Gai Amatsu, he was forced to relinquish his Hiden Zero-One Driver due to ZAIA Enterprise Japan being declared as the winner of the Workplace Competition. However, since the rights of the Humagear and Zero-One technology belonged to Korenosuke Hiden, Aruto was authorized to use them when Jin helps him steal them back from Gai's office, with Izu creating a new company for him, HIDEN Manfufacturing. With his new company, he focused his efforts on recovering discarded Humagears using the Humagear Progrisekeys. He was first approached by the comic creator Ishizumi, asking him to restore his Humagear G-Pen Morifude. However, as he has not achieved Singularity yet, he was consistently failing to connect Zea to himself. This brought enough distraction for Jin to take him away from Aruto after a brief scuffle so he could be "free".
Apologizing to Ishizumi, he revealed to Aruto that working with G-Pen encouraged him to have a new dream: to help G-Pen become an independent comic artist with limitless boundaries. Upon hearing this, Aruto attempted to find G-Pen, only to find him cornered by ZAIA Japan. As he reveals Ishizumi's intentions to G-Pen, Yua questions his decision to let him run free, to which he responds that Humagears were not simply tools of humanity, stating that it was perfectly fine for Humagears to have dreams of their own. With that encouragement, G-Pen achieves Singularity, vowing to create an original comic of his own creation as Aruto encourages him to show the world his talent, unaware that Jin has been observing them the entire time. As they leave, Yua hesitates to shoot them, as she believes that Aruto was genuinely right in his words.
After returning G-Pen to Ishizumi, he heads back to his company, only to encounter Gai and his henchmen. Gai offers to pay Aruto "handsomely" in exchange for acquiring the Humagear data in his possession, but he declines, stating that Humagears will choose how to live their own lives from now on. Infuriated, Gai transforms into Thouser while Aruto holds them back as Zero-One MetalCluster Hopper. As Gai vows to crush Aruto's dream, Jin suddenly intervenes, revealing that Aruto's actions have taught him something: Humagears can never truly be free and reach Singularity without someone to guide them to pursue their own dreams. Therefore, he willingly entrusts the future of his kind and submits his allegiance to Aruto as they take down Thouser together. As Thouser retreats, he furiously swears revenge on Aruto, vowing to crush his company to the ground. Later that night, Aruto returns to his company just as Izu completes repairing another Humagear. Aruto chooses to reactivate the Humagear as Shesta, but Shesta instead transforms into Matsurida Z No. 5, who celebrates Aruto's success with Izu.
Humagear Status Restoration
Sometime later, Aruto employs Fuwa to be a bodyguard for HIDEN Manufacturing. He is then approached by Mr. Furusawa, the manager of a fashion magazine, who is desperate to have his Fashion Model-Type Humagear. Delmo returned to him in time for the Tokyo Fashion Collection event. Aruto manages to restore Delmo, who greets him with a hug, surprising Izu. The greeting was short-lived, as Gai sent ZAIA soldiers to destroy Delmo and Izu. Aruto and Fuwa prepare to drive them away, but Yua manages to take control of Fuwa by awakening Naki using the Assault Wolf Progrisekey. As the Naki-possessed Fuwa attempts to destroy Delmo and Izu as MetalCluster Hopper holds him back, Jin swoops in to intervene and incapacitates him swiftly. He then tells Aruto that he needs take Vulcan with him to release Naki out of his A.I. chip to which Aruto trustingly lets him do so.
During the preparation for the modeling, Aruto observed Delmo's progress and questions her for why she let the Humagear module to be kept visible towards watchers. Delmo claims the module to be her pride and a symbol that she is glad to exist as a Humagear and also showing her happiness by making a simulation of fan's shout of supporting, showing how far Delmo has become as a Humagear with singularity.
Gai noticed the restoration of Delmo. Allowing her to show up in fashion show in public broadcast will mean that the Humagears' image will be uprisen. Therefore, Gai proceeds to command Yua to destroy Delmo. As Delmo was in danger, Aruto came to rescue her, but her leg was damaged from the assault. With the return of Isamu and Naki, who were finally free from Gai's control, Aruto followed Izu's idea on replacing the position from Delmo, making Aruto's plan to restore the status of the Humagear in a successful result by becoming the model show alongside Izu. After the audience, Aruto announced Hiden Manufacturing and its goal for the Humagear restoration, being received well by the public.
MetsubouJinrai's Revival
"The one behind the Ark's birth...Gai Amatsu, THAT'S YOU!"
―Aruto reveals Gai as the culprit behind the Ark's malice
Rise as Zero-Two
"Kamen Rider Zero-Two... that's my name!"
―Zero-Two introduces himself to Ark-Zero
After Aruto and Izu visited Zea for advice, they realized that Zero-One was no longer capable of updating. After several simulations regarding Ark-Zero's defeat of Aruto and his allies, Izu created the Zero-Two Driver alongside Aruto based on his sketches. Aruto later uses the Hiden Zero Two Driver to defeat Kamen Rider Ark-Zero.

Descent Into Darkness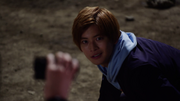 "Horobi...you destroyed Izu. Doesn't your heart hurt? Have you felt any pain at all?!"
"SILENCE! I don't have such a thing! As long as there's malice in human heart, I will fight! That is Kamen Rider Horobi!"
"I'll never forgive you!"
―Aruto, driven by revenge for Izu's death, transforms into Kamen Rider Ark-One to fight Horobi
Due to Izu's murder by the hands of Horobi, Aruto fell into despair over the death of his longtime companion and was unable to cope. Suddenly, he was then approached by Azu (mimicking Izu), who told him about his own rising malice and offered him the Ark-One Progrisekey to become the incarnation of the Ark and get the revenge he now desperately craved. Aruto then smiled maliciously at the sight of the Progrisekey, realizing that the Ark and its power can help him avenge the now destroyed Izu. By taking the Progrisekey, the Ark's remains painfully merged with him, transforming into Kamen Rider Ark-One. Revealing his new power, Ark-One headed towards the battle that was taking place between the two A.I.M.S. Riders and Horobi, with his army of Magia.
After making a surprising thunderous entrance, Ark-One single-handily defeated each of the Magia army one-by-one, stopped Jin and Vulcan's attempted interference, and wiped out every combatant with the Perfect Conclusion: Learning 5, before going to destroy Horobi himself. However, Aruto couldn't handle the strain of his new power and was forced to cancel his transformation, revealing his identity as Ark-One to a shocked Isamu, Yua, Jin, and Horobi. After glaring at Horobi, he then exited the scene using smoke, and returned to Azu near the entrance of a building. Suddenly, Aruto began to break down in uncontrollable sadness due to now being the Ark itself, and glared at Azu after she attempted to comfort him.
"Why didn't you try taking our lives?"
"Just leave me alone already. This is a matter between me and Horobi."
―Gai questions why Aruto, as Ark-One, didn't kill the Riders confronting him
Sometime afterwards, Aruto, having already transformed into Ark-One, enters Daybreak Town on his own to find Horobi, but was confronted by Kamen Riders Vulcan, Valkyrie, and Thouser, who believed that Aruto was being possessed by the Ark. Annoyed by their interference, Ark-One defeats the three Riders with ease, even managing to destroy the Thousandriver and disable Vulcan and Valkyrie's A.I chips, stripping them of their transformation abilities. When a confused Gai questions Ark-One for why he didn't kill them, Aruto cancels his transformation and angrily orders them to stay out of his way because he thinks that this battle is just between him and Horobi alone. He then tells them to leave him alone and leaves.
At the base of MetsubouJinrai.net, Aruto continues to try to find Horobi, but again to no avail. Due to these failures, he starts to slowly lose his temper and sanity until Azu arrives to try to comfort him as his secretary, even saying that she changed her hair color to fit his preferences. However, Aruto angrily replies to her that his secretary can only be Izu and her alone, while telling her to leave him alone as well. Azu then tells him that she has found Horobi's location, to which he quickly and anxiously asked her where he is.
After arriving at Horobi's location, Aruto asked him if he felt any pain at all in his heart after destroying Izu, which Horobi replied that he doesn't have such a thing, and as long as there's malice in human hearts, he will continue to fight as a Kamen Rider. Aruto finally declares that he will never forgive Horobi, and both of them transformed into their Rider forms. During their battle, while Horobi has himself and his Magia army, all of them still don't stand a chance against Ark-One. Ark-One continues to brutally beat Horobi with attacks full of rage, though Horobi also didn't hesitate to strike back with his blows. However, Ark-One had the upper hand regardless, stopping his sneak attack and even destroying his Attache Arrow. At the end of their fight, Horobi attempted to finish Ark-One with the Sting Dystopia, but was forcefully stopped by his punch powered by the learning level of Malice all the way to Annihilation. Ark-One then powered himself up with the learning level of Extinction, about to end Horobi once and for all with the Perfect Conclusion: Learning End. However, Jin flew to Horobi at the very last second and took the fatal blow for him, completely obliterating him in the process. Realizing what he had done to his former ally, Aruto broke down and retreated while trembling in horror.

Final Clash with Horobi and Zero-One's Return
A few days later, Horobi saw Aruto arrive on the stage of their final battle; the former realized that the latter had come to his own conclusion, with Aruto noting that Horobi did the same. As the two equipped their Drivers, Azu was delighted in broadcasting the final battle to the world as everything was going by the Ark's predictions. Aruto then transformed into Ark One, while Horobi accessed his final form, Ark Scorpion. The two grabbed nearby Attache weapons, and ran towards each other as the final battle for their respective kinds began.
Horobi's new form was proven to be on par with Ark-One, as he managed to keep up with him and send him straight down into a parking lot. However, Aruto, having found guidance in the form of Soreo Hiden, started to hold back and refuse to fight. Enraged by this, Horobi proceeded to destroy both the Ark Driver-One and the Ark-One Progrisekey by unleashing the Hatred Impact. Cancelling his transformation, Horobi angrily questioned Aruto why he had stopped fighting, but Aruto revealed that he now understood what Horobi was really feeling, saying that no one wouldn't cry if their family was taken away from them. Horobi suddenly proceeded to finally lash out in anger and grief over losing Jin, blaming his son's death on Aruto via punching him. As Aruto fell to the floor, he grabbed and clenched Izu's burnt ribbon, declaring that Horobi finally understood the heart through rage and sorrow. Horobi attempted to deny it again, but he suddenly had a flashback of his template and "brother" Soreo's death during the Daybreak Town Accident, realizing that Aruto had lost family as well, making them kindred spirits in a way. He then had a flashback of himself killing Izu, causing him to somberly declare that Jin's death was also his fault. A saddened Horobi fell to his knees, finally admitting that he was actually scared of his own heart growing within him, and how he had failed to understand it. When Aruto attempted to comfort him, Horobi lashed out again and punched him, screaming that his heart was the reason why he hated Aruto and humanity for giving him something he couldn't understand. Aruto then yelled at Horobi to overcome his grief, now that he admitted to having a heart. He then declared to Horobi that they were Kamen Riders, after all, and decided to finish their battle out of catharsis. Aruto's willpower caused the Rising Hopper Progrisekey to transform into its Realize Version, which he used to transform into Zero-One Realizing Hopper, much to Azu's bewilderment. During their battle, Horobi declared that while he hated Aruto from the bottom of his heart, neither him nor humanity deserved extinction of any kind. Zero-One's new form overpowered Horobi and was about to finish the battle with the Realizing Impact. As the finisher was about to strike him, Horobi chose to stand still and take the massive hit, which destroyed the Zetsumetsu Driver and the Ark Scorpion Progrisekey. Despite being heavily damaged, Horobi was left alive; when questioning Aruto why his finisher didn't kill him then and there, Aruto revealed that he restrained his final blow and that there was no need for killing anymore. Horobi then solemnly accepted his defeat.
After the war between humans and Humagears was ended, Aruto held a press conference about a new satellite that will replace Zea while developing the Humagears business, as well as how to recognize and how to use Humagears properly. The Future of Each
Eden's Paradise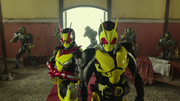 Kamen Rider Zero-One: REAL×TIME

Other Events
Kamen Rider Zi-O: Over Quartzer
Main article: Aruto Hiden/Over Quartzer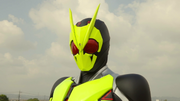 The following events take place in an alternate timeline not related to the prime version.
During one of Sougo Tokiwa's dreams, he saw Black Woz introducing Kamen Rider Zero-One. He wakes up in a panic, claiming that Zi-O had disappeared in his dream and the new Rider had taken his place, and the crowd started chanting his name.
Zero-One later appears to face the heavily injured Kamen Rider Zonjis, introducing himself to be the only one for being the true first Reiwa Kamen Rider, Zero-One. Aruto fended off the Kasshines and defeated Zonjis easily by using his Rising Hopper and Flying Falcon forms.

Kamen Rider: Reiwa The First Generation
"There's only one person who can stop you, father, and that's me!"
―Aruto vows to stop his out of control father, Soreo Hiden
Aruto wakes up from a dream he had of the Daybreak Town Accident. Realizing that he was late, he hurriedly rushed out of his apartment for Hiden Intelligence, spotting several types of Humagears he didn't know existed on the way. Arriving at the building, he is subdued by the Humagears in the building and is shocked to discover that there was a new CEO, Will, who attacks him as Another Zero-One.
Aruto is thrown out of the building and activates his Driver and transforms into Zero-One to fight him, but his powers were sapped away shortly and his Driver taken. With no choice left, Aruto runs from the Humagears attacking him in public led by the Berotha Magia and Okureru as the Kuehne Magia. He was later rescued by Isamu Fuwa and Yua Yaiba and taken to the human resistance. After meeting Izu, who explained that there was a temporal disturbance in their universe, a platoon of Humagears led by Will, Horobi, and Jin began to raid the resistance base. Due to the creation of Another Zero-One caused by Time Jacker Finis, Aruto cannot transform into Zero-One again. Thus, he is forced to use the Forceriser to become Kamen Rider ZeroZero-One. Much to his shock, he is also forced to fight Soreo Hiden, his "father". In the midst of the resistance's defeat, Zi-O's team arrived and were successful in driving the Humagear force back. After explaining that the cause of this was due to Finis, a Time Jacker, Aruto goes back to 2007, 12 years in the past with Zi-O's team.
Arriving in 2007, Aruto and the Zi-O team reach the development factory and fights the Humagears that were terrorizing the workers. Aruto confronts Kamen Rider Ichi-Gata, whom he recognized as his father at the time. Soreo revealed he was doing this in order to bring happiness to Humagears, and was seemingly willing to bring down humanity to do so. He revealed that he was working on the Ark Satellite, which caused the events to happen in the present day.
Having the power of Another Zero-One, Will attacks Soreo, who also revealed that he was planning on destroying the satellite so that humanity doesn't fall. Both Aruto and Soreo transform to fight Will, but he takes them both down and stops Soreo's bomb. Satellite Ark then launches into space, activating its control over all the Humagears on Earth. Will returns to Hiden Intelligence and kills Korenosuke while Soreo, now controlled by the Ark, attacks Aruto. Another 1 arrives in their area, and Geiz saves Aruto, telling him that there's nothing else they can do in that time period. Sougo picks them up and they return to 2019.
Returing to the resistance base, the resistance tell Aruto that Izu gave herself up to stop the attack and was taken by Will. Aruto heads over to the conference center and exclaims his dream of a coexistence between human and Humagear. After Soreo reveals himself in the audience, Shesta announces that an emergency vote will occur at this point, for as to whenever Aruto should become president. As Soreo held the majority of the stocks at the company, his vote is absolute. In the end, he voted no, and the Ark corrupted every single HumaGear in the audience, in which Will sends to attack Aruto. In the lobby, the resistance as well as Zi-O's team arrive to help fight the Humagears. Aruto faces his father and announces his intent to defeat his father and regain his powers.
Aruto continues his fight with this father, who ultimately let his son defeat him, later revealing he was faking his evil nature this whole time, to ensure that Aruto was serious about having both human and Humagear coexist. With his death and "yes" vote, Aruto becomes president and receives the Zero-One Driver.
Another 1 absorbs Geiz's Time Mazine and becomes Another New 1. The Zea satellite is launched, and Aruto transforms into Zero-One to help Zi-O fight Another 1. Zero-One attacks her with Rocking Kaban Strash, and they attack her with other Progrisekeys and GrandZi-O. They finally finish her with their combined 'Rising Impact Time Break'. Everything returns to normal. Daybreak Town, Soreo, and Ark meet their original fates once again.
Later, Aruto and Team Zi-O meet again. Woz tells Aruto that everything has turned back to normal and only him and Izu will remember the events due to being connected to each other through Satellite Zea. Before leaving, Sougo says that he must erase Aruto's memories as well in order to return everything to normal. Aruto resists and both of them transform and engage into a friendly duel.
After the events of the movie, Aruto misses Soreo while staring at the Humagear body in his office. When Izu arrives, he asks her to change the design of his business cards and explains it, but Izu remembers Aruto's recent journey through timeline.
Appearances In Other Media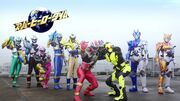 In the closing of Super Hero Time, Kamen Rider Zero-One is seen posing alongside
Vulcan
,
Valkyrie
and the
Ryusoulgers

. In the opening of Super Hero Time, Kamen Rider Zero-One is seen posing alongside
Isamu Fuwa
and the
Kiramagers

in the top of
Kiramaizin

, while in the closing of Super Hero Time, Aruto Hiden is seen at the
CARAT

alongside the untransformed Kiramagers.
Kamen Rider Zero-One is a playable character alongside the other Kamen Riders in Kamen Rider City Wars.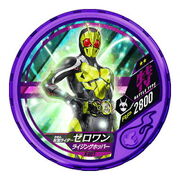 Kamen Rider Zero-One is a playable character with Vulcan, Valkyrie and other Riders in Kamen Rider Buttobasoul.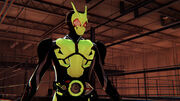 Kamen Rider Zero-One is one of the three main playable characters in
Kamen Rider memory of heroez
. He can be played as Rising Hopper, Flying Falcon, Shining Assault Hopper, MetalCluster Hopper, and Zero-Two. In the game, Aruto arrived in Sector City after hearing something AI-related on the news. However he was teleported away by Zeus, who was growing tired of having Kamen Riders ruin his plans. He landed unconscious on a conveyor belt, later being rescued by OOO and joins up the rest of the team to investigate Sector City.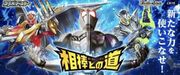 As part of Kamen Rider's collaboration, Zero-One, Wizard, and W cards became available in Battle Spirits.[1]
As part of Kamen Rider's collaboration with Zenonzard, cards from Zero-One, OOO, and W were available in the Japanese servers throughout September 2020. [2]. In the American servers, due to licensing issues, card names and artwork were altered in the release of Heroic Masquerade.
Cards Included[3].
Attache Calibur (Rare)
Hiden Zero-One Driver (Epic)
Rise Hopper (Common)
Kamen Rider Zero-One Rising Hopper (Rare)
Kamen Rider Zero-One Flying Falcon (Common)
Kamen Rider Zero-One Biting Shark (Common)
Kamen Rider Zero-One Flaming Tiger (Common)
Kamen Rider Zero-One Shinning Hopper (Common)
Kamen Rider Zero-One Freezing Bear (Common)
Kamen Rider Zero-One Shinning Assault Hopper (Epic)
Kamen Rider Zero-One MetalCluster Hopper (Legend)
Kamen Rider Zero-Two (Legend)
Rising Impact (Epic)
Breaking Impact (Common)
The game ended service on February 18, 2021.
[4]
Personality
Aruto is a cheerful individual who loves to make people laugh, and although he is horrible at it, he will go above and beyond to make sure the people around him are happy. Due to his upbringing, Aruto strongly believes that like humans, Humagears can indeed have dreams of their own and prosper alongside humanity. He does not hesitate against those who threaten that happiness, but will continue to show a level of respect towards them. To this end, he agreed to become a Kamen Rider just so he'd have the means and the power to personally carry out his dream, while also taking up several responsibilities that require experience that he himself lacks. This particular trait ultimately clouds his judgement of them, especially with ones whom he had previously developed a strong bond with as he willingly prioritized the safety of the Humagears over the profits of the business world. This only further proved that Aruto's business experience truly pales in comparison to Gai Amatsu, a certified expert in the field, and results in his loss in the Workplace Competition.
After becoming the Ark itself, Aruto willingly discarded much of his comedic and lighthearted traits, now becoming cold, serious, and vengeful towards Horobi specifically; despite having previously sympathized with the Humagear's unwilling affiliation with the Ark, Aruto now seeks revenge on him for Izu's death, as she was his only family after the deaths of his biological kin. Aruto considered his former allies as enemies if they interfered with his desire for vengeance against Horobi, though he manages maintain enough of his composure to not kill them on the spot. Despite his fall from grace, Aruto is completely aware of his actions and thus grieves with the consequences of what he has become. After briefly seeking advice from his father, Aruto's final clash with Horobi served to teach the latter the meaning of the human heart. The Future of Each
Aruto is known for his good nature and polite manners, as evident towards his usage of "-san" when speaking with Isamu and Yua. However, his lack of honorific use towards Gai indicates his total loss of respect for such.
Aruto has several catchphrases in which he frequently uses throughout the series:
Introduction after transformation: "Zero-One! That's who I am!" (

ゼロワン、それが俺の名だ!

Zero wan, sore ga ore no nada!

)

Variation on Episode 40: "Kamen Rider Zero-Two! That's who I am!" (

仮面ライダーゼロツー。れが俺の名だ!|Kamen Raidā Zerotsū, sore ga ore no nada!

)

Pre-battle catchphrase: "There's only one person who can stop you... and that's me!" (

お前を止められるのはただ一人…俺だ!

Omae o tome rareru no wa tada hitori... ore da!

).

In Kamen Rider Zero-One: REAL×TIME, both Aruto and Izu say a variation of this: The ones who can stop you... are us! (

お前を止めるのは...俺たちだ!

Omae o tomeru no wa... oretachi da!

).

Comedic gag outro: "Yes! It must be me, Aruto!" (

はい、或人じゃないと!

Hai! Aruto Ja... Naito!

)
Aruto has also given playful nicknames to his Progrisekeys, calling Flaming Tiger "Tora-chan" (トラちゃん, "Tora-chan"), Flying Falcon "Tori-chan" (トリちゃん, "Tori-chan") and Biting Shark "Same-chan" (サメちゃん, "Same-chan").
Family
Other
Soreo Hiden (Human) (father; deceased)
Yoshino Hiden (mother; deceased)
Ichiko Hiden - (grandmother, deceased)The End of Each
Powers and Abilities
Enhanced Thought Processing: With the Hiden Zero-One Driver equipped, Aruto's mind is uplinked into Satellite Zea, which exponentially enhances his thought processes to rival that of an A.I. supercomputer. This allows him to learn and analyze fighting techniques at a speed far beyond that of a normal human. He has been shown utilizing this ability on-screen twice so far; the first time was when he put the Zero-One Driver on for the first time, and the second time was when he was being instructed by Izu on Shining Hopper's Shine System. The MetalCluster Hopper Progrisekey acts as a switch that uplinks Aruto's mind to the Ark instead, leaving his body in a berserk-like state before obtaining the Progrise Hopper Blade. This ability is further enhanced as Zero-Two, enabling Aruto to outthink and outperform the Ark.

Temporal Protection: Due to being linked to Zea, Aruto can recognize and be immune to any temporal changes in the timeline, as he was able to discern a temporal difference that occurred 12 years ago. Kamen Rider: Reiwa The First Generation Aruto was also able to retain his memories of the alternate timeline even after his duel with Zi-O. I'll Save the Humagears
Innovative Combatant: Despite his lack of combat experience prior to becoming Zero-One, Aruto's combat skills had improved so much that Satellite Zea was unable to keep up, thus it originally deemed Shining Hopper unsuitable for him. Aruto would later go toe-to-toe against Thouser and several Battle Raiders simultaneously in his default Rising Hopper form. Aruto further demonstrates this when he fights Kamen Rider Ark-Zero on near even terms, despite being statistically weaker than him.
Strength: Though rarely demonstrated, Aruto is able to perform extraordinary feats of resilience and strength, withstanding a blow from the Attache Calibur to his shoulder untransformedKamen Rider: Reiwa The First Generation and later throwing the same weapon with enough speed and precision to stop a blast from Bell as Kamen Rider Lucifer from killing Rihito Isshiki a short distance away.Kamen Rider Zero-One: REAL×TIME
Amateur Business Experience: Aruto has no prior business knowledge of any form, and is deemed incompetent in handing and executing the responsibilities of a company president. Gai, the CEO of ZAIA Japan, was able to exploit this experience when he challenged Aruto in the Workplace Competition and masterfully exemplified the qualities needed to be successful in the business market by achieving certain objectives (e.g. producing quality products, achieving profit margins, securing the support and confidence of customers). Gai was able to win the competition with a three to five victory (though these were achieve through underhanded means) based on those qualities that Aruto lacked.
Zero-One Driver Authorization: Zea is authorized to grant full usage of the Zero-One Driver specifically to Aruto, but he must be listed as CEO for any company for that recognition to take effect. Before, it was thought to apply specifically to the CEO of Hiden Intelligence, but that has been proven false since the founding of HIDEN Manufacturing.
Shining Hopper (Formerly): Zero-One's Shining Hopper form requires a great deal of strength to properly function. This compounded in encounters with particularly strong adversaries, which demands more strength than usual to utilize the Shining Arithmetic and usually resulting in exhaustion after use. Extended use can potentially result in temporary paralysis or forced cancellation of transformation. Aruto becomes more accustomed to Shining Hopper over time thanks to the Assault Grip gaining new data for the Shining Hopper Progrisekey to clear the harmful effects.
MetsubouJinrai Forceriser (Formerly): As the Forceriser was designed by MetsubouJinrai.net for use by Humagears, Aruto suffered significant pain upon equipping the one given to him by his father. Fighting as ZeroZero-One also places a significant amount of strain on Aruto's body. Aruto was less affected in his later battles than after his first transformation, but he soon discarded the Forceriser after he managed to defeat Ichi-Gata.
Ark: Any of Zero-One's forms that are connected to the Ark, such as Shining Assault Hopper, MetalCluster Hopper and Ark-One, carry the risk of making him more aggressive and unable to control his rage.

Prisonment Chain (Formerly): A program malware created by the Ark, which is secured within the data of the MetalCluster Hopper Progrisekey. Originally, using the MetalCluster Hopper Progrisekey will cause an error on the Zero-One Driver, forcefully transfers the connection of Zero-One to the Ark instead of Zea, trapping Aruto's mind inside the Ark while his body, driven by the Ark's malice, attacked anyone in sight. In addition, it caused the Zero-One Driver to be unable to authorize any other Progrisekey. To counteract this, Izu created the Progrise Hopper Blade, which restored Zero-One's connection to Zea, avoiding the Ark's influence and completely erases the malware a whole, as well as restoring the Zero-One Driver's full functionality.
Ark-One (Formerly): Physically speaking, Aruto has countermeasures to fight against the Ark. However his longing to avenge Izu's death caused him to willingly align with the Ark, turning him into Ark-One. The malicious aura that came with the powers constantly keeps Aruto in pain, reflected by his grief and cries; and can even be forced out of his transformation should he use too much power. In later episodes, Aruto shows less strain when using this form, now presumably being able to control it, but the aforementioned mental fallout still affects him. In addition, Ark-One indirectly caused Zero-Two, a form that is linked to Zea, to gain a tiny fraction of its malicious power. Aruto no longer has this weakness, as his Ark Driver and Ark-One Progrisekey was destroyed by Horobi, returning him to his former glory.
Forms
Rising Hopper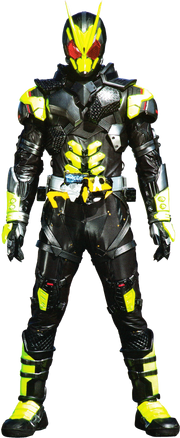 "Forcerise! Rising Hopper! A jump to the sky turns to a Rider Kick. Break down.[20]"
―Transformation announcement
Rider Statistics
Height: 196.8 cm
Weight: 92.1 kg
Ability Parameters:
Punching Power: 9.1 t
Kicking Power: 52.6 t
Maximum Jump Height: 63.5 m
Maximum Running Speed: 100 m per 3.4 seconds
Rising Hopper (ライジングホッパー, Raijingu Hoppā) is ZeroZero-One's grasshopper-based primary form accessed by using the Rising Hopper Progrisekey in the MetsubouJinrai Forceriser[21]. He was forced to use this form after losing the Hiden Zero-One Driver to Another Zero-One.
ZeroZero-One's version of Rising Hopper has moderately higher stats than Zero-One Rising Hopper in all areas.
However, since the Forceriser was meant to be used by Humagears (specifically MetsubouJinrai.net), transformation with it is painful and Aruto's body experiences a considerable amount of physical strain while using this form. However, he eventually adapts to these drawbacks in battle and manages to defeat Ichi-Gata, who fought on par with Another Zero-One.
Theoretically, Aruto can access this form at any time, but it is a risky alternative which would later be heavily outclassed Shining Hopper.
This form has three finishers:
Forceriser finishers:

Rising Dystopia (

ライジングディストピア

Raijingu Disutōpīā

): Empowered with black electricity and red steam from his armor, ZeroZero-One moves at high speed similar to Clock Up, then directly attacks the foe with fast reflexes of punches and kicks.
Rising Utopia (

ライジングユートピア

Raijingu Yūtōpia

): ZeroZero-One first performs a strong punch to the target, then he leaps up and launches a powerful Rider Kick as his whole body covered with a yellow, flaming aura similar to a comet.

Legend Progrisekey finishers:
This form is exclusive to
Kamen Rider: Reiwa The First Generation
.
Kamen Rider Zero-Two's ending theme is Henshin! Zero-Two~Now is the right time.
Kamen Rider Zero-Two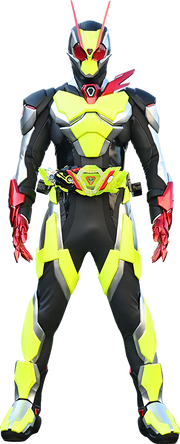 "Zero-Two Rise! Road to glory has to lead to growin' path to change! One to two! Kamen Rider Zero-Two! It's never over."
―Transformation announcement
Rider Statistics[22]
Rider Height: 200.0 cm
Rider Weight: 102.1 kg
Ability Parameters[22]
Punching Power: 62.0 t
Kicking Power: 120.0 t
Maximum Jump Height: 200.0 m
Maximum Running Speed: 100 m per 0.2 seconds
Kamen Rider Zero-Two (仮面ライダーゼロツー, Kamen Raidā Zerotsū) is the final form of Zero-One[23][24][25][26] accessed by using the Zero-Two Progrisekey in Hiden Zero-Two Driver[27].
Kamen Rider Zero-Two is the culmination of Aruto's dream of uniting both human and artificial intelligence into one, and has the potential to exceed Kamen Rider Ark Zero's predictive capabilities. When Zea was reawakened by Izu's new emotions, her central memory linked to Zea's interface was rebuilt into the Zero-Two Progrisekey, creating the Hiden Zero-Two Driver. Whilst Zero-Two was conceptualized as a new Kamen Rider of Aruto's own creation, it is also considered to be the final upgrade to the Zero-One system.
Zero-Two's stats surpasses Ark-Zero in all areas by a tremendous degree. It is also superior to Ark-One and Horobi Ark-Scorpion, making it the strongest Rider form in the series.
Zero-Two consists of the following parts:
Zero-Two Head (

ゼロツーヘッド

Zerotsū Heddo

) - The head.

Zero-Two Arithmetic (

ゼロツーアリスマテック

Zerotsū Arisumatekku

) - Zero-Two's faceplate processor. During the battle, the artificial intelligence Zea extracts the thoughts of the matching person and learns the enemy and surrounding information to predict the behavior. The optimal solution is found in about 0.01 seconds from the 2 trillion patterns of attack and evasion patterns derived from it, and it is reported to the matching person. This ultra-fast learning allows the user to take advantage of the battle.
Zero-Two Signal (

ゼロツーシグナル

Zerotsū Shigunaru

) - The Zero-Two system's control device located between the eyes. It has the role of controlling the signal transmission system, and it makes adjustments to maximize the output of the Zero-Two system by checking matching with matching persons, information transmission loss, defects, etc.
Zero-Two Antenna (

ゼロツーアンテナ

Zerotsū Antena

) - The quantum radar antenna. By introducing a quantum radar that obtains information by utilizing the phenomenon of light, one can avoid electronic interference and invalidate stealth technology and electronic warfare equipment that were previously difficult to detect. This enables information gathering and spatial recognition in all situations and environments.
Zero-Two Eyes (

ゼロツーアイ

Zerotsū Ai

) - The compound eyes. It is a collection of image sensors of different systems in a compound eye shape. By combining with image processing, various information such as thermography and X-ray photography can be extracted. Furthermore, a behavior prediction simulation can be visualized.
Zero-Two Mask (

ゼロツーマスク

Zerotsū Masuku

) - The face armor. Super Positioning Armor, commonly known as "SPA", enables simultaneous operation by stacking two different types of armor. This makes it possible to use the characteristics of either or both of the special metal "Hiden Metal" armor that freely changes hardness, plasticity, and density, and the special armor "Quantum Armor" that the "rider model" has changed. It is possible to prevent all the above attacks.

Quantum Leaper (

クォンタムリーパー

Kwōntamu Rīpā

) - Zero-Two's dimensional quantum jump device. This makes it possible to observe the various possibilities that Zea predicts in the real world.
Quantum Tector (

クォンタムテクター

Kwōntamu Tekutā

) - Zero-Two's suit. Constructed with a quantum neural network centered on the Zero-Two Driver as the basic equipment to integrate the human body and artificial intelligence. Furthermore, by combining it with a human reinforcement system that applies wave dynamics, each maneuver can be made highly efficient, and theoretically, it will be possible to act at a speed equivalent to the calculation speed of artificial intelligence.
Zero-Two Streamer (

ゼロツーストリーマ

Zerotsū Sutorīma

) - Zero-Two's attitude control device. It functions as a photon stabilizer that controls the posture during high-speed activity, etc., by the pressure of lightspeed movement.
Zero-Two Shoulder (

ゼロツーショルダー

Zerotsū Shorudā

) - Zero-Two's upper-arm armor. The shape uses quantum engineering to disperse impacts with kinetic energy barriers, negating them by counterpressure. Furthermore, it is equipped with an outlet of the attitude control device "Zero Two Streamer" to control the effects of high-speed movement and enable three-dimensional movement.
Zero-Two Breast (

ゼロツーブレスト

Zerotsū Buresuto

) - Zero-Two's chest armor. Super Positioning Armor, commonly known as "SPA", allows simultaneous operation by stacking two different types of armor. This makes it possible to use the characteristics of either or both of the special metal "Hiden Metal" armor that freely changes hardness, plasticity, and density, and the special armor "Quantum Armor" that the "rider model" has changed. It is possible to prevent all upper-body attacks.
Zero-Two Grabber (

ゼロツーグラブ

Zerotsū Gurabu

) - Zero-Two's hand and forearm armor. The red armor, which has a metal glass coating made of vitreous Feidin metal on the SPA armor, emphasizes not only improvement of toughness and corrosion resistance, but also improvement of coercive force as a countermeasure against contact with the fluid metal of the Ark. In addition, it is equipped with an "up-puncher", a device that enhances arm strength, and draws out superhuman power from the fitter to demonstrate punch power of 62 tons.
Zero-Two Stepper (

ゼロツーステッパー

Zerotsū Suteppā

) - Zero-Two's shin armor. The SPA armor is equipped with a gradual dampening device called the "Step Absorber", which absorbs the impact gradually by the control of Zea to prevent self-destruction due to excessive strain that occurs when performing a greatly enhanced jump or kick.
Zero-Two Jumper (

ゼロツージャンパー

Zerotsū Janpā

) - Zero-Two's thigh armor. The SPA armor is equipped with a super jumping device, "Zero Two Jumper", which exerts a jumping power of 200m in a vertical jump by drawing out superhuman power from a suitable person and manipulating the quantum force field. This makes it possible to dramatically improve the destructive power of the kick technique.
Zero-Two Hopper (

ゼロツーホッパー

Zerotsū Hoppā

) - Zero-Two's boots. Along with the defense power of SPA armor, the destructive power of the kick has been dramatically improved. In addition, it has high accuracy for pinpointing the attack on the enemy's weakness predicted by Zea. Also, when the deathblow is activated, the kick force of the rider model, which has been consolidated and reconfigured from the previous Hopper rider model, is fully released, creating a tremendous destructive power.
This form's finisher is the Zero-Two Big Bang (ゼロツービッグバン, Zerotsū Biggu Ban): Zero-Two performs a series of high-speed kicks covered in yellow and red energy. The final kick will project a giant "02" the instant it connects with the target.
Appearances:
Zero-One
Episodes
40
-
42
,
44
,
Kamen Rider Zero-One: Final Stage
,
Kamen Rider Zero-One: REAL×TIME
Kamen Rider Ark-One

"Singurize! Hakai, hametsu, zetsubō, metsubō seyo. Conclusion one.[28]"
―Transformation announcement
Rider Statistics:[29]
Rider Height: 199.9 cm
Rider Weight: 100.1 kg
Ability Parameters:[29]
Punching Power: 54.2 t
Kicking Power: 104.4 t
Maximum Jump Height: 93.6 m
Maximum Running Speed: 100 m per 0.6 seconds
Aruto can transform into Kamen Rider Ark-One by using the Ark-One Progrisekey in the Ark Driver-Zero, converting it into the Ark Driver-One.[30] Though Ark-One is primarily the final form of Ark-Zero[31][32], it is also classified as a false power-up form of Zero-One.[33]
Ark-One is still significantly weaker than Zero-Two in terms of stats, making it the fourth strongest Kamen Rider (as Horobi Ark Scorpion and Zero-One Realizing Hopper is still able to outclass this form) of the TV series at the time of its debut. However, Ark-One mitigates these weaknesses by using the malice it has gathered. His reflexes are fast enough to be able to block attacks, as well as dodge multiple finishers concurrently, and he is powerful enough to decimate RampageVulcan, Valkyrie Lightning Hornet, and Thouser as a group, and Horobi, even with the latter backed by an army of Magia at the time.
Ark-One can create puddles of malice holding negative kanji with each step he takes, slowly melting anything it comes in contact with. He can also reprogram any A.I-based technology (such as Isamu and Yua's A.I chips) and can destroy Drivers and Weapons (like the ZAIA Thousandriver and the Attache Arrow, respectively) simply by crushing them.
Currently, Aruto no longer has the ability to transform into Ark-One after the destruction of the Driver and Progrise Key. Kamen Rider Ark-One is composed of the following parts:
Ark-One Head (

アークワンヘッド

Ākuwan Heddo

) - The head.

Ark-One Face (

アークワンフェイス

Ākuwan Feisu

) - Ark-One's face armor. It is equipped with an ultra-high-performance antenna and a visual/auditory device that are premised on AI processing. The shape is designed and constructed based on the prediction of psychological effects on the person facing the person.
Ark-One Face Ear (

アークワンフェイスイヤー

Ākuwan Feisu Iyā

) - The voice information collection device. In addition to the auditory sensor that boasts a sound collection range of 10 km in radius, it will collect voice data from communication devices such as mobile phones and AI-equipped devices such as Huma Gear by entering the network. By filtering the collected data, any sound can be extracted and heard.
Eclipse Eye (

エクリプスアイ

Ekuripusu Ai

) - The right compound eye. It is a collection of image sensors of different methods in a compound eye shape. By combining with image processing, various information such as thermography and X-ray photography can be extracted.
Ark-One Face Vision (

アークワンフェイスビジョン

Ākuwan Feisu Bijon

) - The video information collection left eye. By infiltrating the network, it collects video data from reconnaissance satellites, security cameras in the facility, AI-equipped devices such as Humagear. As a result, every place can have its own field of view.
Ark-One Face Antennae (

アークワンフェイスアンテナ

Ākuwan Feisu Antena

) - The antenna. The smart antenna that changes the directivity according to the environment and can simultaneously send and receive a huge amount of multiple types of information, such as communication with various electronic devices and radar functions, is adopted. Hacking to various electronic devices is executed from here.
Ark Signal One (

アークシグナル ワン

Āku Shigunaru Wan

) - The control device for the Ark-One system. By manipulating the EEG, the wearer's non-malicious feelings are calmed down, and the consciousness is focused. In addition, the operating efficiency and malfunctions of the wearer's body are checked, and adjustments are made as needed to bring out the limits of functionality.

Deus Expite (

デウスエクスパイト

Deusu Ekusupaito

) - Ark-One's chest armor. It has the function of converting the malicious intent of the wearer into force and generating the "Spite Nega" (

スパイトネガ

Supaito Nega

) wave of malicious intent. Spite negatives cause explosive destruction by emanating from the red line "Exred Position" (

エクスレッドポジション

Ekusureddo Pojishon

) across the front.
Shredding Tector (

シュレーディングテクター

Shurēdingu Tekutā

) - Ark-One's suit. The liquid metal released from the Ark Driver-One is formed by wrapping up the wearer. Fluid metal is enclosed in a special fabric with excellent toughness and wear resistance, and it functions as armor while maintaining flexibility.
Ark-One Shoulder (

アークワンショルダー

Ākuwan Shorudā

) - Ark-One's upper-arm armor. The fluid metal, which is the main material for the armor, transforms into a sharp shape called "Spite Edge" (

スパイトエッジ

Supaito Ejji

) by temporarily increasing hardness and density and becomes a piercing weapon.
Ergonice Arm (

エルゴニースアーム

Erugonīsu Āmu

) - Ark-One's arms. The power cable "M string" (

Mストリング

M Sutoringu

) of the powered suit "Shredding Tector" is stretched around like a human nerve, and reinforces the movement of the wearer from the outside. At the same time, by injecting the energy supplied from the Ark Driver-One, the wearer is given the power to destroy the target.
Ark-One Gauntlet (

アークワンガントレット

Ākuwan Gantoretto

) - Ark-One's hand and forearm armor. The sharp armor of the fingertips "Spite Nail" (

スパイトネイル

Supaito Neiru

) uses the barrier developed from the Ark-One Cuis on the thigh, and manipulates the repulsive force and attractive force on the target to deprive everything of freedom. In addition, the irradiation shaping machine "Beam Equipper" (

ビームエクイッパー

Bīmu Ekuippā

) is equipped on the palm, and in addition to materializing various data such as attach weapons with a modeling beam, it also functions as an irradiation port for the "Spite Nega".
Ark-One Cuisses (

アークワンキュイス

Ākuwan Kyuisu

) - Ark-One's thigh armor. The "Coulomb Generator" (

クーロンジェネレーター

Kūron Jenerētā

) is built in and forms a coulomb barrier generated by manipulating electric charges on the armored surface of the whole body. This allows the physical attack to be dispelled by repulsive force.
Ark-One Greaves (

アークワングリーブ

Ākuwan Gurību

) - Ark-One's shin armor. By using the barrier developed from the Ark-One Quiz on the thighs, the repulsive force and attractive force applied to itself can be manipulated to enable floating in the air and maneuver speed.
Ark-One Sabaton (

アークワンサバトン

Ākuwan Sabaton

) - Ark-One's boots. When the Special Move is activated, by expanding the anti-annihilation field, it is possible to convert the substance that becomes a resistance or obstacle into energy. This nullifies the physical defenses and at the same time improves the destructive power of the kick.
Ark Driver finishers:
Perfect Conclusion (

パーフェクト・コンクルージョン

Pāfekuto Konkurūjon

):

Perfect Conclusion: Learning 5 (

パーフェクト・コンクルージョン: ラーニング5

Pāfekuto Konkurūjon: Rāningu Faibu

): After being charged with malice and yellow lightning, Ark-One absorbs energy from his surroundings and emits a massive explosion around the area, instantly defeating anyone it hits.
Perfect Conclusion: Learning End (

パーフェクト・コンクルージョン: ラーニング エンド

Pāfekuto Konkurūjon: Rāningu Endo

): After charging his leg with negative emotions, Ark-One delivers a kick surrounded in red energy to the enemy. This finisher is strong enough to completely obliterate a Humagear.
Progrise Hopper Blade finishers:
Final Strash (

ファイナルストラッシュ

Fainaru Sutorasshu

): Ark-One swings the Progrise Hopper Blade, launching a jagged construct of Cluster Cells at the enemy.
Appearances:
Zero-One
Episodes
42
-
45
Equipment
Devices
Weapons
Suit-equipped weapons:
Unlimited Chopper - Biting Shark's arm blades
Panthera Burner - Flaming Tiger's palm-mounted flamethrowers
Polar Freezer - Freezing Bear's coolant-producing gauntlets
Vehicles
Legend Rider Devices
"Kamen Ride: Zero-One! To-bia ga rise! Rising Hopper! A jump to the sky turns to a Rider Kick"
―DX NeoDecadriver Transformation announcement
With the Zero-One Rider Card, Decade can transform into Kamen Rider Zero-One.
When Kamen Rider Decade is in his Complete Form, he uses the K-Touch to summon the Final Forms of the twenty-one Heisei Riders. After he presses the Rider's symbol, the Zero-Two card It is found at the top of Decade Complete Form 21's crown helmet.
"(Digital beeping) Zero-One!"
―Activation announcement
"The Rider who acquires creature abilities with Progrisekeys is ... Zero-One! (

プログライズキーで生物の能力を身につけるライダーは...ゼロワンだ!

Puroguraizukī de seibutsu no nōryoku wo mi ni tsukeru Raidā wa Zerowan da!

)"
―Secondary activation announcement
"Armor Time! (Techno-Rock music) Progrise! Zero-One!"
―Transformation announcement in the Ziku-Driver's left-hand slot
"Finish Time! Rising (Barlcxks/Zonjis/Zamonas) Time (Break/Burst/Jack)!"
―Finisher announcement in left-hand slot
Zero-One Ridewatch (ゼロワンライドウォッチ, Zerowan Raidowotchi): Based on Kamen Rider Zero-One Rising Hopper, this Ridewatch would provide access to the Zero-OneArmor. [34] It is dated 2019, but shown on the Ziku-Driver's screen as Rider.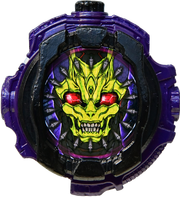 Another Zero-One Watch (アナザーゼロワンウォッチ, Anazā Zerowan Wotchi): A twisted version of the Zero-One Ridewatch used to transform into Another Zero-One.
"Toaru Kigyou no Wakaki Shacho ga, Hitobito no Yume o Mamoru Tame, Ima Tobitatsu...[35]

Translation: A young president of a company shall now take off to protect everyone's dreams... (

とある企業の若き社長が、人々の夢を守るため、いま飛び立つ…

)"
―Story announcement
Hiden no Hiden Monogatari Wonder Ride Book (飛電の秘伝物語ワンダーライドブック, Hiden no Hiden Monagatari Wandā Raido Bukku, lit. Hidden Stories of Hiden Wonder Ride Book) is a Wonder Ride Book based on Kamen Rider Zero-One and Hiden Intelligence. The book's name is shortened to "Hiden" in the Swordriver's finisher announcements. The Book's name is a pun on Hiden Intelligence (飛電) and the Japanese word for "hidden" (秘伝), akin to Aruto Hiden's jokes.
"01 Ai Kaihatsuroku!"
―Activation announcement
"Kono Aratana Jidai no Hajimari ni, AI to Tomoni Yume to Tobitatsu.

Translation: At the beginning of this new era, take off towards a dream with AI. (

この新たな時代の始まりに、AIとともに夢と飛び立つ。

)"
―Story announcement.
The 01 AI Kaihatsuroku Wonder Ride Book (01 AI 開発録ワンダーライドブック, Zerowan Ē Ai Kaihatsuroku Wandā Raido Bukku, lit. "01 AI Development Record Wonder Ride Book") is based on Kamen Rider Zero-One and his forms.[36]
Relationships
Jun Fukuzoe: After Aruto was appointed as the new CEO of Hiden Intelligence, Jun becomes bitter and possessed a Inferiority Complex toward him. He even declares that Aruto had to step down from the CEO position immediately after the Kuehneo Magia rampage. Despite that, Aruto manages to somehow outsmart him by showing proof that MetsubouJinrai.net was the culprit behind Magia rampages, much to Jun's dismay. From that point, Jun, along with Sanzo secretly wishes for Aruto to fail. This animosity and inferiority also shown when Jun didn't hesitate to physically abuse Aruto, and coldly coerces Aruto to replace Izu with a new Humagear. However, despite his hostility to Aruto, he will not hesitate to follow him if it benefits the company. He was also willing, albeit reluctantly, to give Aruto praise for his actions to protect Hiden Intelligence from Metsuboujinrai.NET, claiming he knows when to give credit when it is due. Ultimately, following the Workplace Competition resulting in Gai's victory, Jun admitted that he held no ill will against the young CEO, even expressing concern for him, questioning what would he do next. After asking Aruto to help him out Gai from his seat, Jun re-affirmed Aruto's love for Humagears, encouraging him to take the fight to Ark after his first defeat against it. After Gai resigned as the CEO of Hiden Intelligence and Aruto reinstated as the CEO once more, Jun welcomes him with open hand and become more willing to cooperate with him.
Soreo Hiden/Kamen Rider Ichigata: Aruto's father. Aruto says that Soreo died when he was very young, so a Humagear taking on Soreo's likeness was created to raise Aruto. The Humagear later broke beyond repair while protecting a young Aruto during the Daybreak Town Accident, an event that would greatly impact Aruto's positive view on the Humagears as he grew older.
Korenosuke Hiden: Aruto's grandfather. As an adult, Aruto inherits Hiden Intelligence from him. Korenosuke also entrusted Aruto with the patent rights and any and all related data pertaining to the Humagear system and the Zero-One Driver, because he believed that Aruto will lead the Humagears to prosperity.
Behind the scenes
Portrayal
Aruto Hiden is portrayed by Fumiya Takahashi (高橋文哉, Takahashi Fumiya). His suit actor is Yuya Nawata (縄田 雄哉, Nawata Yūya). Nawata was previously the suit actor for Kamen Rider Genm, Kamen Rider Cronus (Taiga Hanaya), and most recently Kamen Rider Geiz.
Rider No.
As the leading rider protagonist of Kamen Rider Zero-One, Zero-One is labeled Kamen Rider #36 (仮面ライダー36号, Kamen Raidā Sanjūrokugō) and Reiwa Rider #1 (令和ライダー1号, Reiwa Raidā Ichigō).
Etymology
With "zero" in Japanese and "one" in Japanized-English, Zero-One can be read as Rei Wan (零 ワン, Rei Wan) in Japanese, referencing the fact that he is the first Kamen Rider of the Reiwa era.
Concept Art
Notes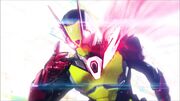 Being the first Kamen Rider of the Reiwa period, Zero-One's name and motif are in homage to Kamen Rider 1. He is the first lead Kamen Rider to have a grasshopper as his central signature design motif since Kamen Rider Black RX, and returning to the traditional insectoid eye design since Kamen Rider Fourze (discounting Amazon Omega and Amazon Alpha). The circular design in the center of the Hiden Zero-One Driver is a possible homage to the Typhoon and most Showa era belts.

Kamen Rider Zero-Two is a homage to Kamen Rider 2, due to their similar naming, Zero-Two's red forearms corresponding to Kamen Rider 2's gloves, and Zero-Two being shown in a pose similar to 2's signature transformation pose in promotional material.

Similar to Ichi-Gata, Zero-Two gains an energy muffler whenever it uses its finisher as a homage to Kamen Rider 2's trademark scarf.

Aruto's transformation into Kamen Rider Ark-One seems to further solidify this homage, as the Ark-Driver One, having a mainly white body and a red core, bears a greater resemblance to the Typhoon, as well as the Arcle, the first transformation belt of the Heisei era.

Zero-One's signature pose is nearly identical to Kamen Rider Kuuga's signature pose.
According to the first episode, Aruto is 22 years old. However, his actor, Fumiya Takahashi, was 18 years old at the time.

Aruto's 22nd birthday fell on the first day of the Reiwa era.

Kamen Rider ZeroZero-One's suit reuses the chest armor of Horobi/Jin, the undersuit, leg armor and abdominal armor of Night Rogue, the shoulders and the armor on the arms from the Nebula Hell Bro's. The only original elements are the helmet and Restrain Cables added to the thighs.
Kamen Rider ZeroZero-One strongly parallels Kamen Rider Super Dead Heat Drive, both being makeshift forms that the protagonist Riders are forced to access via an alternative transformation device due to losing access to their primary transformation gear, resulting in a form that repurposes villains' suits as a dark version of the main Rider, and slightly changing the proper name of the Rider.

ZeroZero-One's name is also a nod to the codenames of the 00 Cyborgs from Shotaro Ishinomori's Cyborg 009 and even shares the name with Ivan Whisky/Cyborg 001 from the same manga.

Aruto is the only user of the MetsubouJinrai Forceriser who is not affiliated with MetsubouJinrai.net. He is also the only human to have done so.
Aruto is the second Rider to use a kangaroo-based form since Kamen Rider OOO.
While never explicitly stated, Aruto may or may not be a byproduct of his Over Quartzer counterpart's existence, due to their identical voice and powers.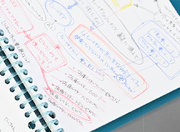 During the creation of Zero-Two System, Aruto came up with some concept names for his new Kamen Rider before he named it as Kamen Rider Zero-Two:

Kamen Rider Super Zero-One (

仮面ライダースーパーゼロワン

Kamen raidāsūpāzerowan

) (Possibly a homage to Kamen Rider Super-1)
Kamen Rider 0001 (

仮面ライダー0001[ゼロゼロゼロワン]

Kamen Raidā Zerozerozerowan

) (Homage to Kamen Rider ZeroZero-One)
Kamen Rider Hyper-One (

仮面ライダーハイパーワン

Kamen Raidā Haipāwan

)
Kamen Rider NEW Zero-One (

仮面ライダーNEWゼロワン

Kamen Raidā Nyū zerowan

) (Possibly a homage to Skyrider's original series name "New Kamen Rider")
Kamen Rider Strong-One (

仮面ライダーストロングワン

Kamen Raidā Sutoronguwan

) (Possibly a homage to Kamen Rider Stronger)

As of Episode 42, Aruto has transformed into a grand total of four Kamen Riders (Kamen Riders Zero-One, ZeroZero-One, Zero-Two, and Ark-One), beating Yuji Kiba's previous record of three (Kamen Riders Faiz, Kaixa, and Orga). As such, Aruto is the only Rider in the series to be granted a different Rider name for each Driver he has used, and the only main Rider in the franchise to hold such a distinction.

Similar instances in the past have either added an extra phrase before (e.g. Super Dead Heat Drive) or after (e.g. Ryuki Survive) of their standard name, or, in the case of Kamen Rider Black RX, the different Drivers are actually all variations of the same transformation device.

Ark-One's chest resembles the ZAIA Spec, and by extension the Ark Spec found in the Ark-One Progrisekey.
Before becoming Kamen Rider Ark-One, there were several instances of Aruto using the Ark's power over the course of the series.

In Kamen Rider Reiwa: The First Generation, Aruto was forced to use a MetsubouJinrai Forceriser, an equipment typically used by high-ranking members of MetsubouJinrai.net, while this Forceriser connects to the Ark safely without being corrupted.
Over the course of the series, Aruto upgraded his arsenal with the Ark's power and technology. First, he used the Assault Grip, which was created by the Ark, and was used to upgrade the Shining Hopper form. Then he was forcibly given the MetalCluster Hopper Progrisekey, giving Aruto a direct connection to the Ark and temporarily causing the Zero-One System to go berserk.
It was during the Workplace Competition arc where it is demonstrated that both Humagears and humans can transform into the Magia & Raiders respectively when coming under the influence of the Ark.

Zero-One is the first Reiwa Rider to use an extra final form in the finale of his series.

To an extent, he is the third titular Rider who use an extra final form in the finale of his series (Realizing Hopper), with the first and second being Kamen Rider Build (RabbitDragon Form) and Kamen Rider Zi-O (Kamen Rider Ohma Zi-O) respectively.
Appearances
References
See also
Community content is available under
CC-BY-SA
unless otherwise noted.