The Mandalorian's Popularity | The Loop
"There's only one person who can stop you, and that's me!"
―Zero-One's catchphrase
"Now that's a show by Aruto!"
―Aruto's catchphrase after telling his puns
"Humagears are partners that find harmony with humans!"
―Aruto's belief about the purpose of HumaGears
"As Hiden's President, I promise you: I won't keep any secrets. You have my word."
―Aruto revealing his identity as Zero-One to Fuwa
"There's only one person who can surpass me, and that's me!"
―Zero-One vows to surpass the Dodo Magia's ability to adapt to his attacks
Aruto Hiden (飛電或人, Hiden Aruto) is a 22-year-old aspiring comedian who became the CEO of Hiden Intelligence after the death of his grandfather. Originally uninterested in taking up the position, he became witness to the terrorist attacks committed by MetsubouJinrai.net and reluctantly became Kamen Rider Zero-One (仮面ライダーゼロワン, Kamen Raidā Zerowan) for the sake of pursuing his dreams of making others smile.
Due to manipulations of the timeline by the Time Jackers, Aruto lost the ability to transform during the attack by Another Zero-One, which resulted in him temporarily resorting to using a ForceRiser to transform into Kamen Rider 001 (仮面ライダー001[ゼロゼロワン], Kamen Raidā Zerozerowan).
History
Early Life
Aruto Hiden was born the grandson of Hiden Intelligence CEO, Korenosuke Hiden. His father, Soreo Hiden, passed away when he was young, so Aruto was raised by a HumaGear resembling his father to take Soreo's place as a parent and as emotional support.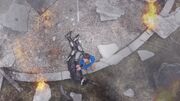 Aruto and Soreo were present on the day of the Daybreak Town Accident, where they were enjoying a family outing with young Aruto spent most of his time engaging in comedic antics. When the chaos erupted from the Hiden Intelligence building, Soreo shielded Aruto from one of the explosions, but was grievously damaged in the process. In his final moments, Soreo encourages Aruto to continue pursuing his dream before his systems shutdown completely, leaving the young boy to grieve.
Becoming Zero-One
At the age of 22, Aruto is continuously struggling to hold his career as a comedian. After getting fired from his job at a theme park, Aruto was met at the park entrance by Izu, a secretary-type HumaGear who escorted him to Hiden Intelligence headquarters to discuss the wills of his late grandfather,
Brought before the executive committee, Aruto reads his late grandfather's wills and is shocked to discover that an imminent crisis involving the HumaGears will happen again, and the only way to combat against them is the Hiden Zero-One Driver, to be used exclusively by the succeeding president, whom his grandfather had named Aruto as. Although the entire board of directors were enraged by this sudden development, Aruto quickly turns down the role and excuses himself.
As Aruto goes back to the theme park in an attempt to beg for his job back, the Berotha Magia attacks the park, and Aruto attempts to stop it but is beaten senseless. After getting triggered from the Magia saying that human dreams were meaningless, Aruto re-stood his ground and asked the just-arrived Izu for the Zero-One Driver. Aruto's mind was then uplinked into the communications satellite Zea, where his mind processing speeds were enhanced to the point where he learns the entire Zero-One tutorial in five seconds. Aruto transforms into Zero-One and destroys the Magia henchman as well as the Berotha Magia. After his first battle, Izu reveals that by accepting the Zero-One Driver, Aruto had also accepted being the president. Originally being reluctant to do so, he was re-inspired after seeing the park manager be grateful for Zero-One. I am the President and a Kamen Rider
Being CEO of Hiden Intelligence
to be added
HumaGears Rampage Aftermath
Aruto's reputation as CEO of Hiden Intelligence has gone down after the HumaGear Massive attack at the Hospital, but later was involved with a drama television show with Enji Matsuda, Actor-Type HumaGear who was the star of the show alongside with Shinya Owada, a very well renowned actor. Aruto then convince Jun Fukuzoe to participate in the show, as Jun agreed with the invitation to participate in the show with a frown.
When Aruto was filming Drama alongside with the other cast, Izu tell Aruto about the MetsubouJinrai.net Attack with her pose and her hand sign, Aruto was shocked by Izu's words but instead surprised the crew with his reaction. Later, Aruto Join the battle after he was informed about Dodo Magia and transform into Kamen Rider Zero-One Rising Hopper to fight against Jin. As Aruto tried to use Attache Arrow to fight Jin, Attache Arrow was taken by Jin, but he later use his Freezing Bear Form to finish off Jin before Jin escaped. I am an Actor, Shinya Owada
Other Events
Kamen Rider Zi-O: Over Quartzer
Zero-One appeared to face the heavily injured Kamen Rider Zonjis, introducing himself to be the only one for being the true first Reiwa rider, Zero-One. Aruto defeated Zonjis easily by using his Rising Hopper and Flying Falcon forms, followed by Black Woz celebrating his arrival.

Kamen Rider: Reiwa The First Generation
Due to the creation of Another Zero-One caused by Time Jacker Finis, Aruto cannot transform into Zero-One again. Thus, he is forced to use the ForceRiser to become Kamen Rider 001. Much to his shock, he is also forced to fight Soreo Hiden, his HumaGear's "father".
Personality
Aruto is a cheerful individual who loves to make people laugh, and doesn't give up even if he fails to do so. Despite this cheerful trait, he will not hesitate to fight back against people who threaten that happiness. To this end, he reluctantly becomes a Kamen Rider not to be a company president, but to be someone who can protect the peace.
Due to his upbringing, he has a very positive outlook on HumaGears, and strongly believes they can prosper alongside humanity. This makes destroying Magias difficult for him, especially if they were former Humagears he knew personally. He eventually accepts and gets past this weakness by the time he encounters Kobe Sakamoto.
Aruto also has a strong sense of empathy, shown towards Seiji Tazawa whom both had lost someone close to them and required a HumaGear to take their appearance for emotional support. To this end, Aruto was willing to put himself as a person first rather than immediately have Seiji arrested for breaking the law.
During mid-battles, he will say "There's only one person who can stop you, and that's me!" (お前を止められるのはただ一人…俺だ!, Omae o tome rareru no wa tada hitori, ore da!).
Aruto also playfully refers to his Progrise Keys [i.e. he calls the Flaming Tiger Key and its corresponding animal "Tora-chan" (トラちゃん, "Tora-chan")]. This is very evident with Flying Falcon, where every time he meets Jin he will demand Jin to return "Tori-chan" (トリちゃん, "Tori-chan").
Appearances In Other Media
Super Hero Time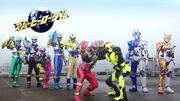 In the closing of Super Hero Time, Kamen Rider Zero-One is seen posing alongside Vulcan, Valkyrie and the Ryusoulgers

.

Video Games
Kamen Rider Zero-One, alongside Vulcan, Valkyrie, Horobi and Jin will be playable characters in Kamen Rider Battle Ganbarizing.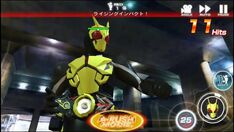 Kamen Rider Zero-One is a playable character alongside the other Kamen Riders.

Kamen Rider Zero-One is a playable character with Vulcan, Valkyrie and other Riders in Kamen Rider Buttobasoul.

Powers and Abilities
With the Hiden Zero-One Driver equipped, Aruto gains the following abilities:
Enhanced Thought Process: By equipping the Zero-One Driver, Aruto's thought processing speeds are exponentially enhanced, rivaling that of an A.I. supercomputer.
Fight Learning: Although Aruto is not a fighting expert, the Zero-One Driver allows him to learn and analyze for every fight he has.
Weaknesses
Shining Hopper: Shining Hopper uses a great portion of Aruto's strength and speed when fighting strong enemies, thus causing his body to strain afterwards. When the form is used too long, he can no longer move and be forced out of his transformation, similar to Type Formula's G-Forces.
Forms
Kamen Rider Zero-One's ending theme is entitled "Find A New Life".
Equipment
Devices
Weapons
Suit-equipped weapons:
Unlimited Chopper - Biting Shark's arm blades
Panthera Burner - Flaming Tiger's palm-mounted flamethrowers
Polar Freezer - Freezing Bear's coolant-producing gauntlets
Vehicles
Legend Rider Devices
Ridewatch
Zero-One Ridewatch (ゼロワンライドウォッチ, Zerowan Raidowotchi): Based on Kamen Rider Zero-One Rising Hopper, this Ridewatch would provide access to the Zero-OneArmor. [23] It is dated 2019, but shown on the Ziku-Driver's screen as Rider.
Relationships
Behind the scenes
Portrayal
Aruto Hiden is portrayed by Fumiya Takahashi (高橋文哉, Takahashi Fumiya). His suit actor is Yuya Nawata (縄田 雄哉, Nawata Yūya), who took over the role as leading suit actor for the main Riders starting with the Reiwa era, succeeding Seiji Takaiwa. Nawata was previously the suit actor for Kamen Rider Genm, Kamen Rider Cronus (Taiga Hanaya), and most recently Kamen Rider Geiz.
Etymology
With "zero" in Japanese and "one" in Japanized-English, Zero-One can be read as Rei Wan (零 ワン, Rei Wan) in Japanese, referencing the fact that he is the Kamen Rider of the Reiwa era.
Conception
Notes
Zero-One shares similarities with and is possibly a homage to Kamen Rider 1:

They are both the first Rider that debut in their representative era.
Both have a grasshopper motif.
Both of the Riders have the word or numeral "one" in their name.

Zero-One Rising Hopper form's pose (after transformation) is similar to Kamen Rider Kuuga's pose[24]
Zero-One is the first lead Kamen Rider in over 30 years in a TV series that is entirely themed after a grasshopper, with the last one being Kamen Rider Black RX, not counting the grasshopper legs of Kamen Rider OOO, or the more subtle grasshopper motif of Kamen Rider Double (which is subordinate to his "W" motif and not explicitly identified by his transformation gear).
Coincidentally, Zero-One's base form and upgrade form use names announced by Decade's K-Touch in a Strongest Form variant for the first two Heisei Riders' Final Forms, Kuuga's Rising Ultimate Form, and Agito's Shining Form.
According to the first episode, Aruto is 22 years old, however his actor Fumiya Takahashi is 18 years old.
Aruto shares some similarities with Rentaro Kagura and Rento Makina, Kamen Riders who also appeared in Sougo Tokiwa's dream like him.

Kamen Rider Shinobi

Both of their suits are formed by animal mecha they are based on.
Both are shown to be capable of high speed movement.

Kamen Rider Kikai

Both of their transformations are processed by satellites.
Both fight against humanoid robots who plot to destroy humanity.
Both have black, red, and some form of yellow in their color schemes.

Coincidentally, Zero-One's Rising Hopper transformation sound includes three rhyming words like Shinobi and Kikai, as well as Woz and Quiz to another extent (i.e. Authorise! Progrise! To-biaga rise!).

Aruto's "failure to make people laugh" gag is similar to Nobuharu Udo from Zyuden Sentai Kyoryuger.
Zero-One is the only rider to have his armor disfigured instead of being replaced while accessing a new base form.
Zero-One's Breaking Mammoth form is the first Mecha form on Reiwa Era and the first since Maximum Gamer and God Maximum Gamer to have a giant Robot as a Mecha Form.
Zero-One's Flaming Impact is very similar to Kamen Rider OOO's Gush Cross as it involves them going through a ring/rings before slashing their enemies with their claws.
Zero-One's theoretical Amazing Hercules form bears a resemblance to Kamen Rider Blade, mainly his Ace Form. Other than their same motifs, Zero-One's head crest and shoulderpads are reminiscent of Blade's.
Kamen Rider Zero-One Rising Hopper's color scheme is similar to the Phymateus leprosus or Milkweed Grasshopper, a Toxic Grasshopper that can be found in South Africa.
Kamen Rider 001's suit reuses the chest armor of Horobi/Jin, the undersuit, leg armor, and abdominal armor of Night Rogue, and the armor on the arms from the Nebula Hell Bro's. The only original elements are the helmet and Restrain Cables added to the thighs.
Kamen Rider 001 strongly parallels Kamen Rider Super Dead Heat Drive, both being makeshift forms that the protagonist Riders are forced to access via an alternative transformation device due to losing access to their primary transformation gear, resulting in a form that repurposes villains' suits as a dark version of the main Rider, and slightly changing the proper name of the Rider.

001's name is also a nod to the codenames of the 00 Cyborgs from Shotaro Ishinomori's Cyborg 009 and even shares the name with Ivan Whisky/Cyborg 001 from the same manga.

Posessing a Mammoth-themed mecha and being comedic relief makes him similar to Zack from Mighty Morphin Power Rangers

Intestingly, Zero-One's first partner, Kishiryu Sentai Ryusoluger, and Mighty Morphin Power Rangers are dinosaur-themed seasons.
Appearances
References
See also
Community content is available under
CC-BY-SA
unless otherwise noted.