Spider-Man: No Way Home Trailer Dropped - The Loop
Play Sound
"There's only one person who can stop you, and that's me!"
―Zero-One's pre-battle catchphrase
"Yes! It must be me, Aruto!"
―Aruto's catchphrase after telling his puns
"Humagears are partners that find harmony with humans!"
―Aruto's belief about the purpose of Humagears
"As Hiden's President, I promise you: I won't keep any secrets. You have my word."
―Aruto revealing his identity as Zero-One to Isamu Fuwa
"You can't win. There's only one person who can surpass me, and that's me!"
―Zero-One vows to surpass Little Assassin's adaptability
"I don't want to ever forget the dreams I live for. That's why... I'll fight for a future where humanity and Humagears can smile together. That's who I, Kamen Rider Zero-One, am!"
―Zero-One's reason for fighting
"No matter what the past is, we'll begin a new generation in the future!"
―Aruto's desire to begin a generation of Kamen Riders
"I'm terrified of you, but... I'll never run!"
―Aruto standing up to the Ark
Aruto Hiden (飛電或人, Hiden Aruto) is the main protagonist of Kamen Rider Zero-One. He is a 22-year-old former comedian and the current CEO of Hiden Intelligence who fights as Kamen Rider Zero-One (仮面ライダーゼロワン, Kamen Raidā Zerowan) alongside his Humagear companion Izu to pursue his dreams of making others smile. After his loss in the Workplace Competition, his drive to continue fighting against the Ark and unite both humanity and Humagear inspired him to create a new company and fight as Kamen Rider Zero-Two (仮面ライダーゼロツー, Kamen Raidā Zerotsū). However, he would eventually lose his faith and be consumed by the desire for revenge, temporarily becoming Kamen Rider Ark-One (仮面ライダーアークワン, Kamen Raidā Ākuwan).
Due to manipulations of the timeline by the Time Jacker Finis, Aruto lost the Zero-One Driver after losing to Another Zero-One, which resulted in him temporarily resorting to usage of a Forceriser to transform into Kamen Rider ZeroZero-One (仮面ライダー001[ゼロゼロワン], Kamen Raidā Zerozerowan).
History
Background
Aruto Hiden was born on May 1, 1997 to his parents Soreo Hiden and Yoshino Hiden, and to his grandfather Korenosuke Hiden, the CEO of Hiden Intelligence at the time. When Aruto was only two months old, his parents passed away in an accident, so his grandfather built a Humagear resembling his father to take Soreo's place as a parent and as an emotional support.
One day, Soreo asked Aruto what his dream was, and he responded that he wanted his father to be happy. Wanting to share that happiness with his son, Soreo began creating the Hiden Zero-One Driver, which ultimately served to prevent a worldwide catastrophe that would have resulted in the Humagears taking over the world.
Aruto and Soreo were present on the day of the Daybreak Town Accident, where they were enjoying a family outing where young Aruto spent most of his time engaging in comedic antics. When chaos erupted from the Hiden Intelligence building, Soreo shielded Aruto from one of the explosions, but was grievously damaged in the process. In his final moments, Soreo encourages Aruto to continue pursuing his dream before his systems shutdown completely, leaving the young boy to grieve.
In his adulthood, Aruto pursued a career in comedy, doing street performances with a friend as a duo. However, the friend left after he got tired of Aruto's jokes.
Becoming CEO and a Kamen Rider
"Zero-One, that's my name!"
―Kamen Rider Zero-One introduces himself to the Berotha Magia
At age 22, Aruto had continuously struggled to hold his career as a solo comedian. After getting fired from his job performing at a theme park, he meets the secretary Humagear Izu and escorted to Hiden Intelligence HQ to discuss his late grandfather's will, which revealed that an imminent crisis involving the Humagears and the only way to combat against them is the Hiden Zero-One Driver, used exclusively by the succeeding president: "Aruto Hiden". Although the entire board of directors were against this decision, Aruto calmed them down by quickly turning down the role and excused himself. When he returned to the theme park, the Berotha Magia began to attack the park and Aruto attempts but fails to stop him. After hearing the Magia claiming all dreams were meaningless, he restood his ground and asked the just-arrived Izu for the Zero-One Driver. As his mind uplinked into the communications satellite Zea, Aruto transforms into Zero-One for the first time and eliminates the Berotha Magia. After his first battle, by accepting the Zero-One Driver, Aruto had also accepted being president of his late grandfather's company.
Arriving at Hiden Intelligence with Izu, Aruto was briefly halted by a security guard Humagear, Mamoru. Izu took him to the CEO's office and meets Isamu Fuwa and Yua Yaiba, the representatives of the government taskforce A.I.M.S. When Fuwa accused Hiden Intelligence of covering the Humagear rampage at the theme park, their conversation is cut short when the Kuehne Magia attacked the building. Aruto attempted to fight him as Zero-One, but the Kuehne Magia flew away and escaped. He later learns the reason of Fuwa's hatred towards Humagears stemmed from his traumatic past during the Daybreak Town Accident. Although Aruto began to befriend the security guard Mamoru, it was cut short after the Kuehne Magia attacked the headquarters again and Jin took the opportunity to corrupt Mamoru as the Ekal Magia. Knowing that Mamoru cannot be restored back to normal, Aruto was forced to transform into Zero-One and mercifully eliminate the Ekal Magia. The next day, Aruto introduces himself as the new CEO of Hiden Intelligence to the press conference and reveals the existence of MetsubouJinrai.net as the terrorists responsible for hacking the Humagear. He ends the press conference with one of his gags, which were explained by Izu much to his protest.
As the president, he will be involved in sales activities to restore the image of Humagear, and from behind the scenes, he will devote himself to the battle MetsubouJinrai.net as Zero-One. Although it was originally top secret of the company that he was Zero-One, he chose to forsake that and revealed himself to Isamu Fuwa in order to prove that they were on the same side and gain his trust. However, Aruto was still new to the world of business and his inexperience in handling in a company would often be called out by Jun Fukuzoe and Sanzo Yamashita, and what also didn't help their initial impression towards him is his constant need to tell bad jokes.
Aruto and Izu were joined by Fuwa in stopping MetsubouJinrai.net from corrupting Humagears, as it became apparent that they were the ones responsible for the Daybreak Town Accident. Despite their alliance, the two would often come into conflict regarding the ethics of Humagears, such when a customer ordered a Humagear to resemble his deceased daughter and when a Humagear started to gain sapience.
While visiting a hospital that employed the use of medical Humagears, Aruto finally met with the members of the MetsubouJinrai.net, Jin and Horobi, who managed to corrupt a majority of the medical Humagears using the Giger. Forced to make the executive decision to temporarily shut down the medical Humagears, he rescinded his decision upon realizing that even if it concerned the safety to the public, there were still more hospital patients that needed help. Aruto took on MetsubouJinrai.net and their Giger army after transforming into Zero-One Breaking Mammoth, using the mecha suit to take down the titans. Aruto later visited Fuwa, who had been surgically operated by the medical Humagear Dr. Omigoto, and learned he is starting to appreciate the value of Humagears.
Due to Hiden Intelligence's reputation has gone down after the Humagear's massive rampage at the hospital, the company got involved with a drama television show with Enji Matsuda, an actor Humagear, who was the star of the show alongside with Shinya Owada, a very well renowned actor, but despite some bumpy setbacks and step forwards, it came crashing down after Shinya Owada was shot on set by MetsubouJinrai's Assassin-Type Humagears.
The police opened up an investigation into the assassination attempt on Shinya Owada's life. While raiding Aruto's office, he managed to escape by leaping off the Hiden Intelligence building as Zero-One. However, they are unable to find any evidence that Hiden Intelligence created the assassin-type Humagear. Thanks to the detective Humagear, Wazu Nazotoku, they were able to discover their original natures as part of the Matsurida Z series. As the Assassin Humagear returned as an empowered Dodo Magia, Aruto decided to use a new Progrisekey given by Izu to upgrade into Zero-One Shining Hopper.
Unfortunately, the form was deemed incomplete as it was unable to keep up with Aruto's growing combat potential. The insufficient combat data needed resulted in this form being only 1.8 times more powerful than Rising Hopper, as calculated by the Dodo Magia. However, after adding in the combat data from Zero-One's four auxiliary Progrisekeys as well as Wazu Nazotoku's central memory, Shining Hopper's power output is boosted, now being at least five times more powerful than before and allowing Aruto to finally vanquish the Little Assassins once and for all.
After being late to work and shamelessly sending down the Rise Hopper out from space, Aruto was visited by the Uchuyaro brothers: Raiden and Subaru. Raiden berated Aruto for undervaluing the hard work they did to load the Rise Hopper back to Satellite Zea. After traveling to the Hiden Intelligence Space Development Branch, they were visited by Fuwa and Yaiba who revealed there is a spy in Hiden Intelligence feeding information to MetsubouJinrai.net. After discovering the hideout of MetsubouJinrai.net, it was revealed that Raiden was the traitor, having feeding the information to the terrorist organization as the sleeper agent "Ikazuchi". After Raiden transformed into Kamen Rider Ikazuchi, Zero-One Shining Hopper was still unable to defeat it. It was only Fuwa transforming into Vulcan Assault Wolf who managed to eliminate Ikazuchi.
With MetsubouJinrai.net's hideout revealed at Daybreak Town, Aruto and Izu participated in the raid with A.I.M.S. to take down the organization once and for all. After Horobi was damaged in battle, Jin attacked Izu in retaliation much to Aruto's shock. He brought her back to Hiden Intelligence to repair her, but she still wouldn't wake up. To rub salt to the wound, Aruto was told by Vice-President Fukuzoe that he is holding a meeting with the other board members to decide should he be fit to remain as president of the company. When Jin launched an attack to the city, Aruto confronted him and called him out for his hypocrisy of claiming humans are cruel for attacking Humagears, yet he chose to harm innocent Humagears. Taking the Assault Grip from Fuwa's Assault Wolf Progrisekey and attaching it to the Shining Hopper Progrisekey, Aruto transforms into Zero-One Shining Assault Hopper.
Zero-One Shining Assault Hopper make his move and defeats most of the Trilobyte Magia army and seemingly overpowers Jin until he summons the Gigers to knock Aruto down. When Aruto's consciousness was uplinked to Zea, Aruto reunites Izu as she has been kept in there and explains to Aruto that there is a new function in his form and its potential, giving more confidence to Aruto and he was able to defeat the army of Gigers and resumes his battle with Jin, defeating him with the Shining Assault Impact. With that, the MetsubouJinrai threat was seemingly at a close and the board members were convinced to keep him on as president of Hiden Intelligence. He was able to rebuild Izu's body and peace appeared to follow pursuit.
However, new Magias without Zetsumerisers started to resurface. While Aruto held a public press conference on what was happening despite MetsubouJinrai's defeat, it was interrupted by the appearance of Gai Amatsu, the president of ZAIA Enterprise Japan. Aruto previously met with Gai at his mansion while convincing him to sell his company to ZAIA. Gai announces his intentions to buy Hiden Intelligence in a takeover bid, using his efforts to buy enough stocks and take over the company.
The Workplace Competition
After Gai Amatsu's announcement of his intention to purchase Hiden Intelligence, Aruto had a private meeting with Gai and learnt of ZAIA's latest products, the ZAIA Spec. Wanting to challenge the usefulness between Humagears and the ZAIA Spec to the public, Gai proposed a five-part Workplace Competition to determine the whether Humagears or the ZAIA Spec is superior.
The first round of the competition was flower arrangement, where florist Humagear Sakuyo Ichirin was challenged with Rentaro Tachibana wearing the ZAIA Spec. After Sakuyo went berserk, Aruto tried to subdue her rampage but came to shock after witnessing Gai transform into Kamen Rider Thouser and destroyed Sakuyo. Aruto would learn more of Gai Amatsu's motivations, being a former idol of his late grandfather who disagreed with the practicality of Humagears and believed he was more fit to lead Hiden Intelligence. Aruto was able to reupload Sakuyo into a new body and it would later became apparent that her opponent Tachibana had cheated by sabotaging her floral piece. In a rematch, Rentaro secured a fair victory and congratulated Sakuyo on her otherwise beautiful pieces. This scored ZAIA Japan's first point, putting them in the lead.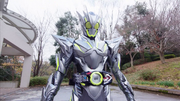 As the Workplace Competition continued to progress, it would slowly become apparent that Gai was using every underhanded method to downplay the Humagears, even intentionally provoking them to become Magias inciting malice. Upon learning of Gai's role in sabotaging the Ark, therefore causing the Daybreak Town Accident and the formation of MetsubouJinrai, Aruto grew more frustrated with the ZAIA president. Gai took advantage of the situation and decided to use the MetalCluster Hopper Progrisekey to lock Aruto from transforming into Zero-One again. However this would backfire, as it instead transformed Aruto into Zero-One MetalCluster Hopper and uplinked the Zero-One Driver System with the Ark, causing him to go berserk and attack anyone on sight.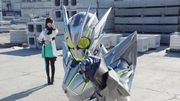 When Aruto tried to authorize with his other Progrisekeys, it wouldn't work due to Gai Amatsu somewhat succeeding with locking Aruto's transformation ability. Although things seemed hopeless, Izu along with the previous Humagears that Aruto have encountered managed to compile their data to create the Progrise Hopper Blade, which reconnected him back with Zea. Aruto was able to control the MetalCluster Hopper form and reauthorized with Zero-One's past forms. With the Progrise Hopper Blade at hand, Zero-One can properly restore a Humagear that has been corrupted by the Ark to its original programming.
Horobi, who turned out to be restored as A.I.M.S.' prisoner, had escaped their imprisonment and returned back to the MetsubouJinrai.net hideout. While Aruto and Fuwa raced to Daybreak Town, he revealed his dream to make humans and Humagears smile and laugh together, which is why he became "Kamen Rider Zero-One". Zero-One and Vulcan fought off the army of Magias, but perplexed by the reemergence of Jin, under a new form: Kamen Rider Jin Burning Falcon.
With the Workplace Competition resuming, it reached a point when both Hiden Intelligence and ZAIA Enterprise Japan had tied scores. Gai had their final round of the competition be a referendum campaign to collect the most popular vote on the issue of whether Humagears should be accepted into society or not, with corrupt politician Masamitsu Yuto on his side. Although Aruto had brought in the aid of rapper Humagear MC Che.ck-It-Out to sway the public in their favor, Gai used his underhanded tactics to trick the public into believing Hiden Intelligence spreading lies of rigging the majority votes and continued to provoke MC Che.ck-It-Out to become a Magia.
Because of MC Che.ck-It-Out's actions, Aruto and Hiden Intelligence's favor fell out and the populace publicly voiced their support for ZAIA Japan on live television, ZAIA Japan won and the buyout was commenced. Meeting at Gai's mansion, although Aruto conceded defeat, he begged him to spare the Humagears, much to his refusal. When Gai and Yua determined to eliminate Izu, Aruto rushed to defend her but was quickly aided by Fuwa, who transformed into Kamen Rider RampageVulcan and overpowered Thouser and the Fighting Jackal Raider.
However, this did not fix their current predicament as Hiden Intelligence was acquired as a subsidiary of ZAIA Japan. As Aruto left the company building, Vice-President Fukuzoe and Managing Director Yamashita came by to question why he is leaving despite the board of directors haven't even recommended for his resignation. Aruto revealed that he is leaving voluntary rather than compulsory. He walked out and appeared to have lost everything: his company, his Driver, and his family legacy.
Creating HIDEN Manufacturing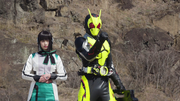 After his position as CEO of Hiden Intelligence was taken by Gai Amatsu, he was forced to relinquish his Hiden Zero-One Driver due to ZAIA Enterprise Japan being declared as the winner of the Workplace Competition. However, since the rights of the Humagear and Zero-One technology belonged to Korenosuke Hiden, Aruto was authorized to use them when Jin helps him steal them back from Gai's office, with Izu creating a new company for him, HIDEN Manufacturing.
With his new company, he focused his efforts on recovering discarded Humagears using the Humagear Progrisekeys. He was first approached by the comic creator Ishizumi, asking him to restore G-Pen. Although G-Pen had yet to achieve Singularity and constantly told to run free by Jin, Aruto instead helped G-Pen realize his dream to create an original comic of his own creation as Aruto encourages him to show the world his talent.
Sometime later, Aruto employs Fuwa to be a bodyguard for HIDEN Manufacturing. For his next job, he restored the fashion model Humagear, Delmo. While repeatedly intercepted by Gai and his ZAIA reinforcements, Aruto and Izu were able to make Delmo's dream of a Humagear walking on the fashion runway with a sense of pride by walking in for her while Delmo was temporarily injured. After the fashion show, Aruto announced HIDEN Manufacturing and its goal for the Humagear restoration, being received well by the public.
After restoring the farmer Humagear Midori, Aruto was intercepted by Horobi who demanded him to hand over "Ikazuchi"'s Progrisekey containing his data. Upon doing further research into Horobi's past, Aruto remembered learning that Horobi was a Parent-Type Humagear like his father was. The next day, Aruto confronted Horobi on what made his renounce his parental programming, but Horobi declared himself a loyal follower of the Ark. After they battle, Aruto was suddenly intercepted by Jin, who managed to take Uchuyaro Raiden's Progrisekey.
After Naki launched a move on the ZAIA Spec users to the public by causing them to go berserk, Thouser led an army of Battle Raiders to battle Horobi and his Trilobyte Magia army in the outskirts of Daybreak Town. While Gai gained the upperhand, Aruto arrived to protect Horobi and tells him that he can continue to live as a proper Parent Humagear without Ark's influence and protecting Jin before is the proof. After that, Aruto in anger that Humagears will never live with humans and their dreams as long as Gai exists. After Naki had control over the Battle Raiders and Giger to attack Thouser, Gai was defeated and left the scene humiliated. Horobi gives his impression towards Aruto that he might change the future of the Humagears and seemingly in a good way for Horobi too.
The Ark Uprising
However, MetsubouJinrai.net would accomplish their goal in fully reviving the Ark and has manifested itself as Kamen Rider Ark-Zero. After Aruto's first encounter, Aruto began starting to fear the prospects of advancing artificial intelligence innovations beyond human comprehension. However, thanks to a pep talk with Vice-President Fukuzoe, Aruto got over his fears and became motivated to take down the Ark.
When Gai fell into his mania and became mad with power as president, Aruto arrived to Hiden Intelligence and stepped in to protect Fukuzoe, Yamashita, Shesta from him. When the Ark attempted to attack Hiden Intelligence's Space Development Center, Aruto arrived in his Rise Hopper to face him and would eventually be aided by Gai Amatsu, making a change of heart and fight alongside with his arch-nemesis into stopping the powerful threat.
Zero-One MetalCluster Hopper and Thouser managed to drive off Thouser, freeing Jin from his control. Back in the HIDEN Manufacturing Building, Gai apologized for his actions in the past but Aruto refused to accept his apology because of what he did to Fuwa and Yaiba. To find a way to outperform the Ark, Aruto and Izu visited Zea for advice, they realized that Zero-One was no longer capable of updating. However, the Ark would manage to succeed taking over Zea's Satellite husk in space, now invincible than ever. During their battle, Aruto would also lose the Zero-One Driver to the Ark.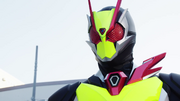 "Kamen Rider Zero-Two... that's my name!"
―Zero-Two introduces himself to Ark-Zero
After several simulations regarding Ark-Zero defeating of Aruto and his allies, he and Izu managed to create the Hiden Zero-Two Driver and Zero-Two Progrisekey based on his sketches. Aruto finally transforms into Kamen Rider Zero-Two, represented by his and Izu's dream to unite the humanity and Humagears together, and with the new power, he defeats Kamen Rider Ark-Zero by out-predicting his opponent's prediction ability.
Gai would eventually step down as president of Hiden Intelligence, appointing Aruto to reclaim the position once more and put Humagears back to work. As the Ark's data still exists in Satellite Zea orbiting around the Earth in space, it changes his plans to target Aruto Hiden, and initiates his destruction of the city. However, Aruto found himself aided by Horobi and the two of them manage to finally defeat Kamen Rider Ark-Zero once and for all. Although Aruto was glad at this outcome, Horobi announced his intentions to destroy humanity, believing their malice would bring destruction to the world.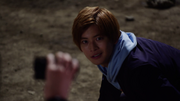 "I'm... Ark?"
―Aruto realizing that he has become the newest incarnation of Ark
As Horobi began to raise an army of Humagears to wage war on humanity, Izu tried to persuade him to give up his hatred, Horobi refused and shot her with the Attache Arrow. Aruto having witnessed what happened, rushed to the broken Izu's side. In her last moments, she believed there was still hope for Horobi and pushed Aruto away before self-destructing. With that, Aruto fell into despair over the death of his companion. After being left alone, he was approached by Azu, who recognized his malice and offered him the Ark's power to get the revenge that he desperately craved. Aruto took the Progrisekey and it transformed him into Kamen Rider Ark-One. The power of the Ark allow him to single-handily defeat an incoming Magia after him and he later revealed himself to the other Kamen Riders as the latest incarnation of the Ark itself.
Aruto as Ark-One continues on his mission to eliminate Horobi. Arriving at Daybreak Town, he was confronted by Vulcan, Valkyrie, and Thouser, as they believed Aruto was being possessed by the Ark. Annoyed by their interference, Ark-One defeats the three Riders with ease, even managing to strip them of their transformation abilities. At the MetsubouJinrai.net base, Aruto continues to try to find Horobi, but again to no avail. Upon learning Horobi's location, Aruto angrily asked him if he felt any guilt in his heart for destroying Izu, which Horobi replied that he doesn't. Aruto finally declares that he will never forgive Horobi, he transformed into Ark-One. After getting though his Magia army, Ark-One had the upperhand and continuously beat Horobi with a barrage of attacks. When he was lay the finishing blow, Jin arrived to take the fatal blow for Horobi, completely obliterating him in the process. Realizing what he had done, Aruto broke down trembling in horror.
With tensions between humans and Humagears were being raised due to Aruto's actions as Ark-One, he wallowed in regret but persisted to face Horobi. Fuwa would confront him and despite him unable to transform, used Naki's Japanese Wolf Zetsumerisekey to become Kamen Rider Orthros Vulcan. While Aruto fought him as Zero-Two, Orthros Vulcan was immediately defeated and he still wasn't fully convinced to stop his revenge. When Aruto up-linked himself to Zea for guidance, via the Zero-Two Progrisekey, Soreo appeared in front of him. Soreo told Aruto that all his son could do was cry when he was young, but he had rage within his heart due to Izu's death. His father explained to him that his rage was of the hardships he faced as a Kamen Rider and obtaining the power he had passed down to him had made him stronger. Soreo then gave one last lesson to Aruto: true strength wasn't physical power, but the strength of the heart. Understanding what his father's words meant, Aruto returned to reality and is granted a new Zero-One Driver.
The next morning, Aruto arrived on the stage of his final battle with Horobi. As the two equipped their Drivers, Aruto transformed into Ark One, while Horobi accessed his final form, Ark Scorpion. The two grabbed nearby Attache weapons, and ran towards each other as the final battle for their respective kinds began.
As Ark-One and Horobi Ark Scorpion continuously fought, his opponent's new form was proven to be on par with his own. However, Aruto held back and refused to fight, allowing Horobi to destroy both the Ark Driver and the Ark-One Progrisekey. When Horobi angrily questioned Aruto why he had stopped fighting, Aruto admitted that he finally understood Horobi's feelings of anger and grief over losing Jin. Horobi finally realized that Aruto had lost his family as well, as he revealed that he was scared of acknowledging that he had a heart. When Aruto attempted to comfort him, Horobi lashed out again, blaming his own heart as the reason for why he hated Aruto and humanity for giving him something he couldn't understand. Aruto then yelled at Horobi to overcome his grief, since he admitted to having a heart. Aruto's emotions empowered the Rising Hopper Progrisekey, turning it into the Realizing Hopper Progirsekey, and then used it to transform into Zero-One Realizing Hopper. As their last battle came to a close, Zero-One overpowered Horobi and was about to finish the battle with the Realizing Impact. As the finisher was about to strike him, Horobi chose to stand still and take the impact, which destroyed the Zetsumetsu Driver and the Ark Scorpion Progrisekey. Despite being heavily damaged, Horobi was left alive; when questioning Aruto why his finisher didn't kill him then and there, Aruto revealed that he restrained his final blow and that there was no need for killing anymore, to which Horobi solemnly accepted defeat.
After the war between humans and Humagears was ended, Aruto held a press conference about a new satellite that will replace Zea while developing the Humagear business, as well as how to recognize and use Humagears properly. While Izu could not be restored, Aruto was able to create a second Izu in her place and decided to train the new one his classic gags.
Other Events
Main article: Aruto Hiden/Over Quartzer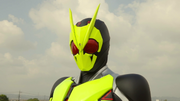 The following events take place in an alternate timeline not related to the prime version.
This iteration of Kamen Rider Zero-One was manifested during one of Sougo Tokiwa's dreams, as he is introduced as the first Kamen Rider from the Reiwa Era.
"There's only one person who can stop you, father, and that's me!"
―Aruto vows to stop his out of control father, Soreo Hiden
The following events take place in an erased timeline, which is later referrenced in Episode 25.
One day, while arriving late to his office, Aruto began to notice something strange with the world around him as there were more Humagears than usual. After arriving to Hiden Intelligence, he is quickly subdued by the Humagears and driven away by Will, who claims to be the president of the company as he fights him as Another Zero-One. While Aruto engages the other Rider, he notices his power draining. After losing his Driver, Aruto escapes and is rescued by Isamu Fuwa and Yua Yaiba. After arriving at the human resistance base, he reunites with Izu and learned that a temporal disturbance has affected their history and they still have their memories thanks to Zea. As Another Zero-One led the Humagears to storm the resistance base, Aruto is given the MetsubouJinrai Forceriser to become Kamen Rider ZeroZero-One in the meantime.
When Sougo Tokiwa and his comrades arrived after being drawn into Zero-One's distorted world, Aruto accompanies them as they venture to 2007 to figure out the cause of the temporal changes. It was traveling to the past where he discovered his Humagear father, Soreo Hiden, was active as Kamen Rider Ichi-Gata and had been working on the Satellite Ark's technology. Although Aruto was upset that his father was involved in the atrocities, he later learned that Soreo intended to sabotage Satellite Ark from launching into space. Zero-One's history being distorted was eventually revealed to be the Time Jacker Finis' plan to draw Sougo Tokiwa out and take part of his powers. After Finis turned Will into Another Zero-One, Soreo's plan to stop the Ark from launching failed and Aruto was forced to leave his father, under submission of the rogue satellite.
After returning back to 2019, Aruto learns Izu has been captured by Will and he goes over to Hiden Intelligence to tell the Humagears executives of his dream to create a coexistence between humans and Humagears. Soreo reveals himself to his son and he denies Aruto the right to become president. As the human resistance and Zi-O's team arrived to fight the Humagears, Aruto faces his father and announces his intent to defeat his father and regain his powers. During the decisive battle, Soreo lets his son defeat him and later revealing that he had never been hacked the entire time, to ensure that Aruto was serious about his dreams. With his father's death and "yes" vote, Aruto becomes president and receives the Zero-One Driver.
Following Another Zero-One's defeat and Satellite Zea launched into space, Aruto became Kamen Rider Zero-One once more as he engaged Finis alongside Kamen Rider Zi-O. Together, Zero-One and Zi-O finally finish their opponent with their combined Rising Impact Time Break. With that everything returns to normal and Zero-One's history is restored. While him and Izu will remember the events due to being connected to each other through Satellite Zea, Sougo insists Aruto's memories must be erased to ensure everything is completely normal. Aruto resists and both of them transform and engage into a friendly duel.
The following events take place sometime after the events of the final episode and before REAL×TIME.
The following events take place three months after the final episode.
Three months after the war between him and Horobi ended, Aruto received a message from S, who tells him that he's going to create his Paradise, and telling him to meet him. He goes but refuses to allow Izu to accompany him. Aruto transforms into Kamen Rider Zero-Two and fought S, as Kamen Rider Eden. Zero-Two is defeated by the Eden Impact, and gets his Zero-Two Driver taken. He tries to use his Rising Hopper form, but is thrown away by Eden's attack. He lands on a car, and faints.
Aruto wakes up in a moving metro train and after stopping, he notices people are laying unconscious on the floor of the station. When he meets a woman, Akane Tono, Aruto learns from her that S used to be a nanomachine researcher named Rihito Isshiki, who gave up his humanity by virtualizing his mind. Aruto and Akane enter a chapel where she revealed S's goals to create a key to make the world a paradise. Aruto promises Akane that he'll stop him in the real world. After Zea reconnected Aruto's mind back to the real world, he tries to summon the Rise Hopper, but Raiden arrives with a truck ready with the bike.
Aruto travels to where S is located to fight Eden as Zero-One MetalCluster Hopper. Zero-One is able to immobilize Eden from his nanomachine regeneration. Eden manages to escape using the completed Hellrise Progrisekey, before destroying the building they are in and the majority of his followers. Aruto continued to follow S at a chapel and tries to stop him from using Hellrise Progrisekey by transforming with it, turning into Zero-One Hellrising Hopper. Although he was capable of overpowering Eden, it caused Zero-One to go into an animalistic rampage. Fortunately, Izu as Zero-Two stepped in before he could kill S, helping Aruto regain control. Izu tells Aruto that she doesn't want to lose her president, making him realize that his eventual sacrifice would have just made Izu more sadder.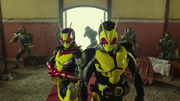 "The ones who can stop you, are us!"
―Aruto and Izu to Behru
S takes the Hellrise Progrisekey, and Aruto understood his true motivations: to create a virtual paradise for him and his wife to live in. Aruto convinces him that Akane doesn't want a world like this, and that she doesn't hate him for not managing to save her from death. As S decides to stop the end of the world, he is stopped by Behru and his former followers, who decided to resume their goals to create their digital paradise. Aruto and Izu help S in order to spend his final moments with Akane as they both engage Kamen Rider Lucifer and the Abaddon Riders as they both transform into Zero-One and Zero-Two.
Zero-One and Zero-Two managed to stand victorious against the army of Abaddon Riders. Zero-One and Zero-Two finish Lucifer with the combination of Realizing Impact and Zero-Two Big Bang, destroying the data center where the virtual world was stored, thus deleting S' and Akane's data. Aruto thanks Izu for saving him. Izu then asks why he knew that Akane would wait for Rihito, since Zea didn't predict it. Aruto reveals that Akane told him that she was actually ill and that was the reason S made her the first test subject for nanomachine treatment. The duo leave the chapel while Aruto delivers another one of his jokes.
The following events take place after REAL×TIME.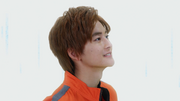 During the events of Zero-One Others, Aruto was in space with the Astronaut Humagears as they began to launch the new satellite "We'Re". However, he remains unaware of Lyon Arkland's plans to weaponize the Humagears as military soldiers as part of his "Sold Project". While MetsubouJinrai.net tries to thwart ZAIA Enterprise's attempts, they were fused to become Kamen Rider MetsubouJinrai and unwillingly became a new threat that Fuwa and Yaiba were forced to put an end into. Aruto would permit Fuwa to borrow Aruto's Zero-One Driver as a means to upgrade himself as Vulcan Lone Wolf.
The following events take place in an undetermined timeframe.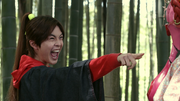 As Raptor 283

falls after being chased by a Nanashi Company

foot soldier, she is saved by Aruto who then proceeds to tell her a joke. After transforming into Zero-One, he joins Saber and the other Sentai Rangers.

Video Game Appearances
Main article: Kamen Rider City Wars
Kamen Rider Zero-One is a playable character alongside the other Kamen Riders in Kamen Rider City Wars.
Main article: Kamen Rider Buttobasoul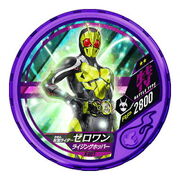 Kamen Rider Zero-One is a playable character with Vulcan, Valkyrie and other Riders in
Kamen Rider Buttobasoul
.
Main article: KAMEN RIDER: memory of heroez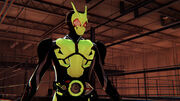 Kamen Rider Zero-One is one of the three main playable characters in
KAMEN RIDER: memory of heroez
. He can be played as Rising Hopper, Flying Falcon, Shining Assault Hopper, MetalCluster Hopper, and Zero-Two. In the game, Aruto arrived in Sector City after hearing something AI-related on the news. However he was teleported away by Zeus, who was growing tired of having Kamen Riders ruin his plans. He landed unconscious on a conveyor belt, later being rescued by OOO and joins the rest of the team to investigate Sector City.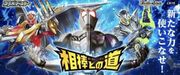 As part of Kamen Rider's collaboration, Zero-One, Wizard, and W cards became available in Battle Spirits.
[1]
As part of Kamen Rider's collaboration with Zenonzard, cards from Zero-One, OOO, and W were available in the Japanese servers throughout September 2020. [2]. In the American servers, due to licensing issues, card names and artwork were altered in the release of Heroic Masquerade.
Cards Included[3].
Attache Calibur (Rare)
Hiden Zero-One Driver (Epic)
Rise Hopper (Common)
Kamen Rider Zero-One Rising Hopper (Rare)
Kamen Rider Zero-One Flying Falcon (Common)
Kamen Rider Zero-One Biting Shark (Common)
Kamen Rider Zero-One Flaming Tiger (Common)
Kamen Rider Zero-One Shinning Hopper (Common)
Kamen Rider Zero-One Freezing Bear (Common)
Kamen Rider Zero-One Shinning Assault Hopper (Epic)
Kamen Rider Zero-One MetalCluster Hopper (Legend)
Kamen Rider Zero-Two (Legend)
Rising Impact (Epic)
Breaking Impact (Common)
The game ended service on February 18, 2021.
[4]
Personality
Aruto is a cheerful individual who will go above and beyond to make those around him happy, even though he is horrible at it. He strongly believes that like humans, Humagears can indeed possess a heart and have dreams of their own, enabling them to prosper alongside humanity. To this end, Aruto became Zero-One to fight against those who he feels threatens that ideology, though this ultimately clouds his judgement of them, especially with ones he had previously developed a strong bond with and prioritized their safety and dignity over profits of the business world. This would eventually lead to his loss in the Workplace Competition against Gai Amatsu, a certified expert in the field.
After becoming the Ark itself, Aruto willingly discarded much of his comedic and lighthearted traits, now becoming cold, serious, and vengeful towards Horobi specifically; despite having previously sympathized with the Humagear's unwilling affiliation with the Ark, Aruto now seeks revenge on him for Izu's death, as she was his only family after the deaths of his biological kin. Aruto considered his former allies as enemies if they interfered with his desire for vengeance against Horobi, though he manages maintain enough of his composure to not kill them on the spot. Despite his fall from grace, Aruto is completely aware of his actions and thus grieves with the consequences of what he has become. After briefly seeking advice from his father, Aruto's final clash with Horobi served to teach the latter the meaning of the human heart. 「Their Respective Futures」
Aruto is known for his good nature and polite manners, as evident towards his usage of "-san" when speaking with Isamu and Yua. However, his lack of honorific use towards Gai indicates his total loss of respect for such.
Aruto has also given playful nicknames to his Progrisekeys, calling Flaming Tiger "Tora-chan" (トラちゃん, "Tora-chan"), Flying Falcon "Tori-chan" (トリちゃん, "Tori-chan") and Biting Shark "Same-chan" (サメちゃん, "Same-chan").
Aruto's catchphrase during battle is "There's only one person who can stop you... and that's me!" (お前を止められるのはただ一人…俺だ!, Omae o tome rareru no wa tada hitori... ore da!).
Family
Other
Powers and Abilities
Powers
Enhanced Thought Processing: With the Hiden Zero-One Driver equipped, Aruto's mind is uplinked into Satellite Zea, which exponentially enhances his thought synapses allowing him to learn and analyze fighting techniques at a speed rivaling that of an A.I. supercomputer. This ability is carried over to the Zero-Two Driver as well, which further enhances Aruto's speed-thinking even more, to the point of allowing him to physically outperform the Ark's prediction capabilities. While connected to Zea, Aruto is able to communicate with Izu at any given point they wish. He is also capable of connecting to foreign virtual spaces, particularly Thinknet and speak with Akane Tono.

Temporal Protection: Due to being linked to Zea, Aruto can recognize and be immune to any temporal changes in the timeline, as he was able to discern a temporal difference that occurred 12 years ago. 「Kamen Rider: Reiwa The First Generation」 Aruto was also able to retain his memories of the alternate timeline even after his duel with Zi-O. 「I'll Save the Humagears」
Abilities
Skilled Combatant: Despite his lack of combat experience prior to becoming Zero-One, Aruto's combat skills had improved so much that Satellite Zea was unable to keep up, thus it originally deemed Shining Hopper unsuitable for him. Aruto would later go toe-to-toe against Thouser and several Battle Raiders simultaneously in his default Rising Hopper form. Aruto further demonstrates this when he fights Kamen Rider Ark-Zero on near even terms, despite being statistically weaker than him.
Above Average Physical Strength: Though rarely demonstrated, Aruto has shown to perform extraordinary feats of resilience and strength when in critical situation, like withstanding a blow from the Attache Calibur to his shoulder untransformed「Kamen Rider: Reiwa The First Generation」 and later throwing the same weapon with enough speed and precision to stop a blast from Behru as Kamen Rider Lucifer from killing Rihito Isshiki a short distance away.「Kamen Rider Zero-One: REAL×TIME」 Moreover, he is able to hold back Isamu Fuwa, who has extraordinary physical strength, and a transformed Horobi before transforming himself.
Business Acumen: Aruto has no prior business knowledge of any form, and is deemed incompetent in handing and executing the responsibilities of a company president. Gai, the CEO of ZAIA Japan, was able to exploit this experience when he challenged Aruto in the Workplace Competition and masterfully exemplified the qualities needed to be successful in the business market by achieving certain objectives (e.g. producing quality products, achieving profit margins, securing the support and confidence of customers). Gai was able to win the competition with a three to five victory (though these were achieve through underhanded means) based on those qualities that Aruto lacked. However, as he gained more experience, his business skills has shown to improve as he was able to operate HIDEN Manufacturing successfully with the help of Izu, which focusing his efforts on recovering discarded Humagears using the Humagear Progrisekeys.
Weaknesses
Zero-One Driver Authorization: Zea is authorized to grant full usage of the Zero-One Driver specifically to Aruto alone, but he must be a currently active CEO for the recognition to take effect, otherwise Aruto cannot transform.
Former Weaknesses
Shining Hopper: Zero-One's Shining Hopper form requires a great deal of strength to properly function. This compounded in encounters with particularly strong adversaries, which demands more strength than usual to utilize the Shining Arithmetic and usually resulting in exhaustion after use. Extended use can potentially result in temporary paralysis or forced cancellation of transformation. Aruto becomes more accustomed to Shining Hopper over time thanks to the Assault Grip gaining new data for the Shining Hopper Progrisekey to clear the harmful effects.
MetsubouJinrai Forceriser: As the Forceriser was designed by MetsubouJinrai.net for use by Humagears, Aruto suffered significant pain upon equipping the one given to him by his father. Fighting as ZeroZero-One also places a significant amount of strain on Aruto's body. Aruto was less affected in his later battles than after his first transformation, but he soon discarded the Forceriser after he managed to defeat Ichi-Gata.
Ark: Any of Zero-One's forms that are connected to the Ark, such as Shining Assault Hopper, MetalCluster Hopper and Ark-One, carry the risk of making him more aggressive and unable to control his rage.

Imprisonment Chain: A program malware created by the Ark, which is secured within the data of the MetalCluster Hopper Progrisekey. Originally, using the MetalCluster Hopper Progrisekey will cause an error on the Zero-One Driver, forcefully transfers the connection of Zero-One to the Ark instead of Zea, trapping Aruto's mind inside the Ark while his body, driven by the Ark's malice, attacked anyone in sight. In addition, it caused the Zero-One Driver to be unable to authorize any other Progrisekey. To counteract this, Izu created the Progrise Hopper Blade, which restored Zero-One's connection to Zea, avoiding the Ark's influence and completely erases the malware a whole, as well as restoring the Zero-One Driver's full functionality.
Ark-One: Physically speaking, Aruto has countermeasures to fight against the Ark. However his longing to avenge Izu's death caused him to willingly align with the Ark, turning him into Ark-One. The malicious aura that came with the powers constantly keeps Aruto in pain, reflected by his grief and cries; and can even be forced out of his transformation should he use too much power. In later episodes, Aruto shows less strain when using this form, now presumably being able to control it, but the aforementioned mental fallout still affects him. In addition, Ark-One indirectly caused Zero-Two, a form that is linked to Zea, to gain a tiny fraction of its malicious power. Aruto no longer has this weakness, as his Ark Driver and Ark-One Progrisekey was destroyed by Horobi, returning him to his former glory.

Hellrise Progrisekey: The Hellrise Progrisekey was not meant for human use, so it had severe negative effects when used by Aruto to stop S. The two major consequences were Aruto succumbing to intense anger and wildly attacking his surroundings, and the form causing Aruto excruciating pain and even forcibly fixing broken limbs to continue fighting. These drawbacks were lost when Aruto discarded the Progrisekey, with the key being eventually destroyed, resulted in Aruto to lose the form entirely.
Forms
Equipment
Devices
Weapons
Suit-Equipped Weapons
Unlimited Chopper - Biting Shark's arm blades
Panthera Burner - Flaming Tiger's palm-mounted flamethrowers
Polar Freezer - Freezing Bear's coolant-producing gauntlets
Vehicles
Legend Rider Devices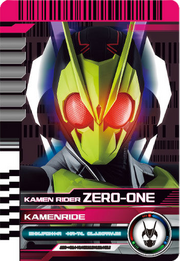 With the
Zero-One
Rider Card
, Decade can transform into Kamen Rider Zero-One Rising Hopper.
When Kamen Rider Decade is in his
Complete Form
21, he uses the
K-Touch
21 to summon the
Final Forms
of the 19 Heisei Primary Riders and Kamen Rider Zero-Two. After he presses the Rider's symbol, he would presumably summon Kamen Rider Zero-Two. The Kamen Rider Zero-Two card is found at the top of Decade Complete Form 21's crown helmet.
"(Digital beeping) Zero-One!"
―Activation announcement
"The Rider who acquires creature abilities with Progrisekeys is ... Zero-One! (

プログライズキーで生物の能力を身につけるライダーは...ゼロワンだ!

,

Puroguraizukī de seibutsu no nōryoku wo mi ni tsukeru Raidā wa Zerowan da!

)"
―Secondary activation announcement
"Armor Time! (Techno-Rock music) Progrise! Zero-One!"
―Transformation announcement in the Ziku-Driver's left-hand slot
"Finish Time! Rising (Barlcxks/Zonjis/Zamonas) Time (Break/Burst/Jack)!"
―Finisher announcement in left-hand slot
Zero-One Ridewatch (ゼロワンライドウォッチ, Zerowan Raidowotchi): Based on Kamen Rider Zero-One Rising Hopper, this Ridewatch would provide access to the Zero-OneArmor. [30] It is dated 2019, but shown on the Ziku-Driver's screen as Rider.
"Zero-One! (Distorted digital beeping)"
―Activation announcement
"Zero-One!"
―Another Rider transformation announcement
"Another Time! Zero-One!"
―Transformation announcement in the Ziku-Driver's right-hand slot
"(Right-hand Ridewatch's announcement)! Another Time! Zero-One!"
―Transformation announcement in the Ziku-Driver's left-hand slot
"Finish Time! Zero-One! Another Time (Break/Burst/Jack)!"
―Finisher announcement in left-hand slot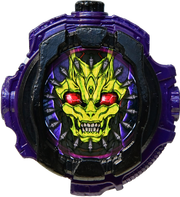 Another Zero-One Watch
(

アナザーゼロワンウォッチ

,

Anazā Zerowan Wotchi

)
: A twisted version of the Zero-One Ridewatch used to transform into
Another Zero-One
.
"01 Ai Kaihatsuroku!"
―Activation announcement
"Kono Aratana Jidai no Hajimari ni, AI to Tomoni Yume to Tobitatsu.

Translation: At the beginning of this new era, take off towards a dream with AI. (

この新たな時代の始まりに、AIとともに夢と飛び立つ。

)"
―Story announcement.
The 01 AI Kaihatsuroku Wonder Ride Book (01 AI 開発録ワンダーライドブック, Zerowan Ē Ai Kaihatsuroku Wandā Raido Bukku, lit. "01 AI Development Record Wonder Ride Book") is based on Kamen Rider Zero-One and his forms. The book's name is shortened to "Zero-One" in the Swordriver's announcements and to "Jinko chino" in the Bladriver announcements.
"Toaru Kigyou no Wakaki Shacho ga, Hitobito no Yume o Mamoru Tame, Ima Tobitatsu...[31]

Translation: A young president of a company shall now take off to protect everyone's dreams... (

とある企業の若き社長が、人々の夢を守るため、いま飛び立つ…

)"
―Story announcement
Hiden no Hiden Monogatari Wonder Ride Book (飛電の秘伝物語ワンダーライドブック, Hiden no Hiden Monagatari Wandā Raido Bukku, lit. Hidden Stories of Hiden Wonder Ride Book) is a Wonder Ride Book based on Kamen Rider Zero-One and Hiden Intelligence. The book's name is shortened to "Hiden" in the Swordriver's finisher announcements. The Book's name is a pun on Hiden Intelligence (飛電) and the Japanese word for "hidden" (秘伝), akin to Aruto Hiden's jokes.
Relationships
Ark: Aruto has a horrible impression of the Ark, due to the events throughout the series that were caused by it. After it revived, the Ark referred to Aruto as "Korenosuke's grandson". Aruto ended up creating and transforming into Zero-Two to defeat the rogue satellite, but he became the Ark itself to avenge Izu in a twist of irony.
Azu: Aruto initially saw Azu as Izu until she revealed her true identity. After falling into despair, Azu influenced Aruto to become Ark-One, and began referring to him as "Master Ark". Aruto seems to not care about Azu at all as he insisted that Izu is his one and only secretary for him. He also showed a visible amount of annoyance with Azu's cunning and playful antics.
Lyon Arkland: Although they never met, Arkland is aware of Aruto's existence and states that he opposes Zero-One and wants to destroy him once for all. In contrast to Aruto's beliefs, Lyon serves as his complete opposite.
Jun Fukuzoe: After Aruto was appointed as the new CEO of Hiden Intelligence, Jun becomes bitter and possessed a Inferiority Complex toward him. He even declares that Aruto had to step down from the CEO position immediately after the Kuehneo Magia rampage. Despite that, Aruto manages to somehow outsmart him by showing proof that MetsubouJinrai.net was the culprit behind Magia rampages, much to Jun's dismay. From that point, Jun, along with Sanzo secretly wishes for Aruto to fail. This animosity and inferiority also shown when Jun didn't hesitate to physically abuse Aruto, and coldly coerces Aruto to replace Izu with a new Humagear. However, despite his hostility to Aruto, he will not hesitate to follow him if it benefits the company. He was also willing, albeit reluctantly, to give Aruto praise for his actions to protect Hiden Intelligence from Metsuboujinrai.NET, claiming he knows when to give credit when it is due. Ultimately, following the Workplace Competition resulting in Gai's victory, Jun admitted that he held no ill will against the young CEO, even expressing concern for him, questioning what would he do next. After asking Aruto to help him out Gai from his seat, Jun re-affirmed Aruto's love for Humagears, encouraging him to take the fight to Ark after his first defeat against it. After Gai resigned as the CEO of Hiden Intelligence and Aruto reinstated as the CEO once more, Jun welcomes him with open hands and became more willing to cooperate with him.
Soreo Hiden/Kamen Rider Ichigata: Aruto's father. Aruto says that Soreo died when he was very young, so a Humagear taking on Soreo's likeness was created to raise Aruto. The Humagear later broke beyond repair while protecting a young Aruto during the Daybreak Town Accident, an event that would greatly impact Aruto's positive view on the Humagears as he grew older.
Korenosuke Hiden: Aruto's grandfather. As an adult, Aruto inherits Hiden Intelligence from him. Korenosuke also entrusted Aruto with the patent rights and any and all related data pertaining to the Humagear system and the Zero-One Driver, because he believed that Aruto will lead the Humagears to prosperity.
Behind the Scenes
Portrayal
Aruto Hiden is portrayed by Fumiya Takahashi (高橋 文哉, Takahashi Fumiya). His suit actor is Yuya Nawata (縄田 雄哉, Nawata Yūya). Nawata was previously the suit actor for Kamen Rider Genm, Kamen Rider Cronus (Taiga Hanaya), Kamen Rider Geiz, and Kamen Rider Revi.
Rider No.
As the leading rider protagonist of Kamen Rider Zero-One, Zero-One is labeled Kamen Rider #36 (仮面ライダー36号, Kamen Raidā Sanjūrokugō) and Reiwa Rider #1 (令和ライダー1号, Reiwa Raidā Ichigō).
Notes
ZeroZero-One's name is a nod to the codenames of the 00 Cyborgs from Shotaro Ishinomori's Cyborg 009 and even shares the name with Ivan Whisky/Cyborg 001 from the same manga.
Aruto's birthday falls on the first day of the Reiwa Era.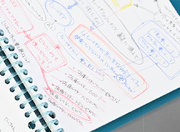 During the creation of Zero-Two System, Aruto came up with some concept names for his new Kamen Rider before he named it as Kamen Rider Zero-Two:

Kamen Rider Super Zero-One (

仮面ライダースーパーゼロワン

,

Kamen raidāsūpāzerowan

) (Possibly a homage to Kamen Rider Super-1)
Kamen Rider 0001 (

仮面ライダー0001[ゼロゼロゼロワン]

,

Kamen Raidā Zerozerozerowan

) (Homage to Kamen Rider ZeroZero-One)
Kamen Rider Hyper-One (

仮面ライダーハイパーワン

,

Kamen Raidā Haipāwan

)
Kamen Rider NEW Zero-One (

仮面ライダーNEWゼロワン

,

Kamen Raidā Nyū zerowan

) (Possibly a homage to Skyrider's original series name "New Kamen Rider")
Kamen Rider Strong-One (

仮面ライダーストロングワン

,

Kamen Raidā Sutoronguwan

) (Possibly a homage to Kamen Rider Stronger)

Realizing Hopper form began a trend that was continued with Saber's Almighty Saber form, in which a series finale would debut an extra final form identical to the base form, but with stronger stats.
Appearances
References