Arms Change (アームズチェンジシリーズ, Āmuzu Chenji Shirīzu, shortened to AC) is a toyline series attached to Kamen Rider Gaim. Hosting a collection of the majority of the show's Kamen Riders' Ride Wears and Armor Parts, it allows for simulation of any available Rider sporting any available Arms form.
List of figures
Notes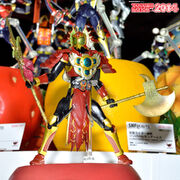 While Yomotsuheguri Arms comes with the weapons of the main three Femushinmu Over Lord Inves, Ryugen Yomi only utilized Redyue's Dau on-screen as well as the Dimubu which was wielded by Shinmugurun, which is not included. However, it does appear as part of Ryugen Yomi's S.H. Figuarts which stays true to the Over Lord weapons he used on-screen, arming him with both the Dimubu and the Dau.
While Drive Arms comes with both the Handle-Ken and Door-Ju, only the former weapon was seen wielded by Gaim Drive Arms in Movie War Full Throttle.
Baron's Ride Wear would have two versions (despite being identical). However, the one released with Ringo Arms has a more show-accurate paint job.
Kurokage's Ride Wear reuses Gaim's Ride Wear design despite that the actual suit doesn't have the diamond shape detailing appearing on the chest piece.
Community content is available under
CC-BY-SA
unless otherwise noted.