This Ark Magia (Kuehne Type) (アークマギア (クエネオタイプ), Akumagia Kueneotaipu) was seen terrorizing civilians before being defeated by Zero-One.
History
to be added

Magia Form
Ark Magia (Kuehne Type)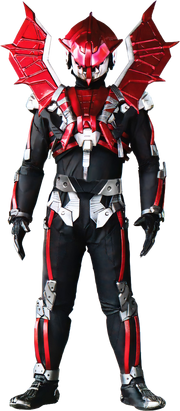 "Kuehne!"
―Transformation announcement
Statistics
Height: 197.9 cm
Weight: 101.7 kg
This Magia's programming was altered by the Ark remotely to incorporate the data of the Kuehne Magia and transformed into the Ark Magia (Kuehne Type) (アークマギア (クエネオタイプ), Akumagia Kueneotaipu).
Abilities
Boomezan (

ブーメザン

Būmezan

): Kuehne Magia possesses two blades on its shoulder and chest region and can throw them like boomerangs. The Boomezans possess enhanced accuracy, which allows them to hit the target with precision.
Surface Scaling: Kuehne Magia is able to fasten itself onto and climb vertical and horizontal surfaces, such as walls, without falling.
Behind the Scenes
Etymology
The Kuehne Magia's name is derived from Kuehneosuchus, an extinct genus of flying reptiles that lived in the Late Triassic period.
Notes
Appearances
References
Community content is available under
CC-BY-SA
unless otherwise noted.