This Ark Magia (Dodo Type) (アークマギア (ドードータイプ), Akumagia Dōdōtaipu) was seen terrorizing civilians after the death of Jin before being defeated by Zero-One and Vulcan.
History
Magia Form
Ark Magia (Dodo Type)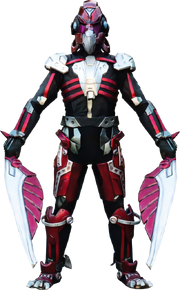 "Dodo!"
―Transformation announcement
Statistics:
Height: 191.3 cm
Weight: 107.5 kg
This Magia's programming was altered by the Ark remotely to incorporate the data of the Dodo Magia and transformed into the Ark Magia (Dodo Type) (アークマギア (ドードータイプ), Akumagia Dōdōtaipu). 
Arsenal
Abilities
Humagear Hacking: Using a method similar to transforming into a Magia, the Dodo Magia can corrupt other Humagear and transform them into Trilobite Magia by piercing them with tendrils.
Behind the Scenes
Etymology
The Dodo Magia is named after the Dodo (Raphus cucullatus), an extinct species of flightless bird that was endemic to the island of Mauritius and was hunted to extinction by 1662.
Notes
Out of all of the Magia, the Dodo Magia has reappeared the most times after being destroyed.
Appearances
Community content is available under
CC-BY-SA
unless otherwise noted.