This Ark Magia (Berotha Type) (アークマギア (ベローサタイプ), Akumagia Berōsataipu) was seen terrorizing civilians after the death of Jin before being defeated by Zero-One and Vulcan.
History
Magia Form
Ark Magia (Berotha Type)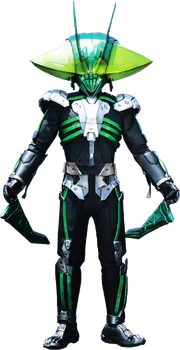 "Berotha!"
―Transformation announcement
Statistics
Height: 199.1 cm
Weight: 104.6 kg
This Magia's programming was altered by the Ark remotely to incorporate the data of the Berotha Magia and transformed into the Ark Magia (Berotha Type) (アークマギア (ベローサタイプ), Akumagia Berōsataipu).
Arsenal
Togamarder (

トガマーダー

Togamādā

): Twin daggers held with a backwards grip. They are capable of creating numerous energy blade projectiles.
Abilities
Laser Beams: The Berotha Magia can shoot lasers from its eyes.
Humagear Hacking: Using a method similar to transforming into a Magia, the Berotha Magia can corrupt other Humagear and transform them into Trilobite Magia by piercing them with tendrils.
Behind the Scenes
Etymology
The Berotha Magia's name is derived from Kujiberotha teruyukii, an extinct species of thorny lacewing insect that lived in the Cretaceous period.
Notes
Thorny lacewings and Mantises are not directly related to each other and are classified in different orders.

However, thorny lacewings are in the superfamily Mantispoidea along with mantidflies, which have mantis-like traits.
Appearances
Community content is available under
CC-BY-SA
unless otherwise noted.