Wiki Targeted (Entertainment)
Play Sound
Argos (アルゴス, Arugosu) is Kamen Rider Dark Ghost (仮面ライダーダークゴースト, Kamen Raidā Dāku Gōsuto), a villain Rider who appeared in Kamen Rider Ghost: The 100 Eyecons and Ghost's Fateful Moment. He later gains the Extremer Driver and transforms into Kamen Rider Extremer (仮面ライダーエクストリーマー, Kamen Rider Ekusutorīmā).
Character History
Life and Death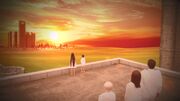 Argos was evidently born at some point by the mid-19th century at the latest. 「Reverse! Mysterious Science!」 The first born son of what would become the Gamma royal family, he was joined by a sister, Alia, and two brothers, Adel and Alain. 「Horrible! Disappearing World!」 Living in the Gamma World, Argos would spar with his youngest brother, Alain, teaching him to fight. 「Courage! Tragic Resolution!」 As recounted by Alia, their mother died following the family's arrival in the Gamma World. 「Conciliation! All Resolutions!」 「Gather! Chain of Grief!」 Argos followed soon after, having succumbed to an illness after receiving a wound when protecting his family from being killed. This drove his father, the Emperor Adonis, to despair, leading him to strive to create a perfect world where death would not exist. 「Amazing! The Gamma's World!」

Becoming Dark Ghost
Unknowingly to Adonis, Edith made an Eyecon based on Argos's soul right after latter's death. Later resurrected, Argos was granted a Ghost Driver by Sennin, allowing him to transform into Dark Ghost. Sennin sent him on an as yet unknown mission involving the granting of Sennin's wish, while entrusting Daigo Fukami to guide him. 「Strongest! Another Ghost!」
Gathering the Ghost Eyecons
Vowing to claim every Ghost Eyecon, Argos, as Dark Ghost, took to hunting historical figures who had emerged in the flesh within a distinct Eyecon-shaped world in which Argos resided under as yet unknown circumstances, starting by collecting the Eyecons of Ikkyu, Pythagoras, Kamehameha, Shakespeare, Galileo, Columbus and Nightingale. Defeating Napoleon, the disturbance created by Argos' was sensed by Sennin who, noting that his plan had gone terribly wrong, feared that Argos was gathering the Eyecons to create one particular Ghost Eyecon which could spell disaster. 「Amazing! World's Beginning!」
Argos then sent his three Dark Necrom minions to collect the heroic Eyecons, both in his world and the "other world", proclaiming that Takeru Tenkuji would make his dream a reality. 「Upheaval! 100 Souls!」 As Dark Ghost, Argos saw off the Dark Necroms as they boarded their Iguana Ghostrikers before departing their world for Earth. 「Fate! Two Takeru!」
「Kamen Rider Ghost: The 100 Eyecons and Ghost's Fateful Moment」
Post-mortem
Prior to his final confrontation with Adel, Takeru Tenkuji initially recognized the Kamen Rider Dark Ghost who welcomed him to the Gamma World as Argos, only to find that it was Edith having assumed the Rider system for himself. 「Gather! Chain of Grief!」
Chou Super Hero Taisen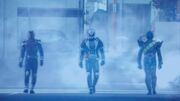 An iteration of Kamen Rider Dark Ghost was one of a trio of "Dark Riders" from the Game World whom attacked Kamen Rider Ex-Aid Double Action Gamer Level X. However, Ex-Aid ultimately overcame the three Dark Riders. 「Kamen Rider × Super Sentai: Chou Super Hero Taisen」

Kamen Rider Brain
"That's just a recolor... it's not even your weapon..."
―Dark Ghost's final words to Brain before dying.
Argos/Kamen Rider Dark Ghost becomes a member of Mu and fighting Kamen Rider Brain in Brain's dream. He subtly referenced that Brain's weapon is actually a recolored Sunglasseslasher before he dies.  「Drive Saga: Kamen Rider Brain」

Video Game appearances
Kamen Rider Buttobasoul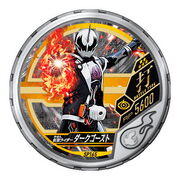 Kamen Rider Dark Ghost is a playable character in Kamen Rider Buttobasoul.
Personality
To be added
Family
Powers and Abilities
To be added
Forms
Dark Ghost's forms are called Damashii (魂, Damashī, lit. "Souls"), accessed using the Ghost Eyecons. He also bears a headpiece called the Persona (ペルソナ, Perusona, Latin for "Mask"), which gives off a glow effect with the rest of his body. The Persona changes with Dark Ghost's numerous Damashii forms, as well as serving as a prefix title for all of the Damashii forms' helms.
By pulling and pushing the Ghost Driver's lever a second time after transforming, Dark Ghost can activate an Omega Drive (オメガドライブ, Omega Doraibu) finishing attack tied to the Ghost Eyecon currently being used. If he pulls and pushes the lever four times, he can instead execute an Oomedama (オオメダマ, Ōmedama, lit. "Giant eyeball" (大目玉, "Giant eyeball")) special attack.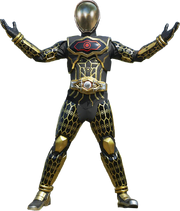 Transient (トランジェント, Toranjento) is the default pre-form armor of Kamen Rider Extremer. Like most pre-forms in the Kamen Rider Series, it is weaker than all of the other forms and exists solely as a transition stage of the armor to any given Damashii form.
Kamen Rider Extremer
Rider Statistics:
Height: 213 cm
Weight: 123 kg
Ability Parameters:
Punching power: 29.1 t
Kicking power: 32.3 t
Maximum jump height: 54.7 m
Maximum running speed: 100 m per 3.0 sec
Kamen Rider Extremer (仮面ライダーエクストリーマー, Kamen Raidā Ekusutorīmā) is a Rider form accessed through the use of the Extremer Driver. This form appears to combine the power of 100 heroic Ghost Eyecons and is more powerful than Kamen Rider Ghost Mugen Damashii.
Extremer's cloak can also open up to reveal Eyecon-like eyeballs in a peacock-like arrangement called the Triscendence Wing (トライセンデンスウィング, Toraisendensu Uingu).

This form is exclusive to
Kamen Rider Ghost: The 100 Eyecons and Ghost's Fateful Moment
.
Equipment
Devices
Weapons
Behind the Scenes
Portrayal
Argos is portrayed by Ryo Kimura (木村 了, Kimura Ryo). As Kamen Rider Dark Ghost and Kamen Rider Extremer, his suit actor is Yasuhiko Imai (今井 靖彦, Imai Yasuhiko).
Etymology
Argos' name is from the 100-eyed giant Argus Panoptes in Greek mythology as well as his Kamen Rider Extremer form also had 100 "eyes".
Concept Art
Kamen Rider Extremer was designed by Hideki Tajima (田嶋 秀樹, Tajima Hideki).
Notes

Appearances
References