This article is about a/an monster form used by several identities in Kamen Rider Zi-O.
Another Zi-O II (アナザージオウII, Anazā Jiō Tsū) is an Another Rider with several different identities:
Known Identities
Another Zi-O II
Another Zi-O II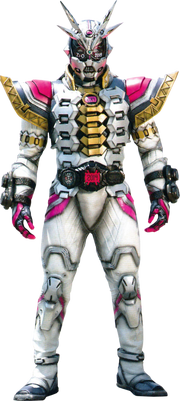 "Zi-O! II!"
―Transformation announcement
Height: 200.0 cm[1]
Weight: 92.0 kg[1]
Creator: Swartz (Original Ridewatch), Hiryu Kakogawa (Revived Ridewatch)
Year of Origin: 2019
'Position of year': Forehead crest, left visor, sternum crest, left trapezius, and belt
Name and position: "Zi-O"; Right visor and right trapezius
Powers and Abilities
Another Zi-O II is Hiryu (with Another Zi-O and Another Ohma Zi-O) and Daiki's Another Rider form. which gives him some slight abilities of GrandZi-O and an overall of Zi-O II powers. He is then able to defeat any base-form Rider.
Another Rider Manifestation: Another Zi-O II can create Another Riders at will once the clock hands above his eyes spins. A GrandZi-O-like ability.
Past Manipulation: Another Zi-O II can rewrite past events in his favor. A side effect of this ability causes the daylight to switch into night and vice-versa.
Weapons
Behind the Scenes
Concept Art
Another Zi-O II was designed by Yutaka Izubuchi (出渕 裕, Izubuchi Yutaka).
Appearances
See Also
References
Community content is available under
CC-BY-SA
unless otherwise noted.