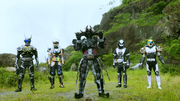 Within the Multiverse, Another Decade has the ability to access several Another Worlds (アナザーワールド, Anazāwārudo)[1], which are alternate versions of reality in which past events are altered based on the regrets of their prime universe selves, like how Sougo Tokiwa's classmate Nishimura lost a race in the real world, but won it within the personal reality of the Another World. Events in these Another Worlds loop forever. 2019: Eternal Party
Residents
As a side effect, a dark Rider will be revived with the creation of an Another World. Like the victims themselves used to create the worlds, the revived Riders will also be stuck in a loop of their defeated battle in the past, but with inverted results. An example is that Katsumi Daido lost to Kamen Rider Double in the real world, but won instead in his Another World. Using a loop effect, Swartz can summon the dark Riders again after their defeat in the real world, although the number of times he can do this is questionable. 2019: Operation Woz
Dark Riders
Appearances
Notes
The idea of a world where alternate/altered versions of past mainstream events exist is similar to the concept of Marvel's "What If...?" series of comics, which explored what would happen in the Marvel Universe should certain moments in said universe have not occurred as they did in the prime timeline.
See Also
References
Community content is available under
CC-BY-SA
unless otherwise noted.