This article is about a/an monster form used by several identities in Kamen Rider Zi-O.
Another Wizard (アナザーウィザード, Anazā Wizādo) is an Another Rider with several different identities:
Known Identities
Forms
Another Wizard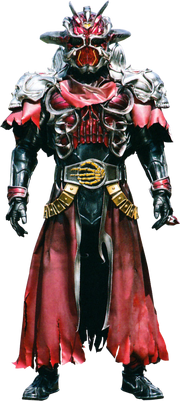 "Wizard!"
―Transformation announcement
Height: 198.0cm[1].
Weight: 90.0kg[1].
Creator: Heure (First)
Hiryu Kakogawa (Second)
Year of Origin: 2012/2019.
Position of year: Back, cover by the cape.
Name and position: "WIZARD"; cape, in the back.
Powers and Abilities
Magic Manipulation: Like the Kamen Rider he's emulating, Another Wizard is capable of performing various feats of magic by tapping the Driver on his waist.

Flame: Another Wizard shoots several fireballs at the enemy
Rewind: Another Wizard reverses any damage done to an object, restoring it to its previous state.
Gravity: Another Wizard alters the gravity of an object and propels it towards an enemy or alters the gravity of the target itself.
Defend (Land Variation): Another Wizard erects a stone barrier to defend him from enemy attacks.
Liquid: Another Wizard transforms himself into a liquefied state.
Connect: Another Wizard can open a magical portal between two different locations.
Sleep: Another Wizard puts his targets into a deep sleep. Unless Another Wizard is defeated, the victim will not wake up.
Erase: Another Wizard erases an object from existence.
Water: Another Wizard summons a massive torrent of water to attack the enemy.
Behind the Scenes
Concept Art
Another Wizard was designed by Tamotsu Shinohara (篠原 保, Shinohara Tamotsu).

Appearances
See also
References
Community content is available under
CC-BY-SA
unless otherwise noted.