This article is about a/an monster form used by several identities in Kamen Rider Zi-O.
Another Ryuki (アナザー龍騎, Anazā Ryūki) is a Another Riders with several different identities:
Known Identities
Forms
Another Ryuki
"Ryuki!"
―Transformation announcement
Height:190.0 cm
Weight:90.0 kg
Creator: Unknown
Year of Origin: 2002.
Position of year: Left Chest.
Name and Position: "RYUKI"; Right chest.
Another Ryuki is the Ryuki-like monster that Tatsuya transforms into via the Another Ryuki Watch.
Powers and Abilities
Flames-Another Ryuki can generate flames from his dragon head(where the Dragvisor would be).
Sword-Another Ryuki uses a twisted version of Ryuki's sword.
Behind the Scenes
Concept Art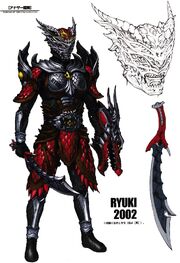 Another Ryuki was designed by Tamotsu Shinohara (篠原 保, Shinohara Tamotsu).

Appearances
See also
References
Community content is available under
CC-BY-SA
unless otherwise noted.