This article is about a/an monster form used by several identities in Kamen Rider Zi-O.
Another OOO (アナザーOOO, Anazā Ōzu) is an Another Rider with several different identities:
Known Identities
Forms
Another OOO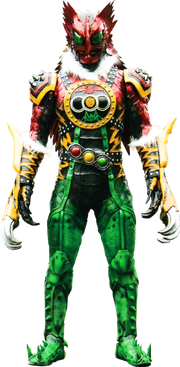 "OOO!"
―Transformation announcement
Height: 194.0 cm.
Weight: 86 kg.
Creator: Heure (First)
Hiryu Kakogawa (Second and third)
Year of Origin: 2010/2019.
Position of year: Back.
Name and position: "OOO"; chest.
Powers and Abilities
Animal Abilities: Like the Kamen Rider he is based on, he has the powers of a hawk, tiger and grasshopper, including large tiger claws that he uses as weapons.
Yummy Generation: Like the Greeed, he can create and control Waste Yummies as footsoldiers.  He can also turn people into them by tossing Cell Medals into their bodies.
Appearances: Zi-O Episodes 9-10, 25, 28
Behind the Scenes
Portrayal
to be added
Concept Art
Another OOO was designed by Yutaka Izubuchi (出渕 裕, Izubuchi Yutaka).

Notes
to be added
Appearances
See Also
References
Community content is available under
CC-BY-SA
unless otherwise noted.