This Another Rider named Another Kuuga (アナザークウガ , Anazā Kūga), derived from Kamen Rider Kuuga existed in the timeline created by the action of Another Zi-O II and was summoned to aid Hiryu Kakogawa.
History
Another Kuuga was part of the Another Rider Army that defended Hiryu's castle from Sougo Tokiwa, Geiz Myokoin, Black Woz, and Tsukasa Kadoya. Another Kuuga was destroyed through the combined efforts of GeizRevive Shippu and WozGingaFinaly.

Powers and Abilities
Another Kuuga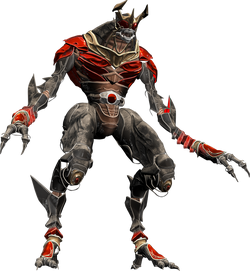 "Kuuga!"
―Transformation announcement
Height: 923 cm[1]
Weight: 6.4 t[1]
Summoned By: Hiryu Kakogawa
Year of Origin: 2019
Position of year: Back of left shoulder.
Name and position: "KUUGA"; Back of right shoulder.
Powers and Abilities
Behind the Scenes
Portrayal
to be added
Notes
Another Kuuga is currently the only Another Rider who is rendered using CGI.
Since Another Riders are also Kamen Riders, Another Kuuga is the second Rider to be both giant and animated in CGI, succeeding Kamen Rider Core.
As a corruption of Kuuga, Another Kuuga resembles a Gurongi, specifically the 2015 manga versions as he has a humanoid insect appearance with mandibles and stag beetle-like legs and arms.
Appearances
See Also
References
Community content is available under
CC-BY-SA
unless otherwise noted.