This Another Kiva (アナザーキバ, Anazā Kiba), an Another Rider derived from Kamen Rider Kiva Kiva Form, existed in the timeline created by Another Zi-O II and was summoned to aid him.
History
Another Kiva and Another OOO attacked a shelter of the Resistance, he is soon defeated by Zi-O II's Rider Giri.
Later they were shown to be part of the Another Rider Army that defended Hiryu's castle from Sougo Tokiwa, Geiz Myokoin, Black Woz, and Tsukasa Kadoya. Another Kiva was destroyed through the combined efforts of GeizRevive Shippu and WozGingaFinaly.

Forms
Another Kiva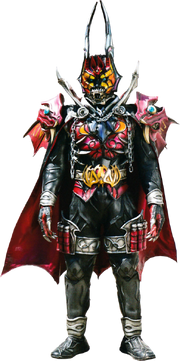 "Kiva!"
―Transformation announcement
Height: 200.0 cm
Weight: 98.0 kg
Summoned by: Hiryu Kakogawa
Year of Origin: 2019
Position of year: Left wing
Name and position: "KIVA"; Right wing
Powers and Abilities
Apperances : Zi-O Episodes 41,43

Notes
This Another Kiva is male voice other than original version, the same things happened on Another Blade summoned by Another Zi-O II, which is possible that Another Riders restricts the gender of the host.
Appearances
See Also
Community content is available under
CC-BY-SA
unless otherwise noted.