Wiki Targeted (Entertainment)
Play Sound

This article is about a monster form used by several identities in Kamen Rider Zi-O.
Another Kiva (アナザーキバ, Anazā Kiba) is an Another Rider with several different identities:
Known Identities
Forms
Another Kiva
"Kiva!"
―Transformation announcement
Height: 200.0 cm
Weight: 98.0 kg
Creator: Ora
Year of Origin: 2019
Position of year: Left wing
Name and position: "KIVA"; Right wing
Powers and Abilities
Bat Constructs: Another Kiva can generate energy constructs that take the form of bats and launch them from her mouth for offensive purposes.
Skilled Fighter: Another Kiva is well skilled with all of the Arms Monsters.
Human Consumption: Another Kiva can produce several tendrils from her hands to absorb the life energy of her victims, much like a Fangire.
Arms Monster summoning: Upon transformation, the Arms Monsters appear to support her in combat and change into their respective weapon forms to enhance her combat capabilities much like the real Kiva.
Arsenal
Equipments
Behind the Scenes
Concept Art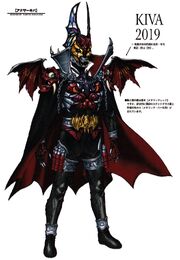 Another Kiva was designed by Tamotsu Shinohara (篠原 保, Shinohara Tamotsu).

Notes
The second Another Kiva is male voice other than original version.
Another Kiva is the first Bat themed monster of the Reiwa Era.
Appearances
See Also
References