This Another Hibiki (アナザー響鬼, Anazā Hibiki), an Another Rider derived from Kamen Rider Hibiki, is a villain that participated in Kamen Rider BiBiBi no Bibill Geiz.
History
Forms
Another Hibiki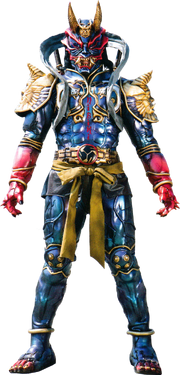 "Hibiki!"
―Transformation announcement
Height: 222.0 cm.
Weight: 156.0 kg.
Creator: TBA
Year of Origin: 2019
Position of year: Lower back
Name and position: "HIBIKI"; Abdomen.
Powers and Abilities
Fire Breath: Another Hibiki can breathe purple flames from its mouth, akin to the original Hibiki's Onibi.
Fire Infusion: Another Hibiki can infuse regular flames through its clubs, empowering them to the point where they temporarily grow longer.
Limbo: This version of Another Hibiki can become invisible and intangible at will.
Arsenal
Club Sticks: Another Hibiki wields two Kanabou-style clubs for combat. They are analogous to Hibiki's pair of Ongekibou Rekkas.
Equipments
See also
Community content is available under
CC-BY-SA
unless otherwise noted.