This article is about a/an monster form used by several identities in Kamen Rider Zi-O.
Another Hibiki (アナザー響鬼, Anazā Hibiki) is an Another Rider with several different identities:
Known Identities
Forms
Another Hibiki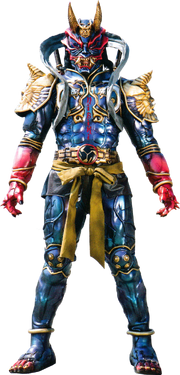 "Hibiki!"
―Transformation announcement
Height: 222.0 cm.
Weight: 156.0 kg.
Creator: Heure
Year of Origin: 2019
Position of year: Lower back
Name and position: "HIBIKI"; Abdomen.
Powers and Abilities
Fire Breath: Another Hibiki can breathe purple flames from its mouth, akin to the original Hibiki's Onibi.
Fire Infusion: Another Hibiki can infuse regular flames through its clubs, empowering them to the point where they temporarily grow longer.
Arsenal
Club Sticks: Another Hibiki wields two Kanabou-style clubs for combat. They are analogous to Hibiki's pair of Ongekibou Rekkas.
Behind the Scenes
Concept Art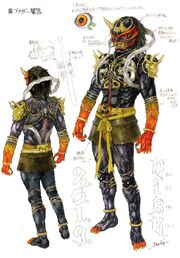 Another Hibiki was designed by Yutaka Izubuchi (出渕 裕, Izubuchi Yutaka).

Appearances
See also
References
Community content is available under
CC-BY-SA
unless otherwise noted.