This article is about a/an monster form used by several identities in Kamen Rider Zi-O.
Another Ghost (アナザーゴースト, Anazā Gōsuto) is an Another Rider with several different identities:
Known Identities
Forms
Another Ghost

"Ghost!"
―Transformation announcement
Height: 204.0 cm.
Weight: 96.0 kg.
Creator: Heure (First)
Hiryu Kakogawa (Second and third)
Year of Origin: 2015/2019.
Position of year: Back of his jacket.
Name and position: "GHOST"; back in his jacket.
Powers and Abilities
Soul Absorption: Another Ghost can extract human's soul out of their body and capture them in the eye-like symbol on his chest. Then he can release and absorb the stored souls to empower himself.
Invisibility/Intangibility: Due to Another Ghost's host being dead, Another Ghost can make himself visible and solid at will. Another Ghost can also phase through solid objects and re-emerge elsewhere, usually from thin air. However, it seems that this ability can be negated by the Ghost Ridewatch.
Parka Ghosts Summoning: Like Ghost, Another Ghost can summon any of the heroic Parka Ghosts to assist him in battle.
"Gamma Commandos" Summoning: Like the Empowered Gamma, Another Ghost can summon multiple monsters that resemble Gamma Commandos.
Omega Drive Rider Kick: Another Ghost can perform a dark version of Kamen Rider Ghost's Omega Drive Rider kick.
Behind the Scenes
Concept Art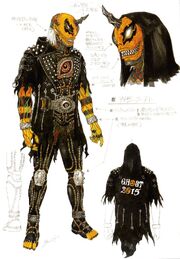 Another Ghost was designed by Tamotsu Shinohara (篠原 保, Shinohara Tamotsu).

Appearances
See Also
References
Community content is available under
CC-BY-SA
unless otherwise noted.