This Another Rider named Another Gaim (アナザー鎧武, Anazā Gaimu), derived from Kamen Rider Gaim Orange Arms existed in the timeline created by the action of Another Zi-O II and was summoned to aid Hiryu Kakogawa.
History
This Another Gaim was first seen summoned by Hiryu alongside Another Agito and Another Den-O, to fight Sougo Tokiwa, Another Zi-O II rewritten their history multiple times to prevent them defeated by GrandZi-O.
Later Another Gaim was seen as a part of the Another Rider Army that defended Hiryu's castle from Sougo Tokiwa, Geiz Myokoin, Black Woz, and Tsukasa Kadoya. Another Gaim was soon destroyed by Decade's slash attack via Ride Booker Sword Mode.

Forms
Another Gaim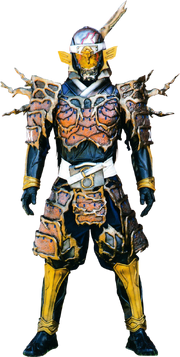 "Gaim!"
―Transformation announcement
Height: 203.0 cm.
Weight: 105.0 kg.
Summoned By: Hiryu Kakogawa
Year of Origin: 2019.
Position of year: Left sode (shoulder protection made of plates).
Name and position: "GAIM"; Right side.
Apperances : Zi-O Episodes 41,43

Notes
Appearances
See Also
References
Community content is available under
CC-BY-SA
unless otherwise noted.