This Another Rider named Another Gaim (アナザー鎧武, Anazā Gaimu), derived from Kamen Rider Gaim Orange Arms existed in the timeline created by the action of Another Zi-O II and was summoned to aid Hiryu Kakogawa.
History
To be added.

Forms
Another Gaim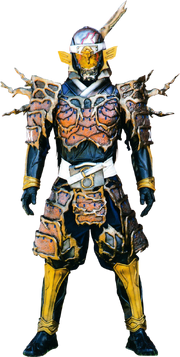 "Gaim!"
―Transformation announcement
Height: 203.0 cm.
Weight: 105.0 kg.
Summoned By: Hiryu Kakogawa
Year of Origin: 2019.
Position of year: Left sode (shoulder protection made of plates).
Name and position: "GAIM"; Right side.
Powers and Abilities
Helheim Crack Manipulation: Another Gaim can willingly open cracks into Helheim and drag anyone into it or move the crack over the person. He is also capable of calling Inves-like monsters through the cracks as well.
Monster Control: Another Gaim has full control over his Invess-like monsters[1]
Sword Manifestation: Another Gaim can manifest his zanbatō at will after transforming.
Energy Bolts: Another Gaim can generate orange energy and launch it at his opponents.
Teleportation: Another Gaim can teleport himself to another location at will.
Behind the Scenes
Portrayal
to be added
Notes
To be added.
Appearances
See Also
References
Community content is available under
CC-BY-SA
unless otherwise noted.