This article is about a/an monster form used by several identities in Kamen Rider Zi-O.

Another Gaim (アナザー鎧武, Anazā Gaimu) is an Another Rider with several different identities:
Known Identities
Forms
Another Gaim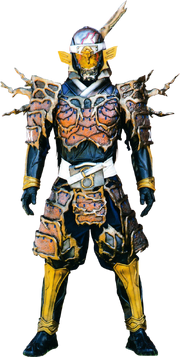 "Gaim!"
―Transformation announcement
Height: 203.0 cm.
Weight: 105.0 kg.
Creator: Swartz (First)
Hiryu Kakogawa (Second and third)
Year of Origin: 2013/2019.
Position of year: Left shoulder pauldron
Name and position: GAIM; right shoulder pauldron.
Powers and Abilities
Helheim Crack Manipulation: Another Gaim can willingly open cracks into Helheim and drag anyone into it or move the crack over the person. He is also capable of calling Inves-like monsters through the cracks as well.
Monster Control: Another Gaim has full control over his Invess-like monsters.
Sword Manifestation: Another Gaim can manifest his zanbatō at will after transforming.
Energy Bolts: Another Gaim can generate orange energy and launch it at his opponents.
Teleportation: Another Gaim can teleport himself to another location at will.
Behind the Scenes
Concept Art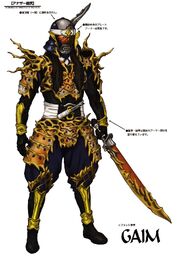 Another Gaim was designed by Tamotsu Shinohara (篠原 保, Shinohara Tamotsu).

Notes
Another Gaim's themes make him.

The first Samurai themed monster since the Kaiden Bugster.
The first Plant themed monster since the Utsubokazura Kaijin.
He is also the last monster of the Heisei Era with these 2 themes.
Appearances
See Also
References
Community content is available under
CC-BY-SA
unless otherwise noted.