This Another Rider named Another Fourze (アナザーフォーゼ, Anazā Fōze), derived from Kamen Rider Fourze Basestates, was created by Hiryu Kakogawa.
History
Forcefully transformed by injecting the Anotherwatch into an unnamed victim, this Another Fourze joined Hiryu and the Another Rider Army in fighting against Sougo Tokiwa. He reappeared after Another Faiz's defeat, fighting Zi-O FourzeArmor and was defeated by his Limit Time Break shortly after.

Powers and Abilities
Another Fourze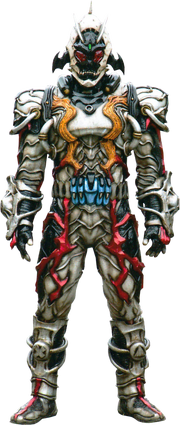 "Fourze!"
―Transformation announcement
Height: 200 cm
Weight: 95 kg
Creator:  Hiryu Kakogawa
Year of Origin: 2011
Position of year: Left shoulder
Name and position: "FOURZE"; Right shoulder.
Powers and Abilities
Lifespan Manipulation: Like Another Faiz, Another Fourze is able to absorb people and convert them into energy, which can then be used to revive the deceased. However, the revived subject can only use energies made from people sharing their age and astrological sign and must receive these "life injections" regularly to maintain their form.
Teleportation: Although only shown once, Another Fourze and the rest of Hiryu's Another Rider Army can teleport to appear Hiryu should they were summoned by their leader.
This form is exclusive to Zi-O Episode 28
Behind the Scenes
Portrayal
to be added
Notes
The horns on Another Fourze's head resembled Kamen Rider Specter's Wisp Horns. In fact, in Kamen Rider Ghost: Legendary! Riders' Souls!, Specter uses the power of Fourze Damashii to destroy Sagittarius Nova.
He is the first Another Fourze who is unrelated to Another Faiz, due to them having shared the same undersuit. However because of this, Fourze has a rather limited screen time since he disappeared during the Another Rider Army's first attack on Sougo and only return seconds after Another Faiz's defeat. His only simultaneous appearance with Faiz was the very scene he first appeared due to the split-screen technique.
Appearances
See also
References
Community content is available under
CC-BY-SA
unless otherwise noted.