This article is about a/an monster form used by several identities in Kamen Rider Zi-O.
Another Faiz (アナザーファイズ, Anazā Faizu) is an Another Rider with several different identities:
Known Identities
Forms
Another Faiz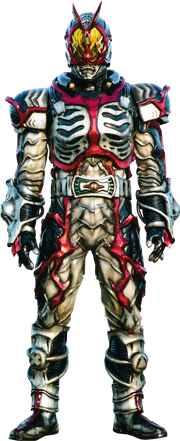 "Faiz!"
―Transformation announcement
Height: 186.0 cm
Weight: 91.0 kg
Creator: Ora (First)
Hiryu Kakogawa (Second and third)
Year of Origin: 2003
Position of year: Left shoulder
Name and position: "FAIZ"; Right shoulder.
Powers and Abilities
Lifespan Manipulation: Another Faiz is able to absorb people and convert them into energy, which can then be used to revive the deceased. However, the revived subject can only use energies made from people sharing their age and astrological sign and must receive these "life injections" regularly to maintain their form.
Rider Kick: Another Faiz can shroud his entire body with red aura to perform his variation of Faiz Blaster's Crimson Smash.
Behind the Scenes
Concept Art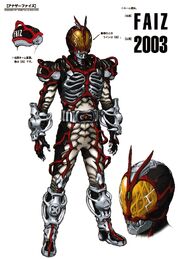 Another Faiz was designed by Tamotsu Shinohara (篠原 保, Shinohara Tamotsu).

Notes
Another Faiz is the first Shark themed monster since Charlie Bugster.

He is also the last Shark themed monster of the Heisei Era.
Appearances
See also
References
Community content is available under
CC-BY-SA
unless otherwise noted.