Anguish! The Stubborn Escape King! (苦悩!頑固な脱出王! Kunō! Ganko na Dasshutsu-ō!) is the fifteenth episode of Kamen Rider Ghost. It features the debut of Specter Houdini Damashii and also a teaser of the Necrom Eyecon, as well as the return of Jabel. It also features the only time Jabel fuses with a Gundari.
The Fukami siblings, Makoto and Kanon, are approached by Alain and Jabel. Makoto attempts to fight Jabel but is overwhelmed, which results in Kanon being kidnapped. Knowing that he can't beat Jabel as he is, Makoto tries to use the Eyecon of the "Escape King", Houdini, even though it never let him use its power before.
to be added
Guest CastEdit
Suit ActorsEdit
Ghost EyeconsEdit
Eyecon Used:

Ghost

Newton, Toucon Boost, Goemon, Musashi (attempted)

Specter

Specter, Tutankhamun, Houdini

Damashii Used:
Gamma EyeconsEdit
Eyecon Used:
Gamma Form Used:
Closing Screen Ghost Eyecon
Count at episode end

Takeru's days of life remaining: 86
Eyecons in Ghost's Possession: 9
Eyecons in Specter's Possession: 3
Eyecons in Alain's Possession: 2
Eyecons currently missing: 1
Eyecons connected: 2 (Ryoma, Musashi)

This is the only time Takeru transforms directly into Ghost Newton Damashii.

It is also the first time Ghost changes into Toucon Boost Damashii from a previous Damashii (Newton Damashii).

It is also the only time Ghost changes from Newton Damashii to Toucon Boost Damashii.

This episode reveals how Ghost changes from Newton Damashii to a different Damashii.
This is the first time the Ore Ghost Eyecon isn't used.
DVD/Blu-ray ReleasesEdit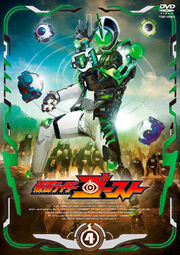 Kamen Rider Ghost Volume 4 features episodes 13-16: Exciting! A Free Man!, Superb View! The Earth's Dawn!, Anguish! The Stubborn Escape King! and Perfect! The White Kamen Rider!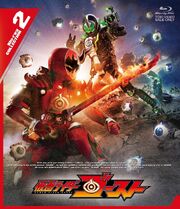 Blu-ray Collection 2 comes with 12 episodes.

External LinksEdit
ReferencesEdit