Amenba-Roid (アメンバロイド, Amenbaroido, derived from "Amenbo" (アメンボ, "Amenbo" lit. "Water Strider")): A water strider monster created by Badan Empire.

Manga Appearances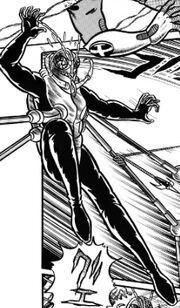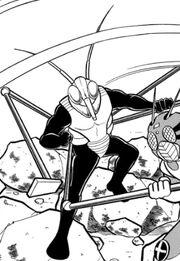 Kamen Rider Spirits
Main article: Asuma
Asuma / Amenbaroid - A large cyborg and Needle's final lieutenant who attacks Super-1 when he discovers a mysterious crater made by Badan on the moon. In his effort to safeguard the secret, he massacres all but a small squadron of the crew of Super-1's moon base. Killed by Super-1.
Community content is available under
CC-BY-SA
unless otherwise noted.