Wiki Targeted (Entertainment)
Play Sound
The Amazons Register (アマゾンズレジスター, Amazonzu Rejisutā), also called Amazons Bangle (アマゾンズバングル, Amazonzu Banguru) is an armlet like item produced by Nozama Pharmacy. They are implanted in every Amazons' left arms. As a control device, its function is to inject drugs regularly into the Amazons' bodies to suppress the awakening of the Amazons and the Amazon Cell.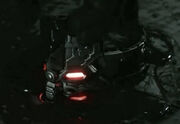 The drugs in the Amazons Register last for only two years maximum. After the drugs run out and the user feels the urge to eat humans surge, its blue "eyes" will turn red and it then acts as a tracking device to alert the higher-ups of the Nozama Pharmacy and the Nozama Peston Service Extermination Team. Without the drugs to keep the Amazon Cells in check, the Amazons will awaken and, overpowered by their instincts to consume human protein, turn into human-eating monsters.
It is impossible to regain control of the Amazon Cells of awakened Amazons again by using the Amazons Register or the drugs. These awakened Amazons will have to be killed to avoid further casualties.
Interestingly, despite previous claims regarding the drugs they hold, five years after Operation Tlaloc sees that many surviving Amazons still have their registers with blue "eyes" instead of red. Furthermore, instead of turning into human-eating monsters, most of these Amazons are unable to even bring themselves to eat humans due to traumatic experiences, suggesting that severe psychological trauma might prove far better suppressants than said drugs.
It is succeeded by the Neo Amazons Register.
Gold Register
There is later seen to be a gold Amazons Register in the possession of Reika Mizusawa before being stolen by Mizuki Mizusawa, who tries to give it to Amazon Omega. According to Reika, this Register contains a boosted version of the suppressant drug found in the regular Register. It is intended to be put on Haruka to weaken him, forcing him to return into the Pharmacy, therefore saving him from Tlaloc. However, Haruka refuses to even receive it. LOST IN THE FOG

Notes
Each Amazons Register includes a GPS tracking device and a unique "secret code" number, but the signal only activates when the Amazon wearing it fully awakens.
Interestingly, the 'eyes' of Haruka's Register are still blue in Season 2, despite it having been 5 years while the Registers are stated to only last 2 years.
The Amazons register resembles the original Amazon's GiGi Armlet.
Appearances
See also
Sources