Amazing! World's Beginning! (壮大!はじまりの世界!, Sōdai! Hajimari no sekai!) is the first episode of Kamen Rider Ghost: Commemoration! Short Stories, a miniseries produced to promote the film Kamen Rider Ghost: The 100 Eyecons and Ghost's Fateful Moment. It aired after episode 39.
Synopsis
to be added
Plot
In the flesh, Napoleon is pursued by Kamen Rider Dark Ghost. Napoleon attempts to engage Dark Ghost with his sword only to be quickly defeated, reducing him to the form of a Ghost Eyecon which is claimed by the enigmatic Kamen Rider. At the Daitenku Temple, Sennin, standing guard by the Monolith, worryingly voices that the plan he has set into motion has gotten out of hand and that a grave situation has arised. Argos returns to his lair where, as his trio of Dark Necrom minions watch with enthusiasm, he adds the Napoleon Eyecon to his collection as he vows to gather every Eyecon. Realizing that Argos wants possession of all of the Ghost Eyecons, Sennin ponders as to why before considering that he may intend to create one particular Ghost Eyecon. This prospect greatly unsettles Sennin, who voices that the results could be disastrous.
Cast
Ghost Eyecons
Eyecon Used:

Dark Ghost
Dark Necrom R
Dark Necrom B
Dark Necrom Y

Damashii Used:

Dark Ghost
Dark Necrom R
Dark Necrom B
Dark Necrom Y
Errors
Notes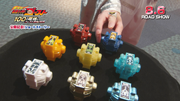 Ghost Eyecon Count
Count at episode end
This is the first time an item exclusive from a Televikun special reappears (in this case, Ikkyu and Pythagoras Eyecons)
This is also the first time 4 previously toy-exclusive Eyecons appear in the series (Kamehameha, Shakespeare, Nightingale and Columbus).
References
External links
to be added.
Community content is available under
CC-BY-SA
unless otherwise noted.