All Kamen Rider: Rider Revolution (オール仮面ライダー ライダーレボリューション, Ōru Kamen Raidā Raidā Reboryūshon) is the sequel to the DS video game All Kamen Rider: Rider Generation 2 and the third in the All Kamen Rider Series of games. This game was released on December 1, 2016 for the Nintendo 3DS. [1] People who purchased the physical copy of the game got a download code number of the game Mighty Action X from Kamen Rider Ex-Aid.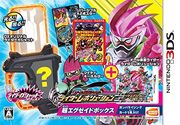 In addition, a premium Super Ex-Aid set was be sold in limited quantities. The set includes a Mighty keychain, a reversible poster and a special exclusive Kaigan Ghost Legend Rider Gashat.[2][3]
Story
After being knocked out, Kamen Rider Ex-Aid awakens strapped down to a table in a room. Upon demanding to know what is going on, a mysterious evil voice states that he is from NEVER and he will "extract the heroic power of the Kamen Riders" including Ex-Aid and use it to create the ultimate army of evil! One by one, the Riders begin to vanish and their powers are drained and taken. Can the remaining Riders find the mastermind behind this evil scheme and thwart him before it is too late?[4]
Kamen Riders[5]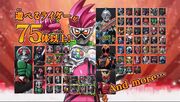 Riders Summoned By Diend
Enemies
Grunts
Monsters
Riders
Voice Actors
The following characters with a name are voiced by their original actors from the shows and movies.
Videos
Notes
This game marks the first time in any console game that Kamen Rider J's Jumbo Formation is playable and the first time it is playable in an All Kamen Rider game as it was relegated to being a finishing move in the previous installments.
References