| | |
| --- | --- |
| | WARNING: This episode contains scenes of gun violence. Viewer discretion is advised! |
After All, I am the President and a Kamen Rider (やっぱりオレが社長で仮面ライダー, Yappari Ore ga Shachō de Kamen Raidā) is the thirtieth episode of Kamen Rider Zero-One and the start of the 'HIDEN Manufacturing' Saga that would end with Episode 35.5. It features the debut of the Battle Raiders and HIDEN Manufacturing.
Synopsis
Finally ZAIA Enterprise Japan has successfully acquired Hiden Intelligence as all Humagears are instantly recalled and ordered to be shut down immediately! Aruto, who has lost his position as president to Gai Amatsu, has strayed away from Hiden Intelligence, and decided to save any Humagears that are being displaced from society and discarded! In the midst of Aruto's struggles, he goes to meet with Jin, who has made it his mission to liberate all of the Humagears...
Plot
Following the victory of the Workplace Competition, Gai Amatsu announces to the citizens that he calls for the HumaGear disposal with all HumaGears to be delivered to the Hiden Intelligence and in exchange, Gai will give the ZAIA spec for free. Gai also participates in a reality show to talk about his plan for the current to the HumaGear which still in active, Gai states that he has taken in charge of A.I.M.S movement and orders them to scrap the HumaGear immediately. In the meantime, Aruto takes a disposed HumaGear and goes to the Daybreak Town and meets Jin to ask for his corporation to save the HumaGear. 
Yua, Ono, and Eida find Aruto and Jin on their site not for long in the middle of Jin and Aruto's discussion. In anger, Jin transforms into Jin Burning Falcon and take care of Ono and Eida as they become the Battle Raiders. Yua mocks Jin that HumaGear is nothing but the humanity's tool before she takes an action as the Jackal Raider, but her words also hurt herself and Isamu comes to her. Isamu able to find Yua and the rests by hacking the A.I.M.S module he has to track them as he has quit the organization. Yua makes an excuse of Isamu's mislead hatred towards HumaGear, but Isamu stated that Gai was the one behind everything by reviving the Ark. In anger, Isamu becomes Vulcan Rampage and makes an easy work on Yua as she becomes the Jackal Raider while shouting to Yua for stopping herself to be mind controlled by Gai. Jin flees in the middle of his battle just after he has beaten Ono and Eida, making Yua has to leave the fight and chases after Jin and right when Isamu is about to chase the A.I.M.S, he was halted by Aruto when he asks about the A.I.M.S are mind controlled by Gai. Isamu de-transforms and talks about his current situation and admits about the mind control as well as declaring that Gai will pay.
After the live reality show, Gai returns to the Hidden President Office room with Jun and Sanzo give their praise on how magnificent Gai is during the show with Gai also politely asks for the corporation to tell him more about the Hiden Intelligence which he doesn't know yet. Just a second afterward, he receives a call from Yua that Jin has fled from his current office room which giving Gai an idea that Jin will have taken the Hiden Zero One Driver alongside Izu and it is true. Gai tells Yua to access the Zea satellite and deletes all the HumaGear data immediately as his plan.
Jin brings Izu and the Zero One Driver to Aruto in a scrapped site. Aruto thanks him for saving Izu but Jin refuses to accept the thanks as Jin thought that he only saves the body but not the mind, especially that Izu won't be able to be bot, but Aruto surprises Jin by showing him Izu's Progrise Key and turns her on. The awakened Izu is confused with the situation that she shall be with Hiden, not with Aruto and takes the Zero One Driver. Jin in displease halts Izu and told her off that she has to stop on following either Zea or Ark with Izu replies that it is impossible with Jin claims that it is possible if she reaches the singularity like Jin himself which Aruto agrees on Jin's opinion. Unfortunately, Gai arrives by helicopter alongside Ono and Eida immediately telling them to destroy Izu with Aruto's body got shot as the result for covering Izu from the bullets.
Gai mocks Aruto and Jin for protecting a foolish dream and tools don't need to be dreaming, especially even with Aruto able to take all HumaGear back, their data will be gone and right on time, Gai in please receives a call from Yua. Unfortunately, Gai receives a bad news from Yua that Zea doesn't have any of the HumaGear's data and Aruto get up, telling that all of the data are with him beneath his shirt as the Progrise Key and the Security Mamoru Progrise Key has shielded Aruto from the bullet. It makes Gai angry and transforms alongside Ono and Eida to move on their mission. Jin faces off without transforming against the Battle Raiders while Gai advances on Aruto with him initially unable to transform until Gai hit Aruto and Izu with Flaming Tiger Jacking Break.
After the flame from the attack has disappeared, Aruto is shown to be transformed as Zero One Rising Hopper which giving a shock to Gai. Jin also surprises and get his guard off with the Battle Raiders move on to help Gai to defeat Aruto. Aruto fights with anger, making an easy one sided fight by defeating the Raiders with Metalrising Kaban Strash and becoming Metal Cluster Hopper to finish off Gai with Metal Rising Impact. Gai 1000% sure that it should be impossible for Aruto to be able to transform with Izu states that Zea has admitted Aruto to be the right heir of Zero One's properties alongside Zea and the HumaGear. But to make Aruto able to transform again, a new company must be built and Zea has done the listing site, giving the transformation permission to Aruto. Gai disapproves the statement as it is the same as stealing the Hiden's resources but Izu states that it is Korenosuke's will and it is never for the company to have it after his death in the beginning.
Gai in anger swore that he won't let Aruto get his way and scores Izu to have reached the singularity, leaving them alongside his troops. Jin from afar is impressed with Aruto and Horobi comes to him and asks if things are right on his plan. Jin states that he doesn't plan anything and praises Aruto for his doing, but he doesn't mean to befriend him and will take all the data after Horobi has asked if Jin has befriended with Aruto. This episode ends with Aruto and Izu prepared the opening for the new office with Aruto stated that they were back to square one. 
Cast
Guest Cast
Suit Actors
Forms and Collectibles Used
Key Used:

Zero-One
Vulcan
Jin
Thouser

Form Used:

Zero-One

Rising Hopper, MetalCluster Hopper

Vulcan
Jin
Errors
Notes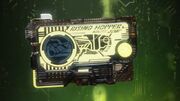 Closing Screen Progrise Keys:

Kamen Riders: Zero-One
Progrisekey: Rising Hopper

Count at episode end

Progrisekeys in Zero-One's possession: Rising Hopper, Biting Shark, Flying Falcon, Flaming Tiger, Freezing Bear, Breaking Mammoth, Shining Hopper, Hopping Kangaroo, MetalCluster Hopper
Progrisekeys in Vulcan's possession: Shooting Wolf, Punching Kong, Gatling Hedgehog, Trapping Spider, Assault Wolf, Rampage Gatling
Progrisekeys in Valkyrie's possession: Fighting Jackal
Progrisekeys in Jin's possession: Burning Falcon
Progrisekeys in Horobi's possession: Sting Scorpion
Progrisekeys in Thouser's possession:Amazing Caucasus, Sparking Giraffe, Exciting Stag, Crushing Buffalo, Splashing Whale, Dynamaiting Lion, Storming Penguin, Scouting Panda, Rushing Cheetah, Lightning Hornet
Progrisekeys in the Battle Raiders' possession: Invading Horseshoe Crab
Zetsumerisekeys in Thouser's possession: Awaking Arsino, Berotha, Kuehne, Ekal, Neohi, Onycho, Gaeru, Dodo

Similar to episode 17, the title of this episode is a call back to the title of episode 1.
The Metal Rising Impact variation Aruto performs in this episode is done in a similar manner to Kamen Rider Faiz's Crimson Smash.
One of the Battle Raiders, Ono, is portrayed by Hayato Takenaka, who previously portrayed a Resistance member in Kamen Rider: Reiwa The First Generation.[1]
As Aruto is no longer president of Hiden Intelligence, the opening narration describing him as such is omitted.
External links
References
Community content is available under
CC-BY-SA
unless otherwise noted.