Activate! Another Monolith! (発動!もう一つのモノリズ!, Hatsudō! Mōhitotsu no Monorisu!) is the eighth episode of Kamen Rider Ghost. It features the debut of the Kumo (Spider) Lantern in Kumo Mode.
Synopsis
Ghost was able to defeat the giant Gamma with the Iguana Ghostriker and rescue Akari and Onari from the Gamma Commandos. Specter confronts Saionji, the mysterious man, who talks to him about what happened 10 years ago. The people from the apartment complex were being drawn to a monolith very similar to the one at Tenku Temple. It seems that the Gamma, Specter, Alain and Saionji all have their respective agendas.
Plot
to be added
Cast
Guest Cast
Suit Actors
Ghost Eyecons
Eyecon Used:

Ghost

Ore, Musashi, Newton, Billy the Kid

Specter

Damashii Used:
Errors
to be added
Notes
Closing Screen Ghost Eyecon

Ghost Eyecons:

Ghost: Musashi, Robin, Newton, Beethoven, & Billy the Kid
Specter: Edison, Tutankhamun, Nobunaga & Unknown (Houdini)

Count at episode end

Takeru's days of life remaining: 27
Heroes' Eyecons left: 1
Eyecons in Ghost's Possession: 5
Eyecons in Specter's Possession: 4
Eyecons in Saionji's Possession: 5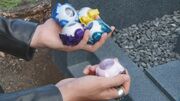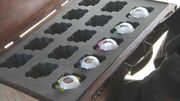 This episode reveals Saionji has obtained the Goemon, Ryoma, Himiko, Grimm, and Sanzo Eyecons, while Makoto now has Houdini, though in-show, they use a Newton Eyecon prop as a stand-in.
This is the first episode where Specter does not assume his default form.

Because of this, this is also the first time Makoto transforms into Specter by a different form other than Specter Damashii (Nobunaga Damashii).
DVD releases
External Links
References
Community content is available under
CC-BY-SA
unless otherwise noted.