119nosuke (119之助, Ichi-ichi Kyū Nosuke)[1] is a Firefighter-Type Humagear that competed in a competition against Takeshi Homura using the ZAIA Spec before Yua Yaiba used a Zetsumeriser and the Mammoth Zetsumerisekey to transform him into the second Mammoth Magia (マンモスマギア , Manmosu Magia).
History
To be added
Magia Form
Mammoth Magia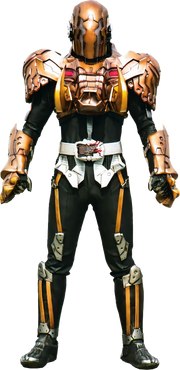 "Zetsumerise!"
―Transformation announcement
Statistics
Height: 188.1 cm
Weight: 146.8kg
Nosuke transforms into the Mammoth Magia (マンモスマギア, Manmosu Magia) by using the Mammoth Magia Zetsumerisekey in the Zetsumeriser.
Arsenal
Exhaler (エクスヘイラー Ekusuheirā): The mammoth trunk located on the chest. The Mammoth Magia is able to use it to absorb incoming projectile attacks and redirect it back to its enemy. It can also blow powerful gusts of wind.
Abilities
Energized Tusks: The Mammoth Magia can charge its tusks with energy and expand them in an energy strike.
Superhuman Strength: The Mammoth Magia possesses superhuman strength and endurance.
Appearances: Zero-One Episode 26
Equipment
Behind the Scenes
Portrayal
119nosuke is portrayed by Takeaki Shima (島丈明, Shima Takeaki).
Etymology
The Mammoth Magia is named after mammoths (Mammuthus), an extinct genus of trunked animals similar to elephants that lived from the Early Pliocene epoch to the Late Holocene epoch and are closely related to modern elephants.
Notes
The 119 part of his name relates to the standard emergency phone number for firefighters in Asia.
Appearances
References
Community content is available under
CC-BY-SA
unless otherwise noted.