| | |
| --- | --- |
| | WARNING: This series contains scenes of gun violence and blood. Viewer discretion is advised! |
For the series' main character, Drive, see Shinnosuke Tomari.
Kamen Rider Drive (仮面ライダードライブ, Kamen Raidā Doraibu) is a Japanese tokusatsu drama in Toei Company's Kamen Rider Series. It is the sixteenth series in the Heisei period run and the twenty-fifth series overall. The series started on October 5, 2014, joining Ressha Sentai ToQger

 in the Super Hero Time line-up after the finale of Kamen Rider Gaim. Starting on February 22, 2015, Kamen Rider Drive was joined by Shuriken Sentai Ninninger

in the Super Hero Time line-up. After the finale of Kamen Rider Drive, Kamen Rider Ghost joined Ninninger in the Super Hero Time line-up. Its series tagline is "Start Your Engine!"
Story
Shinnosuke Tomari is a former elite police officer in the Metropolitan Police who after an event that traumatized one of his colleagues has been "demoted" into the Special Investigations Division, a group that looks into the stranger happenings in the city, particularly the "Heavy Acceleration" events that leave people unable to move that the public have termed the "Slowdown." When he is chosen by the Drive Driver and Tridoron, Shinnosuke transforms into Kamen Rider Drive and is tasked with battling the Roidmudes who wish to take over the world by eliminating humanity.
Characters
Kamen Riders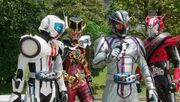 TV Show
Movie/Special-exclusive
Stageshow-exclusive
Allies
Others
Villains
Roidmudes
Main article: Roidmudes
Commanders and Major Roidmudes
Others
Next Genome Institute
Other characters
Episodes
Main article: Kamen Rider Drive Episodes
The episode titles for this season (with the exception of the finale) are all in the form of a question, with the Japanese version of the "Five Ws" and "How" being colored in red in the titles while the rest of the character string is colored white. The answers can be found in the scenes in each individual episode.
Movies
Specials
Drama CD
Drama CD: Drive Saga -Story of Kamen Rider Mach's Dream- (

ドラマCD ドライブサーガ 仮面ライダーマッハ夢想伝

Dorama CD Doraibu Sāga Kamen Raidā Mahha Musōden

)
Stage shows
Kamen Rider Drive Special Event: The Special Circumstances Case Investigation File (

仮面ライダードライブ スペシャルイベント 特殊状況下事件捜査ファイル

Kamen Raidā Doraibu Supesharu Ibento Tokushu Jōkyō-ka Jiken Sōsa Fairu

)
Kamen Rider Drive: Final Stage (

仮面ライダードライブ ファイナルステージ

Kamen Raidā Doraibu Fainaru Sutēji

)
Other media
Manga
Kamen Rider Drive: ~High Speed Arrest Chapter~ (

幪面超人DRIVE ~極速搜捕篇~

Mung Min Chiu Yan Drive Gik Cuk Sau Bou Pin

)
Novels
Kamen Rider Drive: ~Mach Saga~ (

小説 仮面ライダードライブ ~マッハサーガ~

Shōsetsu Kamen Raidā Doraibu ~ Mahha Sāga ~

)
Games
The following video games feature characters from Drive.
Cast
Guest cast
Suit actors
Songs
Opening theme
Insert themes
Notes
This is the first Kamen Rider series since Kamen Rider Fourze in which the riders are actually referred to as Kamen Riders.
This is the first Kamen Rider season to have an automobile motif, and the second series to have an element of detective story since Kamen Rider W.
From episode 2 onwards, this is the first Neo-Heisei Kamen Rider series that does not use cold opens.
This is the first Neo-Heisei Kamen Rider series without a cameo appearance from any of its characters during either the previous Rider's summer movie or final episode.
Takahito Omori, one of the producers of the show, called Kamen Rider Drive a tribute to the 1982 American television series, Knight Rider, quoting it as "Kamen Rider meets Knight Rider" in an interview.
This is the first Kamen Rider season to have the opening theme be sung by a singer who has portrayed a Kamen Rider in the past. In this case, Mitsuru Matsuoka, who played Katsumi Daido (Kamen Rider Eternal), and later, Kamen Rider 4.
This is the first Kamen Rider season with a "monster of the fortnight" format to have three-part episode plots (9-11, 31-33, 34-36) that is not close to the final episode.
This is one of the Kamen Rider season that has Riders and Monsters utilizes chronokinesis which came from a same principle, the other one is Kamen Rider Kabuto.
External links
References
Community content is available under
CC-BY-SA
unless otherwise noted.